Photos of Wigan
Photos of Wigan
Album Contents
Album Contents
Wigan Album
Wigan Wallgate Station
9 Comments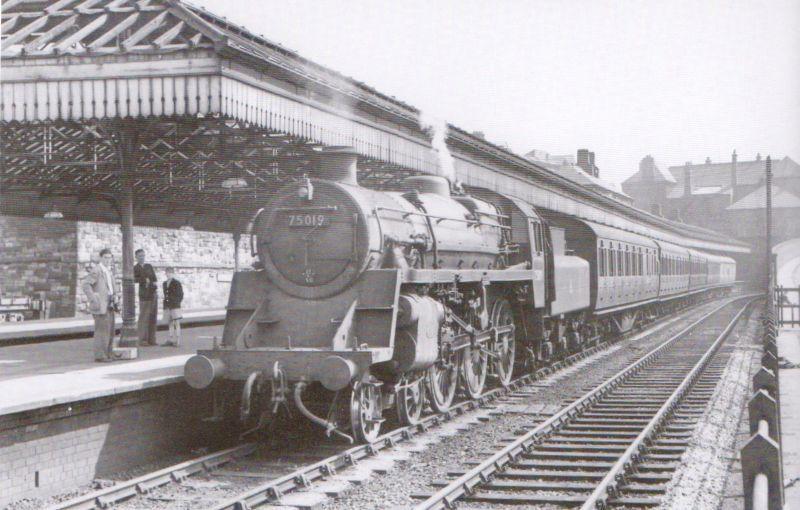 Wigan Wallgate Station 1955
Photo: David Brown
Views: 948
Item #: 31176
75019 at Platform 1
Comment by: Colin Harlow on 2nd May 2019 at 18:42
BR Standard class 4. 4-6-0
Comment by: Carolaen on 3rd May 2019 at 10:51
Off to Southport for the day !! Yeah
Comment by: Stuart on 3rd May 2019 at 13:29
Sorry Carolean but this one is off to Liverpool Exchange.This picture was taken by Brian Harrison on 26th August 1955.
Comment by: Alan on 4th May 2019 at 01:04
This train IS on it's way to Southport, the Liverpool train took the Pemberton loop cutting Wallgate out.
That was the line for L/exchange.
Comment by: Ray on 4th May 2019 at 18:28
I travelled several times from Wigan Wallgate to Liverpool
Exchange station, by steam hauled trains in the early 1960s
and Diesel Multiple units later in the 1960s. If an express
train from say, York to Liverpool that was not booked to call at Wigan, then it would go via the Pemberton loop.
Comment by: baker on 4th May 2019 at 22:37
this loco was built in 1952 and was shedded at southport shed ,next to lord st station at this time.it could be on a local stopper to liverpool but is more likely to be on a return trip to southport and home.
most liverpool exchange locals where operated by bolton or prescott st locomotives.
Comment by: Stuart on 5th May 2019 at 14:22
If you look at page 92 of the book 'Main Line Railways Around Wigan' by Bob Pixton (published by Runpast) this is cationed as the 11am service to Liverpool Exchange on August 26th 1955. The direct route from Hindley to Pemberton was used by freight trains and non-stop Manchester to Liverpool expresses. The next stop for this train is Pemberton then Orrell.
Comment by: Stuart on 5th May 2019 at 20:21
This engine was indeed allocated to 27C Southport depot from new until it was re-allocated to Skipton in the mid-1960s. This would not preclude it from being used on diagrams that covered the ex-L&Y lines around Manchester, Bolton, Wigan and Merseyside. Incidentally, Southport shed was next to Chapel Street Station in Southport. This is the one that is still open and to which trains from Wigan Wallgate would run. The shed later became the Steamport Museum and was later demolished. An Asda supermarket now stands on the site. Lord Street Station was closed in January 1952 and was the Cheshire Lines Committee station. Trains from Wigan Central ran there for a short time but the longer route could not compete with the much shorter L&Y route. Lord Street Station was later converted into a Ribble bus station and bus garage and lasted until the 1990s in that guise. The train shed was demolished and the frontage is now part of a hotel.
Comment by: Albert.S. on 6th May 2019 at 10:02
I remember once being on Ince railway station. (The one near to Ince Parish Church). There was a lady with a couple of children. She was giving them a treat, by taking them to Wigan by train. As the train was approaching the station, one of the children excitedly shouted " I hope it's an express".