Photos of Wigan
Photos of Wigan
Album Contents
Album Contents
Wigan Album
Wigan Wallgate Station
11 Comments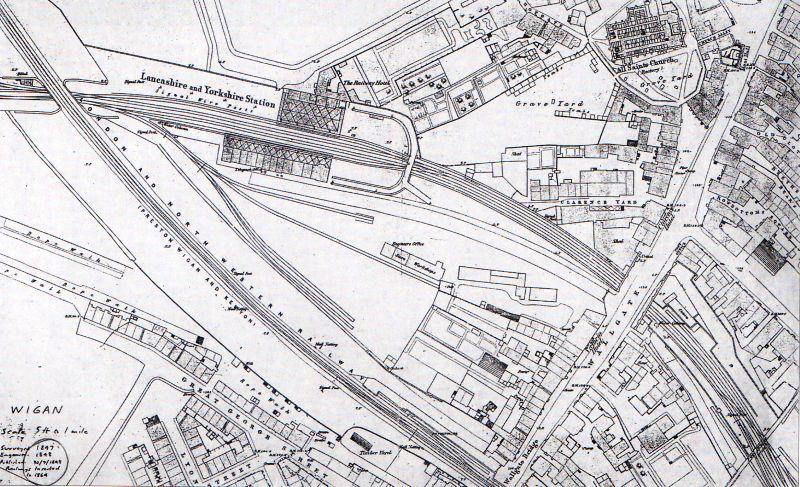 Wigan Wallgate Station
Photo: David Brown
Views: 983
Item #: 31171
Old Map of Wigan Wallgate Station about 1897, showing it was originally run by the Lancashire and Yorkshire Railway.
Comment by: John on 2nd May 2019 at 13:57
Interesting map. It shows that the old station was situated quite a bit further from Wallgate than the present station
Comment by: Tony on 3rd May 2019 at 06:24
David - this map is earlier than 1897. King St West and Crawford St don't appear on it, but they do appear on a map I have of this area, which was surveyed in 1890.
I think the handwritten note in the bottom left hand corner of your map, actually states it was engraved in 1848, which was the year this line opened.
Comment by: Keith on 3rd May 2019 at 10:04
This map actually shows the second position of wallgate station. The original site was on the other side of Wallgate , The station approach can be seen on the map , and the entrance and large stone gate posts are still in place to this day, though now providing access to a car park. There is also what may possibly be some platform edging still visible from a passing train beyond where the signal box used to be
Comment by: David Brown on 3rd May 2019 at 10:16
Yes, you're right, there's three dates on it. The first one says - Surveyed 1947, the second Engraved 1948 and another 1864. So I would agree it's more likely to be 1947/8.
Comment by: baker on 4th May 2019 at 22:32
just along king street west is a large stone wall walk down to crawford street and there,s a gap in the wall bricked up at a later date ,that was the original passenger entrance to wallgate station.
Comment by: chris southworth on 7th May 2019 at 09:47
You're all wrong there Keith. This map is showing the original site of Wallgate Station. The later and present site is to the East or right of the original one, tight up to the west side of Wallgate.
Comment by: Keith on 7th May 2019 at 13:45
Sorry Chris, that's not correct, this map shows the second location of wallgate station, as stated previously, the original was on the opposite side of wallgate to where it is now. The current location is actually it's 3rd site. Hope this clarifies? Keith
Comment by: John on 7th May 2019 at 14:04
Keith is correct. The O.S. map surveyed 1845-46 shows the station on the east side of Wallgate and south of King Street. That was the original station. The one shown on the map above is the SECOND station and the present day station is the THIRD one.
Comment by: chris southworth on 8th May 2019 at 11:54
Sorry Keith. My mistake. Not looking back far enough. I've looked at the 1845 map and it does show what appears to be a platform and some form of a shelter where you say. There is no annotation saying Station but obviously it is there, while the 2nd site is occupied by an engine shed.
Comment by: baker on 9th May 2019 at 18:27
the first site would today be classified as a halt with no facilities whatsoever.
Comment by: Keith on 10th May 2019 at 11:35
Think it was worse than that baker, if this contemporary report is to be believed!:
"The first LYR station does not appear to have been well regarded; the Ormskirk Advertiser newspaper described it as a 'hovel'. On 26 May 1860 the LYR opened a new station at Wigan. It was located further west than the original on the north side of Wallgate."
Copied from the excellent disused-stations.org.uk website