Photos of Wigan
Photos of Wigan
Album Contents
Album Contents
Wigan Album
Abram
17 Comments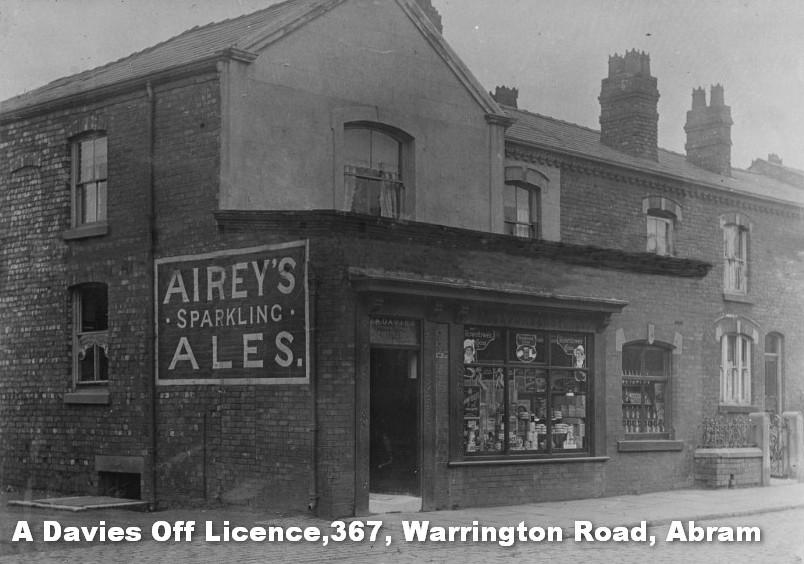 A.Davies Off licence
Photo: RON HUNT
Views: 1,969
Item #: 30268
Photograph showing A Davies Off Licence, Warrington Road, Abram.
Comment by: Veronica on 8th March 2018 at 15:51
Shops/ Outdoor Licences like this one always seemed to have an air of mystery about them. It never bothered me having to go errands when I was a child - I liked going! There was so much choice of where you went unless strictly told where to go.
Comment by: Irene roberts on 8th March 2018 at 16:16
This one was haunted, Veronica!
Comment by: Veronica on 8th March 2018 at 16:54
I love a good ghost story Irene- I wouldn't mind seeing one - but not on my own!
Comment by: Sandra Durden on 8th March 2018 at 17:39
Did Annie hart own the shop later, she made the best pies ever you had to takea jug for your gravy.
Comment by: Broady on 8th March 2018 at 19:45
Is it still there?? It was in a terrible state of disrepair the last time I remember walking past. More grass in the gutters than I have in my garden.
Comment by: winnie on 8th March 2018 at 22:00
Name Thomas Davies
Age in 1911 48
Estimated Birth Year abt 1863
Relation to Head Husband
Gender Male
Birth Place Golborne, Lancashire, England
Civil parish Abram
Search Photos Abram, Lancashire, England
County/Island Lancashire
Country England
Street Address 367 Warrington Rd Abram
Marital Status Married
Occupation Assisting In The Business
Registration district Wigan
Registration District Number 458
Sub-registration district Hindley
ED, institution, or vessel 4
Piece 23019
Household Members
Name Age
Jane Ann Davies 52
Thomas Davies 48
Hannah Harb 29
James Davies 24
Elizabeth A Davies 23
Richard Davies 20
Esther Davies 16
Comment by: winnie on 8th March 2018 at 22:23
Jane Ann Davies 52 Shop Keeper
Thomas Davies 48 Assisting In The Business
Hannah Hart 29 Grocery Assistant
James Davies 24 Bread Baker
Elizabeth A Davies 23 At Home
Richard Davies 20 Grocers Assistant
Esther Davies 16 At Home
Comment by: GE0FF GASKELL on 9th March 2018 at 09:27
THINK GORDON BROWN WAS ONE OF THE LAST OCCUPIERS OF THIS PROPERTY WHICH IS IN A BAD STAE OF REPAIR
Comment by: winnie on 9th March 2018 at 09:31
Hart Household (3 People) 1939
367 Warrington Road , Abram U.D., Lancashire, England


FIRST NAME(S) LAST NAME(S) DOB SEX OCCUPATION MARITAL STATUS SCHEDULE SCHEDULE SUB NUMBER
Hannah Hart 28 Sep 1883 Female Retail Dealer Single
James Davies 09 Feb 1887 Male Baker & Confectionery Single
Florence B Gray (Lawton) 09 Apr 1918 Female Shop Assistant Single
Comment by: Steve on 9th March 2018 at 12:05
Yes Broady it is still there looking more decrepit than ever. I think Ken Houghton could have been the last tenant.
Comment by: Cyril on 9th March 2018 at 12:07
wonder why there isn't any glass in the downstairs side window, unless it's boarded up on the inside.

The light shadow or smudge makes it appear that someone is stood in the doorway, you can see what looks like an arm bending up at the elbow, or is it the way I'm looking at the photo.
Comment by: irene roberts on 9th March 2018 at 13:05
I told you it was haunted, Cyril!
Comment by: Cyril on 9th March 2018 at 17:25
Just had another look Irene and can see a grey lady stood at the upstairs front window - it's a spooky photo. lol
Comment by: irene roberts on 9th March 2018 at 20:41
I was told that when the lights were switched off at night, everything was in place, but, on opening up in the morning, loaves of bread from the shelves were on the floor....not haphazardly, as if some vibration had caused them to fall off, but in a regimented line. I have no proof of this....I never even went in there....it is just what I was told.
Comment by: Alan cannon on 1st April 2020 at 15:25
Irene Roberts was you at Abram school with Betty or Alan cannon from may ave
Comment by: Danny on 21st November 2020 at 02:55
We used to live next door for a short time, in the early 90's at 365 long since demolished, we moved from Manchester and Abram was like living in another time. The shop had been recently demolished.