Photos of Wigan
Photos of Wigan
Album Contents
Album Contents
Wigan Album
MAKINSON ARCADE
33 Comments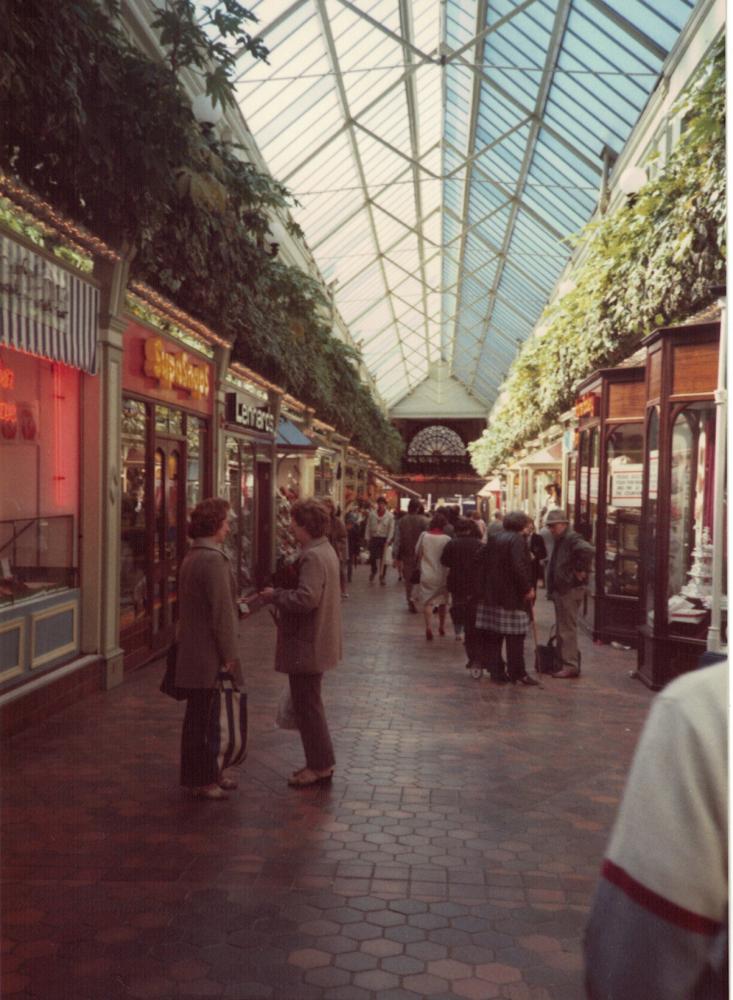 Makinson Arcade
Photo: Brian
Views: 2,956
Item #: 29949
Supasnaps and Lennards on left, photo early 80s.
(Photo by John Metcalfe).
Comment by: Alan H on 30th November 2017 at 14:02
Sadly today half these shops are empty.
Comment by: Alan on 30th November 2017 at 16:54
It annoys me when people stand there and chat, they do it when it's crowded.
Comment by: Veronica on 30th November 2017 at 21:11
I'm not surprised Alan - I bet you crash into them on purpose.
Comment by: . Ozymandias . on 30th November 2017 at 22:32
There isn't much that annoys Alan Veronica, but if you stand chatting in Makinson arcade when he's around, you do so at your peril, or run the risk of getting a black look....sad really innit ?.
Comment by: Veronica on 30th November 2017 at 23:44
It must have been Alan with a flat cap and tweed overcoat who knocked me flying to one side last week. I was just passing the time of day as you do with an old school friend - talking about operations and such like -I didn't know what had hit me!
Comment by: Linda Massa on 1st December 2017 at 07:56
To complete the picture you just need a silly idiot on their mobility scooter racing down there.
Comment by: irene roberts on 1st December 2017 at 14:46
It is a beautiful arcade but sadly people just use it as a thoroughfare between Market Place and The Galleries. Every town and village seems to consist of e-cig shops, tanning shops, nail manicurists and take-aways. What happened to ironmongers, greengrocers and butchers? So sad.
Comment by: Dave on 1st December 2017 at 18:15
Big Arcade, Little Arcade, If something works , why change it to move with
the times. We are just putting modern buildings in the same places we a
already had , doing the same job . Why can't we just leave alone!!
Comment by: mike on 1st December 2017 at 20:09
Comment by: Sam h on 1st December 2017 at 20:56
Irene ,there all in tesco ,asda ,sainsburys and the likes.so sad that's what the younger generation want today.
Comment by: DTease on 1st December 2017 at 23:52
Veronica, what is it with wimmin and operations? Put two of you ladies together in a room for half an hour and you'll both come out knowing every ailment you have both had since childhood. I got lumbered with an old dear the other day who insisted on telling me about her knee replacement in all its minute, gory detail. By the time we parted company I was turning green and in need of a bit of hospital treatment myself! The only operation I want is the kind were they put you to sleep and wake you up when they've cleaned all the blood up of the floor.
Comment by: Veronica on 2nd December 2017 at 07:59
Sadly these quaint arcades are underused these days, but shopping is an experience as much as anything. There's always the chance of bumping into old friends and having a good gossip. You won't get that on th'internet! As for topics of conversation Dtease, men and women aren't that much different. Men like to discuss their football,work and politics. Although I'm guilty of listening into one particular conversation on the bus from Hindley to Wigan of a couple of chaps discussing the plight of one his dogs. If he mentioned it's "back legs 'uv gone"once he must have said it 50 times! Poor fellow he was obviously upset about it - he nearly had me in tears!!!
You can hear interesting conversations on the bus mainly from the older generation though!
Comment by: irene roberts on 2nd December 2017 at 09:48
DTease, I know what you mean! You get the same thing in doctors' waiting-rooms..... If you are having a problem with your ears, you never fail to be sitting next to somebody whose aunt's cousin's sister-in-law had the same trouble and it "took bad ways"....they seem to revel in scaring you to death! I agree with Veronica about men being the same but with cars; Peter and I go regularly to 1940s events, mainly in Yorkshire, where we meet up with friends from Yorkshire and Lytham, and as soon as we get there the men NEVER FAIL to discuss how they got there...."Well, we went up the M6 to so-and-so, then we turned onto the A-Whatever until such-a-place, then the B123 past that Little Chef the rest of the way" Then the NEXT man goes through it all again! I feel travel-sick by the time they've all finished!
Comment by: Maureen on 2nd December 2017 at 11:13
All this conversation makes me think of a tale I have told before and it still makes me laugh even now.
After my Dad died my Mams neighbours offered to take her out to cheer her up,so off they went to a working men's club in Ince ( must say I love Ince and Ince folk)anyway a man in charge of whatever shouts"And all thoose us as not paid their subscriptions erll be scrutt off"..I personally love listening to people's conversations,but some can go overboard.One of our distant relatives who loves talking about himself met my youngest lad and of course proceeded to tell him all about his life,his operations etc,anyhow after about half an hour my Son said"it's been nice talking to you ****** next time I see you I'll tell you all about me".
Comment by: irene roberts on 2nd December 2017 at 11:40
I love that, Maureen! Veronica and I were in Bruccianni's café a few weeks ago for about three hours with one cup of coffee....I bet we'll have been "scrutt off" next time we venture in there! I love hearing Lancashire conversations on buses, especially the Goodbyes: "Tra, Luv....mind tha' dunt faw!"....magic! I am so proud to be a Wiganer!
Comment by: Veronica on 2nd December 2017 at 12:49
No they wouldn't get rich from us Irene. The same the other day when I 'leet on' two school friends in Debenhams (upstairs)! 2 hours of talking about the dentist amongst other things! It's nice and warm in there all for a coffee and nobody bothers you! It's very rare I don't 'bump' into somebody or other when I come to Wigan......( that's why I keep coming!)
Comment by: DTease on 2nd December 2017 at 13:33
When I was a kid I used to love listening in to old ladies chatting on the bus. The trouble was when they got to the juicy bits of the conversation they would start mee-mawing. There was I with ears like dustbin lids and eyes set at wide open and I couldn't hear a flippin' word! How frustrating is that?
Comment by: Maureen on 2nd December 2017 at 14:03
Irene my lovely ex don in law was a cracker,he found out that I liked a channel no 5.."Dust like Channel no 5 thee then..don't worry I'll get thee sum" he did and said "Don't ask where I bowt it from,cause I won't tell thee"
classic...guess where he's from...he was a belter.
Comment by: Veronica on 2nd December 2017 at 14:35
Les Dawson's skits on the mee-mawing of old Northern working class women were rich pickings for his act! No body did it better than him other than Norman Evans over the garden fence.
Comment by: Philip Gormley. on 2nd December 2017 at 15:20
The heyday of the Working Man's Club eh? And Maureen's son held out well during his relative's anatomy lesson.
In further support of Maureen's 'scrutt-off' story, I offer just two other similarities.
A mate of mine suggested to me, once, that we should attend a local Labour Club's AGM, as there would also be every chance of the meeting becoming 'a bit of a laugh'. How right he was.
The committee took their places on the stage, and then 'the all important' began proceedings by detailing minutes from the previous AGM, amongst which were the following responses (names are fictitious):
Joe Sime had proposed two free pints for all affiliated club members ... Harry Wragg (a toper of repute.) had proposed six pints.
And a subtle innuendo from another member of the committee, with eyes that looked towards the elderly doorman and almost suggesting that he hadn't been pulling his weight, was met with "Tha wot? I con look a farmer in face ... and tha doesn't need sken." The committee and the floor were soon united in calling for decorum. An evening well-spent.
Comment by: Veronica on 2nd December 2017 at 15:45
Brilliant Hahaha! There's nobody like th'owd working class 'fer bein' funny beawt trying'!
Comment by: Maureen on 2nd December 2017 at 16:07
Many years ago my friend asked me if I would help out with her behind the.bar at Sacred Heart club ,.the "Turn" hadn't turned up so up jumps this little Irish man shouting I can sing you a song ..he started to sing Danny Boy,after about four verses everybody started shouting "Sit down we've heard enough".well I never knew that Danny Boy had so many verses..I think he was making them up as he went along..to try and cut a long story short,in the middle of the tenth ..I think....verse they grabbed him and carried him back to his chair,to which he said.."am not Cumming here any moor,tha dunt know a good singer when tha hears one.
Comment by: irene roberts on 2nd December 2017 at 16:08
Was your son-in-law from Ince, Maureen? I used to work in a Labour Club, Philip, and it was just as you say.....they used to hold "free-and-easy" nights around Christmas and the same people got up time and time again on the stage, and you'd hear people say, (Tha cawn't PORR 'im off!", and they had a pensioner "on the door", checking if visitors were "affiliated", (ie, members of another club). They took their job very seriously and ours once refused to let the artiste in! The announcement, "T'pies 'ave come!" brought a stir of excitement. Everyone had their own seats and woe betide any strangers who took somebody's place! You had to be in very early at Christmas and New Year....it really was its own little world. Peter and I went around with a duo in the 1970s to various Labour Clubs, British Legions etc, and I saw the same pattern in them all...sadly all but died out now.
Comment by: Maureen on 2nd December 2017 at 16:24
Yes Irene,he was and as far as I know still does..he's a biker has long auburn hair and a beard..he can talk about anything under the sun ..gardening,politics,history, you name it,and he's a real grafter too.
Comment by: DTease on 2nd December 2017 at 20:04
I recall an announcement in a local Labour Club some years ago " Ladies and gentlemen, wi 'ad o singist booked fer toneen un hers not turnt up, but wer awreet cos Fred sez he'll gi us a rattle on his bones aftert bingo".
Fred's rattle on the bones turned out to be Fred playing the spoons with two pieces of flat bone substituting for the spoons.
And very good he was too.
Comment by: Philip Gormley. on 2nd December 2017 at 20:15
T'pies Irene, t'pies!
I remember the Legion's compere announcing "Pies are on sale at the right-hand side of the bar ... hey, and they're alright." Just imagine that being burped out at The Palladium.
He was a decent singer though, and on several occasions tackled The Donkey Serenade, going blue in the face at the 'Senorita, donkey's feet' bit on each occasion. It's hard to imagine that, at some stage in his life, he had received lessons from Tom Burke.
Comment by: DTease on 3rd December 2017 at 10:19
Going back to boring conversations, have you ever noticed how your eyes take over control of themselves after a while. You're standing there in front of Fred wearing your best 'Of course I'm listening' look while Fred is droning on about traffic cones on the M6, when your eyes decide they have had enough and start flicking left and right. You don't want them too because it's embarrassing but you just can't help it. At first they are looking to see if there is anything more interesting going on around you but later, as Fred gets on about the road works at Upper Leatherthong they start looking for escape routes.
By a supreme act of self control you manage to take back control of your eyeballs and that's when 'The yawn' starts. You don't really want to yawn, your not tired and you haven't felt like yawning all day but now, at this moment you know that if you don't yawn within the next minute your head will explode and all your insides will splash out all over the carpet.
As Fred's story goes on and on there is a noise inside your head like fingernails scraping on a blackboard and you're thinking 'Ho Lord, please make it stop'
Just when you think all is lost you notice that your other half as strayed within hailing distance so you call her over and tell the poor soul that Fred has a story that he wants to tell her about his journey over and by the way isn't that Bill over there and you had better go over and have a word. Then you leg it over to Bill for a chat before she as a chance to reply.
Meanwhile Fred, for the benefit of your wife as started is story again....from the beginning.
Comment by: Maureen on 3rd December 2017 at 15:17
Philip,I always thought Tom Burke was just a street singer but have just googled him and he did an awful lot in his life and went on to sing in Opera houses in other countries,but he died penniless.am going to read more shortly.
Comment by: RON HUNT on 3rd December 2017 at 15:34
Mo I have a book about TOM BURKE entitled THE LANCASHIRE CARUSO if you want to borrow it, let me know and I'll did it out
Comment by: Maurice. on 3rd December 2017 at 15:38
I bought the Missus wedding ring from whats now Mr Alans,22ct and it cost £9.
Comment by: Maureen on 3rd December 2017 at 15:46
D'Tease,I'm sat here laughing my socks off,..but if ever I meet you I will be watching your eyes ha ha.
Comment by: Veronica on 3rd December 2017 at 15:51
The Hare and Hounds attracted some good singers years ago. You could always guarantee one old chap in particular would nearly bust a blood vessel singing the same song week after week... Caterine ... Caterine ....always just before time!
Comment by: Maureen on 3rd December 2017 at 15:51
Ron,I'd love to borrow it.thank you.