Photos of Wigan
Photos of Wigan
Album Contents
Album Contents
Wigan Album
Ashton
9 Comments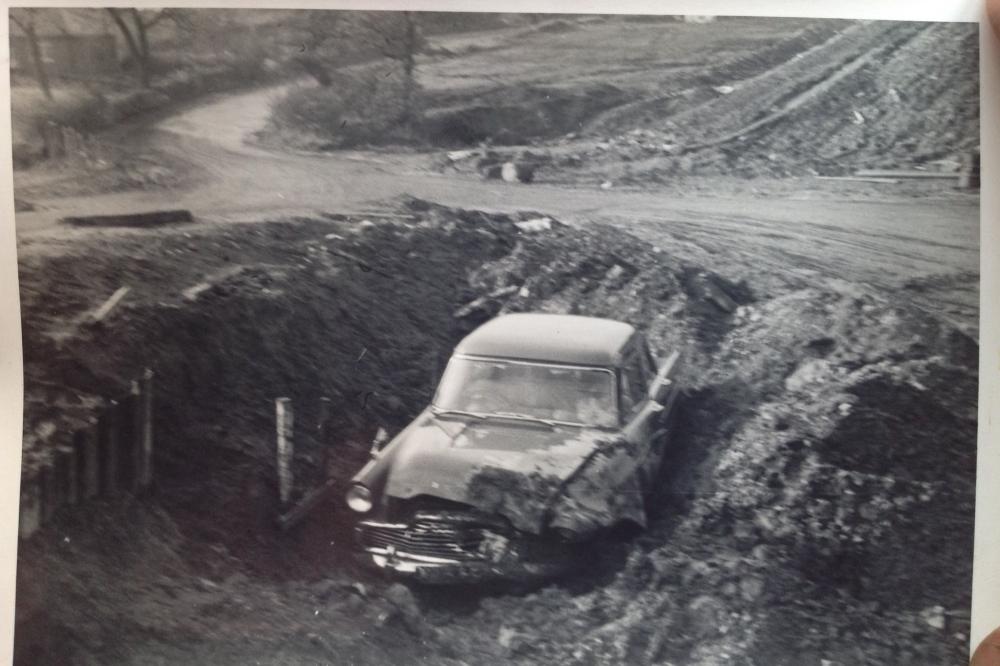 Almond's brow. C.1962
Photo: . Ozymandias .
Views: 2,258
Item #: 29075
This shows the old road from Downall green to Ashton before the opening of the M6 motorway. The wrecked Ford would have been in what is now the southbound carriageway of the motorway. The earthworks for the bridge that now carries Low Bank road over the M6 can be seen on the right. McAlpine's temporary depot was 200 yards further up the hill on the left hand side. RBG archive.
Comment by: Garry on 22nd February 2017 at 11:18
A mk2 Ford Zodiac lies dead and almost buried, a friend of mine had one of the fine cars of it's day. It was powered by a straight six petrol engine and column change gearbox. It was no mug when you put your foot down. I remember the traffic Police had them.
Comment by: G P on 22nd February 2017 at 20:19
hi ozy,you credit this photo to R B G,is it the same R B G who was at Gaskells as a fitter in the late 60s.
Comment by: . Ozymandias . on 22nd February 2017 at 21:59
No G P, apart from eighteen months working as a panel beater and sprayer for Timberlakes in Wigan and six months at King's garage in Haydock, he's always made a living working for himself. Amongst many other things, but most notably, dealing in armoured vehicles and associated military equipment. The lad that you may be thinking of however, may possibly be his long time friend, the late Bob Sankey, the unseen rider of the Triumph Thunderbird in my previous picture. He apparently worked as a fitter on Gaskell's wagons at some point back in the 60's. There may be some photos of Bob Sankey appearing on here soon. I hope this is helpful to you.

Regards. Ozy.
Comment by: Ab on 23rd February 2017 at 10:34
What was it doing there?, did someone just abandon it. I heard that abandoning of cars was a common sight in the 50s and 60s where owners, once their vehicles had been run into the ground, would just leave it at the side of the road to rot away. I bet they fetch abit of money today (as a lot of classics do) and they would be lovingly cherished today. Still nice to see classics around the area from time to time. Saw a lovely American Buick the other day heading down Locket Rd, seen it once at the garage on Lowbank Rd last year. I bet it costs the owner a fortune to run.
Comment by: G P on 23rd February 2017 at 11:51
thanks ozy,it was Bob Sankey,how long ago did he pass away?.
Comment by: Garry on 23rd February 2017 at 12:27
Ab it's much better today because DVLA want to know everything about vehicles. Is it taxed, MOT and insured, is it SORN (Statutory off road notification) so really it makes it so difficult to abandon vehicles today' you have to tell DVLA about scrapping too.
Comment by: . Ozymandias . on 23rd February 2017 at 14:14
It must have been around 2004 if I remember correctly G P . That would have made him around 56 or thereabouts. I could be out by a bit. He'd been living in Pembrokeshire for a number of years prior to his death and was doing quite well, running a plant hire firm in Haverfordwest that he had started a few years previously, in partnership with another chap. I went down to his funeral on the motorbike as it was during the summer months. I've rarely seen as many people at a funeral service as I witnessed at his. I believe the cause of death was a heart attack.

Regards. Ozy.
Comment by: H. on 25th February 2017 at 08:07
Comment by: BBJ on 27th March 2017 at 05:59
so, is this old road to ashton on the pic the old Low Bnk Road or is it the road/track leading to the skitters in which case the banking would be for the tractor bridge from Home Farm leading to Skitters Grove ?