Photos of Wigan
Photos of Wigan
Album Contents
Album Contents
Wigan Album
WILLGOOSE LANE
8 Comments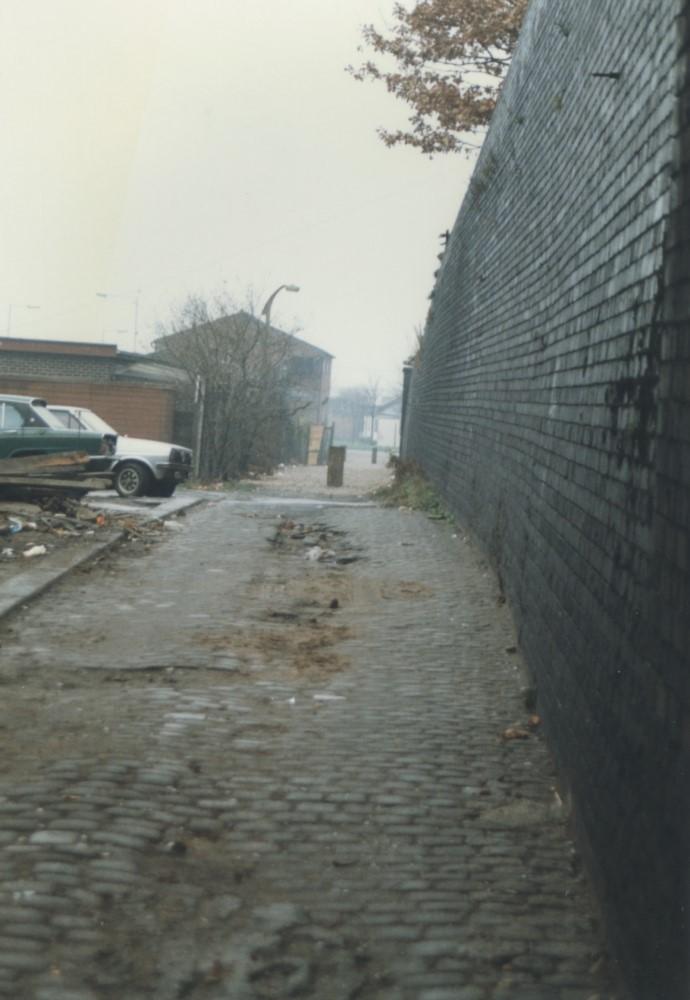 Willgoose Lane
Photo: RON HUNT
Views: 2,200
Item #: 28224
Went up and down every day going to and from work before I got a car.
Thanks to Trevor Smith( Smith's Book Shop) for the photograph.
Comment by: Maureen on 8th August 2016 at 15:39
Ron,this is really taking me back..where those trees are jutting out was where our back door would have been..where the camera man is stood is where my Grandparents lived..the wall on the right where my Grandma had her washing line attached to..what lovely memories ..Ron ..I probably saw you sometime going down,and thank you for showing this.
Comment by: Albert. on 8th August 2016 at 19:57
What prominent place is this near to Ron/Maureen?.
Comment by: Maureen on 8th August 2016 at 21:47
Albert,go under Wallgate bridge from the station side ..it's the first on your right directly facing the bottom of Queen Street,they are the backs of
Great George St.
Comment by: JB on 9th August 2016 at 07:13
you can't walk down here anymore because it has been blocked off
Comment by: John D on 9th August 2016 at 07:25
It is now fenced off and was a handy short cut when I was a taxi driver. It faces Queen Street on the other side of Wallgate. It connected with Gt.George Street.
Comment by: Albert. on 9th August 2016 at 10:22
Thank you Maureen. I must have trudge down that lane umpteen times, to take me into Great George Street. On the opposite side of Wallgate there was an entry, just near to Bankes Arms. It lead to a sort of stable, covered in dust, and cobwebs. Handy for the bobbies to have a puff, and a short chat, before setting out on their respective beats. One bobby covered the front of Wallgate, and the sprog bobby, all the property around Wallgate. A lot of property to check in three and a half hours. It was then covered again during the second part of the night duty. Kept you fit.
Comment by: RON HUNT on 9th August 2016 at 12:30
Albert when I worked on NIGHTS at Plessey Wallgate The bobby used to come in regularly for a brew and to get out of the rain. That was in the late 1960's early 70's.
Comment by: Albert. on 9th August 2016 at 15:13
Yes Ron, those stopping off points were very welcome in the inclement weather. I suppose in those days, it was reassuring to see a beat bobby calling in. These days it is a fire brigade service , dashing from one call, to another. Even in the mid sixties, the writing was on the wall for the termination of borough forces. I jumped, before I was pushed, and transferred to Kent, in July, 1964. There were a lot of uncertainties at the time. The demise came in 1969.