Photos of Wigan
Photos of Wigan
Album Contents
Album Contents
Wigan Album
Wigan Wallgate Station
5 Comments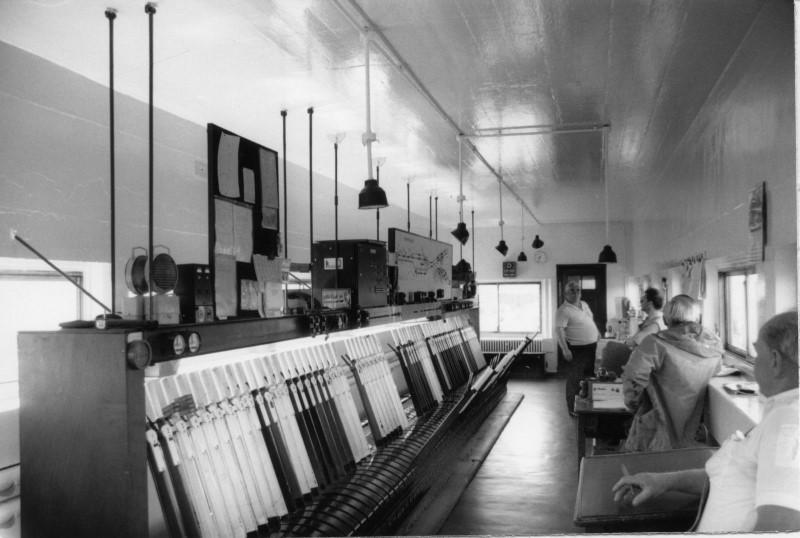 Wigan Wallgate Signal Box
Photo: RON HUNT
Views: 1,221
Item #: 27988
Interior view of the Wigan Wallgate Signal Box.
Comment by: baker on 14th June 2016 at 22:43
seems to be a great many staff for a box with a good number of levers taken out
Comment by: Lol Thorpe on 15th June 2016 at 19:56
Man facing camera with white t.shirt on is Roy Dickinson Signalman on duty worked next to him at Parbold a good few years.Other two are per way staff D Charnock with grey jacket on .J Berry in white shirt ,Probably visiting for a five minute chat ,Not sure who third man is .
Comment by: . Ozymandias . on 19th June 2016 at 23:17
The third man is Harry Lime surely ?, with Orson Welles playing the lead rôle......... I'm convinced these guys are still waiting for that train to arrive from Warrington Central. Wouldn't you have thought that someone would have put them in the picture before now ?.........Sorry Lol.............( or am I ?)
Comment by: Jack Palance on 20th June 2016 at 14:43
The 3rd bloke is Dave Tommo asking for a margin to shove a 60ft rail up to Martland mill on scooters with only 2 men...
Comment by: Gordon Hunter on 24th June 2016 at 21:20
Dave Tommo's still the same saw him re-gauging Wigan North Junction with a hammer the other day....
Him and that Boldy