Photos of Wigan
Photos of Wigan
Album Contents
Album Contents
Wigan Album
Wigan Wallgate Station
11 Comments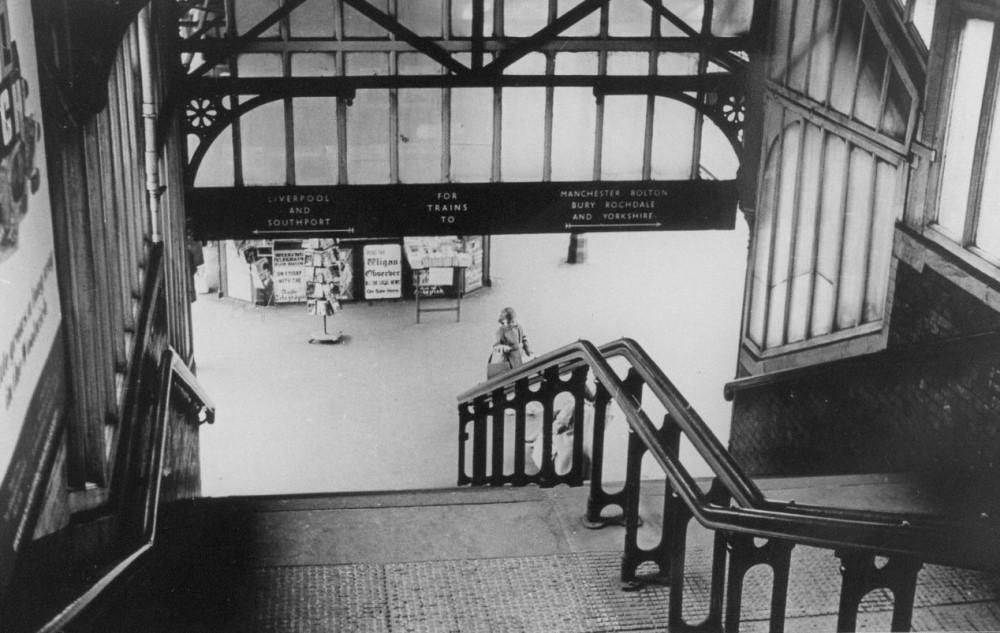 Stairs
Photo: RON HUNT
Views: 1,786
Item #: 26526
Stairs which lead from the station entrance/ticket hall to the platforms in the 1960's
Comment by: Ernest Pyke on 1st June 2015 at 13:23
Comment by: Roy on 1st June 2015 at 13:33
You didn't in the early 60s Ernest, lol.
Comment by: Ernest Pyke on 1st June 2015 at 15:20
Yes Roy, I was in my thirties then.
Comment by: irene roberts on 1st June 2015 at 18:33
I went in a lift on that station in the sixties. It may have been a Goods Lift, but I recall going in it with my brother and his wife and their small son in his pram. My brother worked on the railway.
Comment by: Jarvo on 1st June 2015 at 19:19
As a kid, and reaching this point on your day out to Southport, the excitement took hold. Firstly you'd smell the steam: distictive and pungent, and lingering from the tunnels. Then, the seemingly inactivity; it would be all calm on the platforms as you waited for the Stanier tanks to arrive. Soon enough, the first sighting of the Southport 'stopper' crawling into Wallgate Station...After your Dad had grabbed an empty compartment, the rest was sheer joy - a train journey to Southport Chapel Street...Nowt like it, EVER!
Comment by: irene roberts on 1st June 2015 at 20:28
Agreed, Jarvo, although we boarded in Ince.
Comment by: Gerry on 2nd June 2015 at 08:38
We ALWAYS boarded at Wallgate even though we lived in Ince. We'd have have been guaranteed a seat if we'd got on in Ince instead of jostling with the crowds at Wigan Wallgate..
Comment by: A.W. on 4th June 2015 at 10:31
i remember as a child in the early 1960's some of the older compartment trains had pictures hung up in them, also remember the windows operated by a strap, flip over ash trays attached beneath the windows, and the wonderful clouds of muck and dust that billowed out of the upholstery if you banged it hard!
Comment by: RON HUNT on 4th June 2015 at 11:45
As a young lad in the late 1950's early 1960's I used to travel, in the single compartment carriages, regularly from Pemberton to Kirkdale on Saturday's, as I was a MAD KEEN EVERTON SUPPORTER. At that time is was the fashion to have big wide leather belts with studs in them. On one of my journey's to Kirkdale I took a knife with me, and cut off the two leather window straps. I then sewed them together with fishing line and fitted a big brass buckle and a lot of studs, obtained from the saddler's shop near the N.W. Station. I kept it hidden in my bedroom. One day I came home from school went upstairs to my room and saw the belt laid across the bed I was quickly followed upstairs by my dad who if I say went BERSERK that would be an understatement. He proceeded to give me a few whacks with the offending article and then disapeared back down stairs with the belt, it never to be seen again. I've never forgot that incident.
Comment by: A.W. on 4th June 2015 at 14:43
Ron, that is the sort of thing most parents would have done in those days, they were much stricter than parents today.
Comment by: RON HUNT on 4th June 2015 at 14:47
AW. it was called punishment (for doing something wrong) discipline, and respect three words forgotten in today's world....