Photos of Wigan
Photos of Wigan
Album Contents
Album Contents
Wigan Album
Wigan Wallgate Station
5 Comments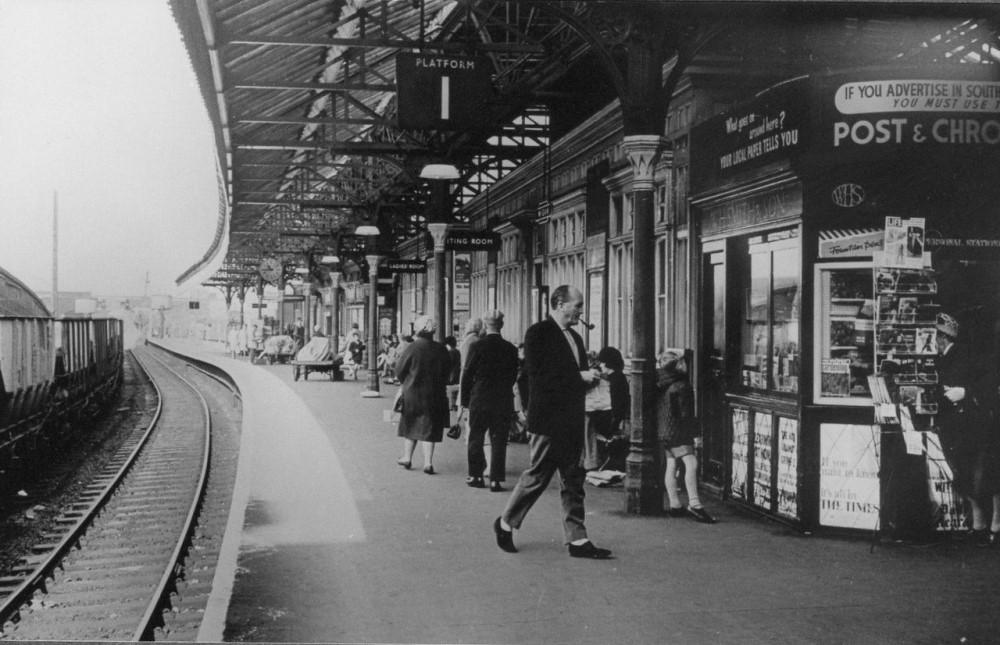 W.H.Smith's Newspaper Stand c.1964
Photo: RON HUNT
Views: 2,477
Item #: 26473
Partial view of W.H.Smith's newsagent stand from Platform 1 1964. Has anyone got a photo of the one on the North West Station? I loved these, there was something about the Railway Station Newsagent Stands which were different to other Newsagent stands. Always full of newspapers, books, magazines, not forgetting the Ian Allen Train Spotters books.
Comment by: John Brown on 12th May 2015 at 21:25
I remember it well. Another good un Ron.
Comment by: irene roberts on 13th May 2015 at 09:49
Another great photo, Ron. Just seeing a man smoking a pipe, as my Dad did, and the advert for the Post and Chronicle over the bookstall, takes me straight back to childhood. I can remember the paperlad cycling down Ince Green Lane shouting, "Chronicaaaal!" at the top of his voice!
Comment by: Loz on 13th May 2015 at 09:56
Frozen in time! Remember the station clocks, often driven by shafts from a mechanism in an adjacent room.
Comment by: Kenee on 13th May 2015 at 10:01
I know what you mean about the railway news stands. Among others, they used to have Mad magazine, which wasn't widely available in the late 1950's.
Comment by: Mick on 13th May 2015 at 12:10
The one on North Western station was the first stop when we were going on holiday. I was always bought the Beano comic summer special, in the hope it would keep me quiet for at least part of the journey.