Photos of Wigan
Photos of Wigan
Album Contents
Album Contents
Wigan Album
ST MARK'S NEWTOWN VICARS AND CURATES
1 Comment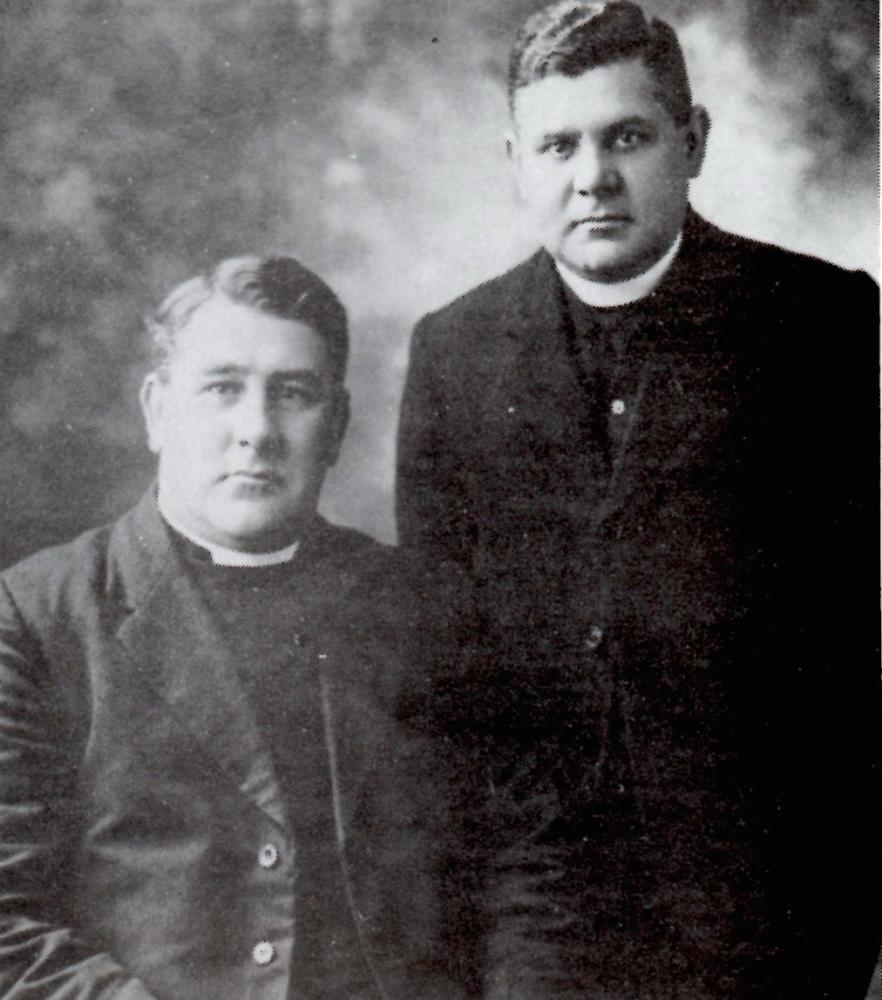 The Reverend James Norris Davey L.Th. & the Reverend Thomas Arthur Edward Davey B.A.
Photo: Michael Ardern Mason
Views: 1,064
Item #: 25409
The Reverends James Norris Davey L.Th. & Reverend Thomas Arthur Edward Davey B.A.were brothers who each became Vicar of St. Mark's Newtown. Rev. T.A.E. Davey was vicar from 1923 to 1929 and the Rev. J.N. Davey from 1929 to 1956, when it was only natural that St. Mark's parish began to bear his own particular stamp.
People who remembered the Rev. J.N. Davey said that he was always singing hymns, and had certain pet hates. He never allowed dancing at church functions because he thought that dancing was "just a cheap way of cuddling". He was also very much opposed to gambling and alcohol. Roman Catholicism was not his favourite version of Christianity (understatement), and he and his wife, Mary Elizabeth Davey ministered in partnership. Vicar Davey was particularly good at visiting the sick at any hour, day or night, and he especially liked to encourage children to worship at St. Mark's. At his funeral in 1956, the Bishop of Liverpool, Dr. Clifford A. Martin said without hesitation that there was no man in the Docese more universally respected than Jim Davey. He had been vicar of St. Mark's for nearly thirty years; his brother was vicar for six years before him, so there had been a Davey as vicar of St. Mark's for about 35 years. During that time the people of the parish had known just where they stood. Mr. Davey cared for his people and wore himself out for them, and he would do anything to do a good turn for anybody. He was a pastor of the highest order and a strength to those in weakness, especially in the sickroom. Rev. Jim Davey was a good man and among all his fellows he was highly regarded, highly esteemed , and deeply loved.

Comment by: Thomas(Tom)Walsh on 3rd August 2014 at 16:06
It is sad to read that The Reverend gentleman was so opposed to members of another Christian Church ,but I suppose he was of his time ,there was great bitterness on both sides . Today thank God this has largely disappeared . Younger people would be amazed that such division was preached from the pulpit . Jesus said " A new commandment I give unto you; To love one another as I have loved you". In another place in The Bible ," Love thy neighbour as thy self"