Photos of Wigan
Photos of Wigan
Album Contents
Album Contents
Wigan Album
Wigan Wallgate Station
11 Comments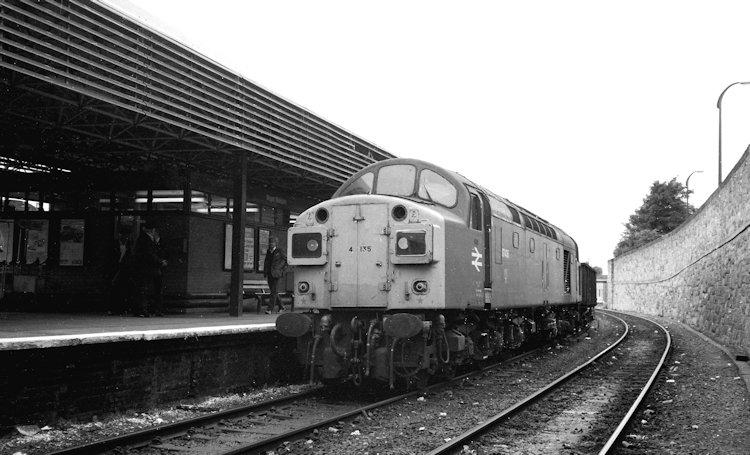 Wallgate station
Photo: Tom Sutch
Views: 1,837
Item #: 24047
One for cullie,97406 in Wallgate station mid 1980's
Comment by: Loz on 18th October 2013 at 13:39
Tom, did you trespass on the railway to take this photo?;) It looks like you were standing in the cess!
Comment by: Garry on 18th October 2013 at 15:29
Tom is a railway employee, loz.
Comment by: baker boy on 18th October 2013 at 19:08
Comment by: cullie on 19th October 2013 at 09:01
they were re-numbered 97's because they were used as departmental trains when they re-modernised crewe stn in the 1980's this fine example sat in wallgate growling to it's self says come near me and i'll bite gggggrrrrrrrr mega beast from hell...
Comment by: dave on 20th October 2013 at 11:36
great photo tom.are there any class 40s still in service today.iknow 37s are
Comment by: Garry on 25th October 2013 at 08:35
Not sure in service Dave, but seen running on the East Lancashire Railway at Bolton St, Bury.
Comment by: Baldylocks on 27th October 2013 at 00:34
Dave,
There are no class 40s in actual normal everyday main line service operating revenue earning traffic on the main line anymore sadly, as the class was progressively withdrawn/scrapped & retired throughout the 1980s,with the last of the fleet finally being withdrawn from the national network in 1988.

There are however a very small number of class 40s surviving in private ownership & in a state of preservation/restoration up & down the country do that see use on heritage railways.

Only one of them (40 145)is still mainline registered to see operational use back on the main line & authorised to work enthusiast`s specials etc.
But 40 145 is currently out of use due to requiring work to repair its main generator.
This class 40 is probably the only one that has been adapted? & fitted with modern safety systems? like some basic form of TPWS & OTMR? (to supplement the Automatic Warning System & the Deadman`s Safety Device)

Out of the 200 class 40s produced only 7 now survive.

These are.
40 122
40 012
40 013
40 106
40 118
40 135
40 145.

I still think these locos are far nicer to see (& hear) than the modern stuff that we have these days.

The 40s had lovely & distinctive sound to em too,as they whistled from the exhausts when throttled up to full power.

& they were British built
Comment by: Ernest Pyke on 7th November 2013 at 06:30
Baldylocks; class 40 preservation society website:-
http://www.cfps.co.uk/about40145.htm
gives info about 40145.
Comment by: dave on 10th November 2013 at 10:37
40145 was at bury yesterday
Comment by: David L on 12th January 2014 at 17:29
Loco is the photo is 40135 (then numbered as 97406). Loco is still running on the East Lancs Railway at Bury.
Comment by: Albert.S. on 4th May 2019 at 10:01
No way do today's locomotives have the same enchantment as the giant steam locomotives of bygone years.