Photos of Wigan
Photos of Wigan
Album Contents
Album Contents
Wigan Album
Market Place, Wigan
9 Comments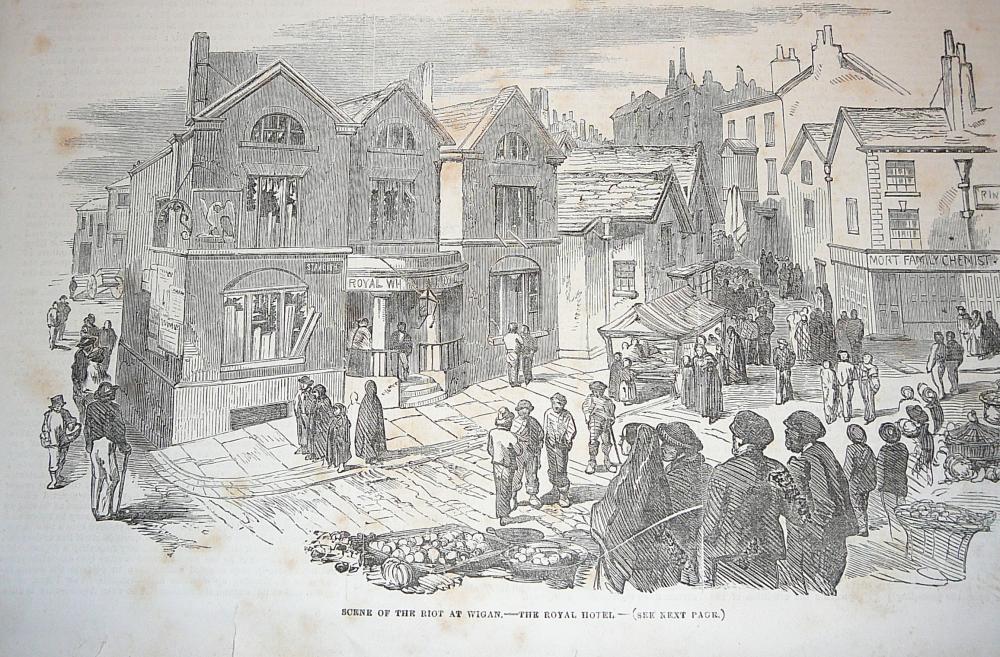 Market Place 1853
Photo: Mick
Views: 3,573
Item #: 23964
Interesting engraving from the London Illustrated News, November 5th 1853, showing Market Place after the coal strike riot, and damage to the Royal Hotel.
Mort's chemist pictured was on the corner of Market Place and Millgate, and the Ring o' Bells pub can just be seen to the left of it.

Comment by: Mick on 24th September 2013 at 22:35
Apologies - senior moment - Ring O' Bells to right of chemists.
Comment by: tricia on 25th September 2013 at 08:49
An amazing photo (engraving!) Mick. Could not get my bearings at first. Would the Royal Hotel have stood roughly in the area where Woolworth's was in our time?
Very interesting and thanks for posting. At the risk of copying Lizzie lol may I save it for my Family History Records? G'day Lizzie !
Comment by: A.W. on 25th September 2013 at 09:57
The small building directly to the right of the Royal Hotel would have been Bradshaw's/Alkers watchmakers shop. There is a very old photo of it in a publication, can't think what at the moment.
Comment by: Mick on 25th September 2013 at 10:25
You are right re the location, Tricia. Please feel free to copy the pic.
G'day Tricia.....yes you have to ask.....the thing is everyone knows that I have an England Album....so I now have permission from everybody...I don't have to ask....cheers!!!!
Comment by: RON HUNT on 25th September 2013 at 14:35
I am sure I put this engraving on the site a few years ago along with the report of the riot that accompanied it?
Comment by: Mick on 25th September 2013 at 15:30
Quite possibly Ron - I just checked the albums, and couldn't see any previous posting of the pic.
Comment by: tricia on 25th September 2013 at 19:31
Comment by: Keith on 28th September 2013 at 15:32
I couldn't find Ron's account so here is a truncated version from Bob Blakeman's excellent book, "Wigan - A Historical Souvenir".
"In 1853 a particularly serious (coal) riot occurred in Wigan. The strike had been going several weeks in support of a pay claim when it became known that their employers were holding a meeting in the Royal Hotel to discuss their demands.
As they left it became known the pay claim had been turned down, they were jostled and threatened by the crowd, and took refuge in a shop.
When the police arrive the crowd attacked them - they fled and barricaded themselves in the police station.The strikers then went on the rampage, breaking into shops and pubs and taking away whatever they could lay their hands on."