Photos of Wigan
Photos of Wigan
Album Contents
Album Contents
Wigan Album
Wigan Wallgate Station
10 Comments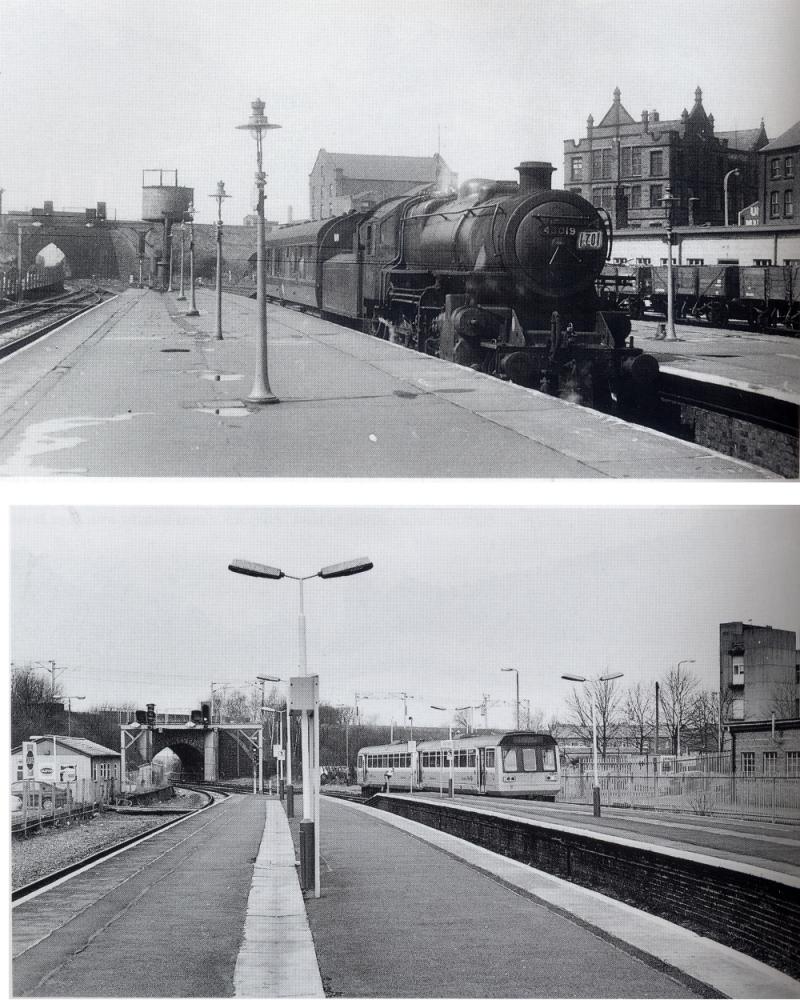 Two Views of Wallgate Station
Photo: RON HUNT
Views: 1,858
Item #: 23855
Two views showing the same view of Wallgate station from different years.
Comment by: RON HUNT on 1st September 2013 at 13:11
What is the big building to the right of the train and to the left of Uncle Joe's? Looks like it was a superb building
Comment by: DerekB on 1st September 2013 at 13:32
Ron, I think that the building you are querying belonged to the Co=op. I recall going to a wedding reception there in the early sixties, especially the fact that negotiating the dance floor involved going around presumably load bearing poles. Also, across the road from this building and next to Uncle Joe's was the Co-op dairy.
Comment by: Cyril on 1st September 2013 at 13:47
That was the the Wigan and District Co-operative dairy and warehouse, it also had a large hall in which weddings etc., were held.
Comment by: jj on 1st September 2013 at 14:30
Don't these two images demonstrate the difference between modern architecture and that of the past? Look at the attractive buildings of yesteryear compared with the ugly concrete blocks of modern times. Even the lamp standards were more pleasing on the eye. So much for progress!
Comment by: Cyril on 1st September 2013 at 17:02
Thinking back the reception hall had a name, even though I'd heard the name of the hall mentioned umpteen times whilst working at the Emporium I just can't recall it, can anyone recall the name.

Whilst searching for the name I came across a website that says an iron and wooden circus was on this site before the Co-op warehouse was built, the name of this was Transfield's New Royal Circus, the website address is below, there is also some very interesting info on other Wigan theatres of yesterday.

http://www.arthurlloyd.co.uk/Wigan/TransfieldsRoyalCircusWigan.htm
Comment by: certacito on 1st September 2013 at 21:06
I seem to remember the name of the building in question was the Cooperative Assembly Hall
Comment by: A.W. on 2nd September 2013 at 09:46
The gas lamps were still on Wigan Wallgate station right up until the station was rebuilt in the late 1970s.
Comment by: Alan H on 2nd September 2013 at 14:27
Ron Hunt,the building was Wigan Coop's warehouse. Dancing was held there in what was known as the Coop Hall.
Comment by: Dave Marsh on 5th September 2013 at 08:35
If it was still dark I would feel like I was off to work in the fifties,Ron.Was Gee's School of Dancing on the right?
Comment by: Cyril on 6th September 2013 at 11:31
Seems you're right with the name Assembly Hall certacito this was posted by Art on a thread about the co-op in 2009.

Posted by: ©art© (5908)

Anybody remember the Co-op Assembly Hall in Dorning St, & the dairy in Dawber St where the BT exchange is now.
A massive hall & stage, problem was, if there was dancing on, you had to dance round iron pillars.
The "Co-op Classes" (remember them?) yearly party was held there, kids from all over Wigan & District

Replied: 10th Jul 2009 at 00:27