Photos of Wigan
Photos of Wigan
Album Contents
Album Contents
Wigan Album
Ashton
9 Comments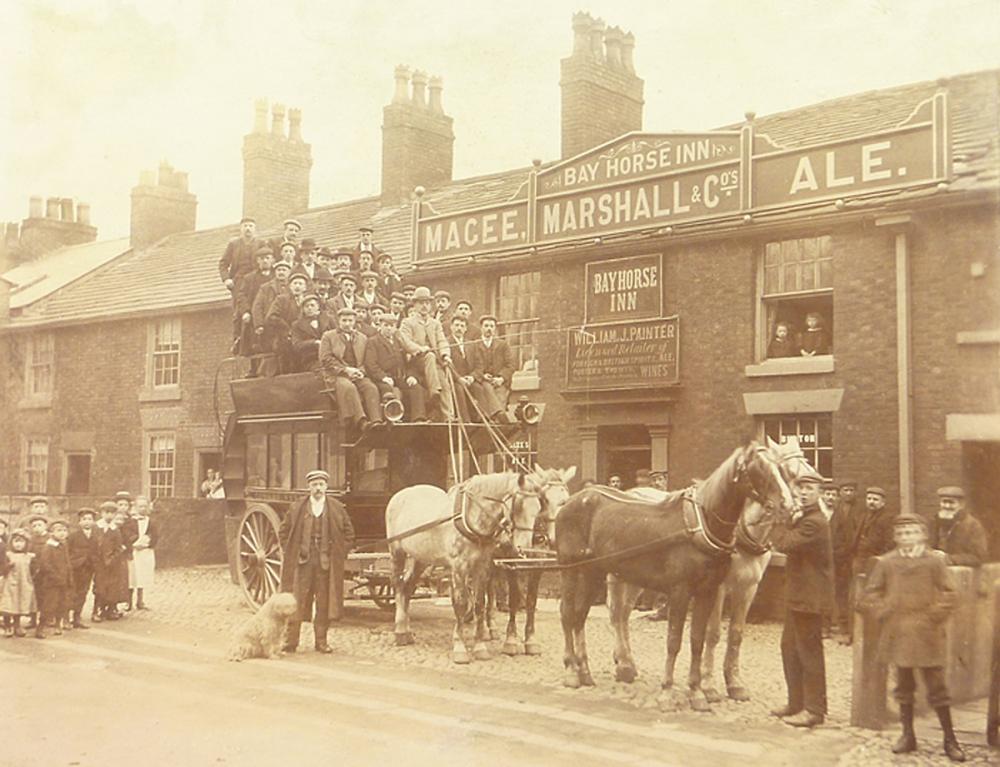 Bayhorse Inn
Photo: Allan Hughes
Views: 2,922
Item #: 22487
A photo of a loaded horse drawn carriage outside of the Bayhorse inn, Warrington rd Ashton. Not sure of the year but is 1914 or earlier, maybe someone can tell use when William Painter was the landlord?
Comment by: K Beckett on 19th January 2013 at 22:41
The 1901 and 1911 census shows him to be the landlord.Aged 44 in 1911.
His grandfather and father are shown as landlords of the Ronin Hood from 1861 to 1901.
Comment by: Stan on 20th January 2013 at 09:21
William James Painter was an engine fitter still living at the Robin Hood in 1891 but was resident at the Bay Horse by the time he married Elizabeth Ellen Dierden at St.Thomas' on 12 April 1893. The two children in the window are presumably Ethel Mary born March 1895 and Gladys Annie, born July 1899. I am hopeless at guessing ages but would that make it about 1905?
Comment by: Henry7 on 20th January 2013 at 10:27
What would Health and Safety have to say about this? Great photo.
Comment by: Stan on 20th January 2013 at 10:59
At least he has parked it inside the double yellow lines!
Comment by: Kenee on 20th January 2013 at 11:19
Room on top for a little one !

I've never seen anything like it, imagine going under a low bridge!
Very alarming when you first see it - but as the inside saloon is empty, I think we can assume that those at the back would not actually be travelling up there - after posing for the photograph they'd climb down the staircase at the back, and retire to the comfort and safety of the covered seats.
A super picture of quite a rare vehicle - a double-decker, horse-drawn charabanc.
Comment by: Karin on 20th January 2013 at 22:15
Could this be the homecoming celebration of the Lancashire Hussars from the Boer War in 1901?
Wigan Newspapers at the time recorded that the Hussars arrived back in Ashton-in-Makerfield for a celebration and then were taken by wagonettes to the Train Stations.
I presume the Train Stations would be the one at Bryn and the one at Ashton which would be a couple of hundred yards further down the road after the Bay Horse.
Maybe it isn't the Hussars homecoming because all the men appear to be in Civilian clothes. At their homecoming celebration would they wear civvies or military uniform? I just thought such a large gathering of men may possibly be the homecoming of the Hussars and the clothes do look like what was worn in 1901. What do other people think?
Comment by: AP on 21st January 2013 at 08:30
They appear to have a rather somber appearance, as opposed to celebrating!
Comment by: ian gregson on 21st May 2013 at 19:36
so can we tie this photo in with the one of Price Edward on Warrington Rd that garnered much debate ?