Photos of Wigan
Photos of Wigan
Album Contents
Album Contents
Wigan Album
Ashton
16 Comments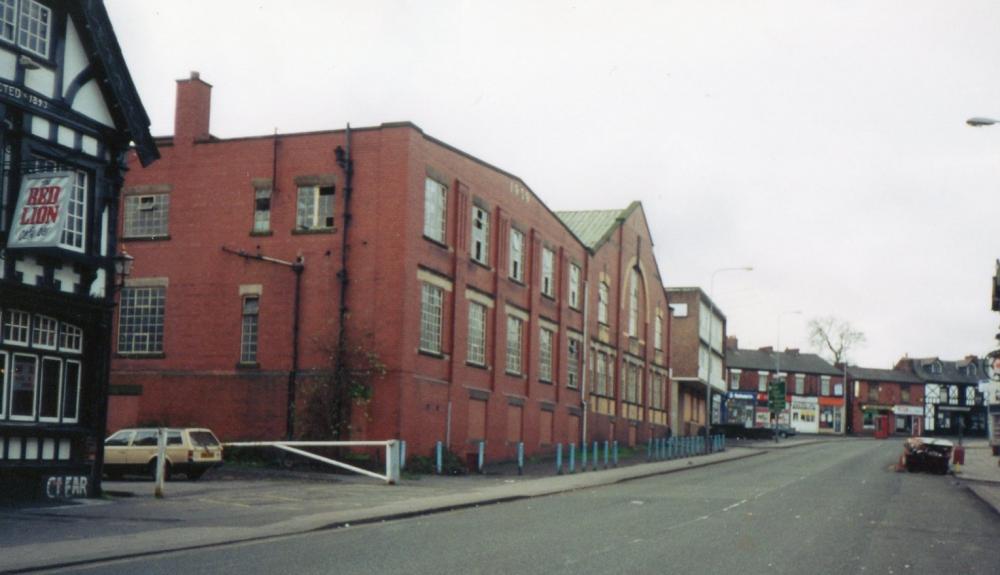 Gerard Street.
Photo: Keith Fox
Views: 3,410
Item #: 22325
Cromptons Works Novenber 1994
Comment by: irene roberts on 4th January 2013 at 16:34
I worked at Richardson's Chemists, (black and white building on the far right of the photo, almost out of sight), when I left school in 1969. I remember Crompton's well.
Comment by: Thomas(Tom)Walsh on 4th January 2013 at 21:49
The Red Lion was always known as Old Marys ,presumably after a former landlady. Irene,I remember Richardsons Chemists,I was in business on Gerard street for well over thirty years ,I remember a lady who worked at the chemists she was a twin , I could never tell her apart from her sister, was she there in your time?
Comment by: Kenee on 5th January 2013 at 10:10
I don't think I've ever seen Gerard Street so quiet.

This photo was taken just before Crompton's was demolished. You can see the office block windows are boarded up.
Comment by: irene roberts on 5th January 2013 at 12:37
No,Tom, I don't remember her. There were three staff.....myself, Susan and Heather. I went there in July 1969 when I left school and was there for a year working for Mr. Norman Richardson. Then he and his brother Eric opened a shop in Standish and I worked there for the next three years for Eric. I actually lived in Ince so both shops were quite a way from home for me.
Comment by: irene roberts on 5th January 2013 at 12:39
PS,What was your business, Tom, and where was it in Gerrard St. if you don't mind me asking?
Comment by: Thomas(Tom) Walsh. on 5th January 2013 at 18:25
Irene , I had a carpet shop on Gerard Street ,I was there from 1971 untill 2006 . The shop was next to what is now The Sir Thomas Gerard , when I went there it was the site of The Congregational Church, after it was demolished it became a Kwik Save store. When you worked at Richardsons,the shop next door was Cunliffes Greengrocers , Mr Cunliffe was gentleman of the old school. I still miss the shop very much, I had a lot of good friends in Ashton .
Tom and Irene,you may be interested in the following:-
The twin lady in Richardson's shop was Lorna Smith who lived with her family nearby in Heath Road. She began working for Richardson's in the 1970's. I married her twin, Sheila Turton, at the Congregational church in Nov,1971. Our first carpets were bought at the carpet shop.
Comment by: Thomas(Tom)Walsh. on 6th January 2013 at 01:07
Tony I remember your sister inlaw she lived at the corner house on Heath Road and Butchers Lane, may I test my memory did you live on Old Road when you first married , I certainly remember doing your carpet , regards to all, Tom.
Comment by: irene roberts on 6th January 2013 at 14:14
Tom and Tony, thankyou for your comments. I was at Richardson's Standish shop from mid-1970 to 1973, then went to work at Debenham's, but I know Ashton quite well and remember the carpet shop. When I worked at the Ashton Chemists, mid 1969/mid 1970, there was a record shop somewhere near to where the carpet shop would have been, and I bought a few singles from there.
Comment by: kathy lee on 6th January 2013 at 15:55
Tom I thought I recognised who you are and I think you have now confirmed my thoughts. I am the daughter of Sylvia who worked with you in the carpet trade.She also worked in Gerrard St in a wallpaper shop in the 1960's
Tom, your memory is pretty good. When we first married we lived on Low Bank Road(and still do) which is off Old Road.
Comment by: Jimmy m on 7th January 2013 at 00:28
I can remember going to a record shop, which also sold tv's if I remember rightly. It must have been the late 60's I can remember getting an Herman's Hermits LP from there. I would be grateful if anybody can remember this shop then I'd know I wasn't dreaming!
Comment by: Thomas(Tom)Walsh on 7th January 2013 at 09:16
Jimmy M, you are ouite correct the shop I ran was previously Unsworth's
Record Shop,prior to that it was Haywoods Music Shop ,selling pianos sheet music and the like. Many older Ashton people will remember the shop next door being Able Ogden's Barbers Shop, and umbrella repairs ,he moved from Gerard Street to Wigan Road about 1973/74, and finally retired a few years late. People were still taking brollies for repair . Also on Gerard Street Jacksons had a shop where you could take irons and kettles for new elements and other such work,these services are now redundant because of the inexpensive cost of replacement ,the throwaway society is now firmly established . Kathy please pass on my kindest good wishes to your Mum.
Comment by: irene roberts on 7th January 2013 at 09:19
The record shop I remember was at the bottom of Gerrard Street, round about where the Thomas Gerrard pub is now, but I can't remember whether they sold TVs or not.
Comment by: AP on 9th January 2013 at 18:09
I seem to have a vague recollection of a large detached house on Wigan Road, which had a copper slate roof (weathered to become coloured green like in Scandinavia) having something to do with Thomas Crompton. Does anyone know about this?
Comment by: allan wood on 13th January 2013 at 22:40
Thomas (tom) Walsh
Eric Cunliffe was my father in law and you are so right, he was a gentleman and when he died the world lost a good soul.