Photos of Wigan
Photos of Wigan
Album Contents
Album Contents
Wigan Album
Scholes
11 Comments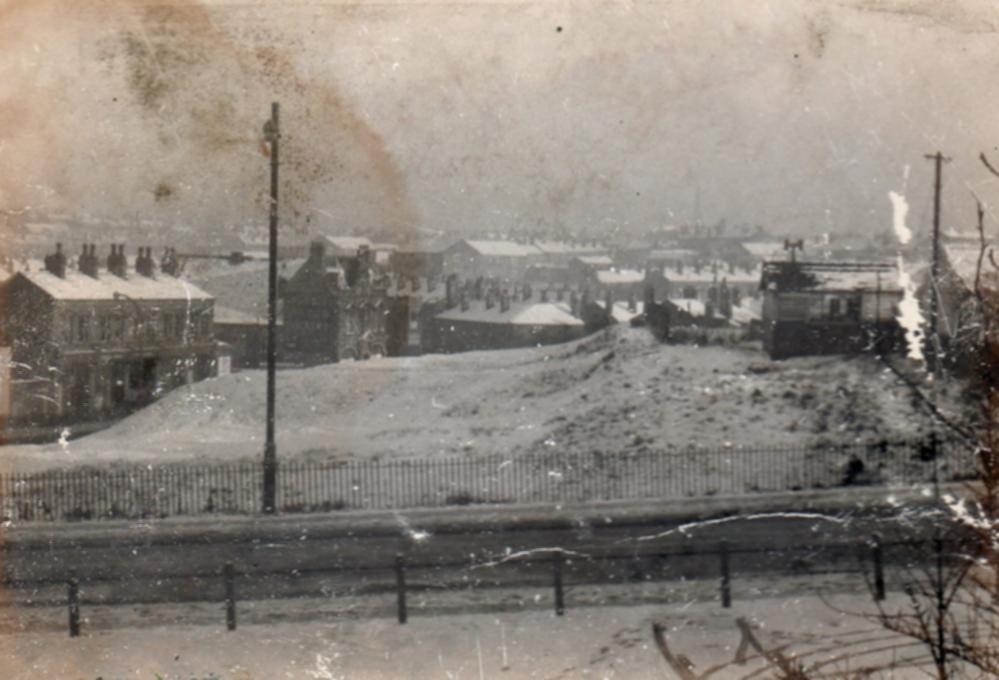 View of Scholes taken from Ritz Car Park
Photo: RON HUNT
Views: 2,916
Item #: 21221
Photograph submitted by Marguerite Isherwood. Thought to have been taken by Jim Isherwood. Sorry about the quality but this photograph, along with 5 more(see others I have put on the site) I spent a couple of hours last night "cleaning up" only for the file to have been deleted by mistake.
Comment by: Margaret Wall on 9th August 2012 at 10:51
What a fabulous photo. It would have been great to see it in its original state but it's well worth "cleaning up" again Ron. Is that Wigan Little Theatre in the middle distance?
Comment by: LEP1950 on 9th August 2012 at 11:14
You've made my day!! My grandma lived amongst the houses to the right of the photo. My brother once got his head stuck in the part of the fence surrounding the River Douglas opposite The Little Theatre. We often used to go over or through the fence to play on the hilly part. I don't think our parents knew where we were!! Anyway, I'm putting a book together for my brother's 60th birthday, so this is a great picture. Thank you!
Comment by: Thomas(Tom)Walsh. on 9th August 2012 at 11:24
The street running in front of the Ritz car park,I think was Watkin Street.
This photogragh seem to have been taken from the Ritz steps.
Comment by: RON HUNT on 9th August 2012 at 11:49
Like hundreds of other boys. I've run down that hill a few times with my mac. tied around my neck, and my balaclava pulled up, so that just my eyes were showing.
Comment by: irene roberts on 9th August 2012 at 14:15
He still does, everyone, on his way to WLT!
Comment by: Maureen Andrews nee McGovern on 9th August 2012 at 17:23
I had an Aunt that lived in the Street facing W.L.T..my Dad was the projectionist when it was a cinema..my Mam was visiting my Aunts and said Aunt asked my mam to take some butties over the road for "young Jimmy" and there they fell in love, my Mam had just turned 16.
Comment by: irene roberts on 9th August 2012 at 21:07
Oh,Maureen, the stories that come from these photos, that would never have come to light but for Wigan World!
Comment by: Maureen Andrews nee McGovern on 10th August 2012 at 14:59
Yes Irene,we could write a book about Wigan as it used to be couldn't we..I love seeing these photo's and I know you do too.
Comment by: JohnAlan on 13th August 2012 at 15:39
Greta photo and full of nostalgia! The cleaned up one may lose something, I don't know. Anyway I wish I had a pound for every time I have been up and down those steps, on my way to the Ritz ABC Minors or later as a young teenager trying to get into X rated films and in the main being refused! The Empire was the best for that. Re-enacting the parts of Hop-a-Long Cassidy or Roy Rogers or Flash Gordon on the way back home to Scholes on a Staurday morning. Later in my teens, going to see the 60s acts at the Ritz or Casino (didn't manage a ticket to see The Beatles) but saw many more, Roy Orbison, Cliff and The Shadows, The Stones, The Hollies, The Merseybeats and many more. What great times. I also used the steps on my way to Woolies to meet my girlfriend as did many many more. There used to be a small hut at the top to the lrft of the steps where I think the inspectors on Corporation buses used to hang out. Would Central Station still have been operational at the time of the photo? What memories these photos invoke and it's a pity none of my mates of those times utilise wigan world like Irene and the others do.
Comment by: jim holding on 13th August 2012 at 17:49
john

looks like a typical platelayrs or shunters railway cabin on the right of the picture with a chimney for the pot bellied stove,but best night for me at Ritz used to be sundays when all the lads did was walk round looking for girls to sit next to and try and chat up..was just like a parade ,,usherettes trying in vain to get every one sat down
did manage to see the Beatles and the Stones on Ritz have even got a program for Beatles which i keep meaning to scan on here,Had forgotten about the little bus inspectors hut but can see it now in my mind,,,,,and Wollies corner what can you say about thats not already been said,,,think everyone has arranged to meet some one there,,,great memories for sure
Comment by: JohnAlan on 10th September 2012 at 14:41
Thanks for the comments Jim. Wouldn't it be nice to turn back the clock to those happy times?