Photos of Wigan
Photos of Wigan
Album Contents
Album Contents
Wigan Album
Scholes
25 Comments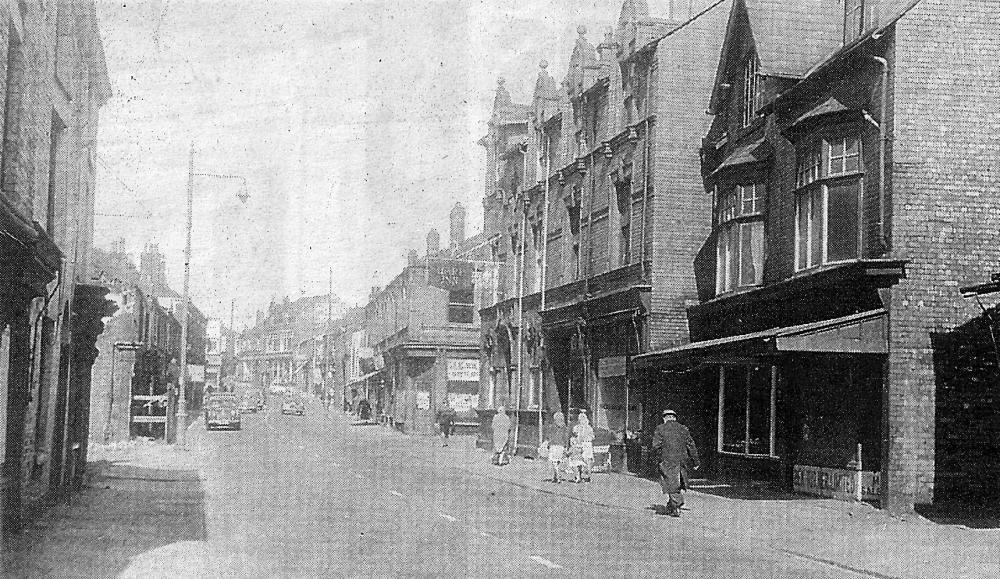 Scholes late 50s early 60s
Photo: JohnAlan
Views: 5,488
Item #: 21209
Great memories of the area before decimation took place. Or is it around that time? I think it is earlier. The Harp can be seen on the corner of Vauxhall Rd. What was the gap facing The Harp called? Did it lead down to Boyswell Lane and the playground? There was a pub on the corner which looks as though it is either being demolished or having some work carried out, you can see fencing to the front. Come on test your little grey cells and identify all the shops and pubs in the photo. Is that Wildings on the corner of Vauxhall Rd? I know Henry's newsagent was on the left going towards Greenough St. Anyone else remember it? You can just make out the top of Greenough St and the bottom of Scholefield Lane with Sherringtons Ironmongers on the corner with Scholes. Doesn't look like there are traffic lights at this time so presumably the shot is quite a few years before Scholes was spoiled for ever.
Comment by: derekb on 7th August 2012 at 13:39
I seem to remember that one of the shops on the Wigan side of The Harp was a UCP branch (United Cowheel Products, or tripe shop) I can't remember the full name of the pub with the fencing around it but I'm pretty sure it was Fox and something.
Comment by: roy sturgeon on 7th August 2012 at 15:48
fw smales butchers was on left facing vauxhall rd there was a passage way down the side could it have been boyswell lane
i worked at smales in 1960
Comment by: Albert. on 7th August 2012 at 16:29
The shop with the wooden verandah,is possibly Ben Turner's butchers, and next to it could be Christies, they sold underwear.
Comment by: mw on 7th August 2012 at 16:57
was the Paradise club on Vauxall rd,? thats were i met my hubby, 50 yrs ago, great nights , and were still together!!
Comment by: Thomas(Tom)Walsh. on 7th August 2012 at 17:32
Albert,your right the first shop was Ben Turners,later taken over by John Horrocks ,a former Mayor of Wigan.next door was Swift's confectioners,
then Christies baby ware , opposite the public house under demolishion was The Black Swan or The White Swan,I can't remember which came first. M.W.you may be interested to know,there's a photogragh of The Paradise Club on Wigan World,go to Album ,Places,scroll done to Scholes,
4th page.
Comment by: jim holding on 7th August 2012 at 17:49
Am sure one of the shops was a confectioners,,used to buy gingerbread men from there
the gap facing the harp was boyswell lane but before that was swan terrace i lived in swan terrace until they pulled our houses down the white swan was at the top of boyswell lane and the black swan was at the top of swanterrace
Comment by: mw on 7th August 2012 at 18:49
thanks for that Tom, oh boy that brings back great times,
Comment by: Walt (NthYorkshire) on 8th August 2012 at 10:24
The large building at the far end right hand side was McCurdy's furniture store, outside was a Police call box. Nearer on the right close to the Harp was a shop belonging to Swarbrick and Andrews, they supplied Black and White BBC televisions as well as washers and irons. There was also a butchers shop that displayed meat on open shelves, my dad's dog once snatched a juicy steak and ran off up Scholes. Bolton's chemist had a shop here also, the sold Ginger beer 3d a glass. And don't forget The Cinema on the left, I saw 'Winchester 73' here in 1957 when I was 10 years old. --- oh what memories.
Comment by: JohnAlan on 8th August 2012 at 19:43
Thanks for all the comments they certainly bring back some wonderful memories. There was a confectioners up nearer to the advertising boards on the right towards Scholefield Lane called Poulsons. Their son John was in my class at St Catharine's School. Walt Wasn't Mc Curdys up near Platt Lane probably right in the background of the photo? May Hollinngsworth had a fishmongers on the right somewhere in the area of the photo with I am almost sure a veranda over the frontage. Was Prices further up on the right past Scholefield Lane and the gap after Sherringtons?
Comment by: Albert. on 8th August 2012 at 20:21
Maggie Lewis, and her sister, had a butcher's shop, on the left hand side, before you reached Greenough Street. She provided a smashing cuppa.
Comment by: Jim Latham on 8th August 2012 at 20:41
Ben Turner had a shop here but I couldn't be sure exactly which one. The slaughter house and sausage house were up the yard behind the shop. My dad worked for Ben Turner nearly all his working life, eventually becoming manager of th Worsley Mesnes shop. The shop was at 90, Poolstock Lane, opposite Russ's barbers shop. I lived at no. 90 for about 20 years. It was demolished about 1974, it being as a result of a Compusory Purchase Order by Wigan Metro. Very happy times for me, living there. In fact I'm only a few hundred metres from there now!!!
Comment by: Thomas(Tom)Walsh on 8th August 2012 at 22:44
John ,May Hollingsworth ,Fishmongers is just out of shoot,on the right,two or three shops down,the first shop,you can just see the corner,was Rothwels,secondhand furniture and bric a brac ,the opening on the right was Mill Yard,Ben Turners slaughterhouse was at the top,one of four slaughterhouses in and around Scholes,.There were eight butchers between Scholes crossing and Greenough Street,numerous grocers,eleven pubs,two fishmonger,Milliners,Conservateive Club two chemists a temperance bar,motorbike shop,a picture house,newsagents,tripe shop,Bank,and many more ,When you look the area now you can but wonder how they all fitted on that piece land!
Comment by: Stuartp on 9th August 2012 at 10:03
Does anyone remember the dawbers of schofield lane, the old dad had an herbalist on the street, and he was a local joiner,
Comment by: derekb on 9th August 2012 at 16:10
Next to Mc Curdys was Mrs. Leigh's shop (who sold toys) then there was a branch of Prices confectioners (a Bolton firm and the only place you could buy fresh bread on Wigan week holidays) Opposite on the corner of Jackson Square was a women's dress shop (V Almond?) On the other corner of Jackson square was a chippy,then going towards Reg Sutton's was Sandersons confectioners(two unmarried sisters), Sineys mens barbers and at the top of the entrance to Crawford Terrace was a cloggers (Bolton's?)and on the other side a chemist's
Comment by: Albert on 10th August 2012 at 09:51
Mrs Orrell, had a snack bar, across the road from Veronica Almonds.
Comment by: Alba on 10th August 2012 at 11:40
Memories? mine are in the forties, Ben Turners was the butchers shop with the canopy.Thier slaughterhouse was down the side entry.Wilding's wa at the corner of Vauxhall Road,Pawn brokers and clothing. I got my first long pants there.
Smailles burchers awas across the road Thier slaughterhouse was behind,they were pork butchers and we used to get "Pigs bladders" from there to use as footballs I shudder at the thought now.There was a Candle and Tallow works in Jacksons square which seemed to operate without being noticed.McCurdys was a large store, they did sell Hercules bicycles and they were £3-50 each or 50p down and 25p per week ( Do not forget £3-50 was more than a weeks wage for most)Scholes was a mixture of dereliction and at the same time, businesses and shops,
Comment by: JohnAlan on 13th August 2012 at 16:15
What wonderful memories of Scholes, thanks to all of you. I rememebr my dad taking me into Siney's butchers (oops sorry barbers) shop on a Saturday morning, and sitting in the high chair reserved for kiddies. "To the bone" dad used to say. I didn't have a say in the matter. Watching the older men having a shave as well as hair cut. Stroking the cut throat razor up and down the leather strop to get an edges and getting a good froth on the shaving soap. The hot towels and after shave(?) used to take the sting out. The endless chatter of those waiting and Mr Siney (what was his first name?) keeping up a conversation with the whole shop. Wasn't there another barbers/hairdressers on the corner of Great Acre, I think. Anyone remember the name?
Comment by: vcatterall on 16th August 2012 at 15:26
This picture makes me want to go home again around the corner into Vauxhall Rd and around the corner into John St. It just seems like yesterday. I remember peeping into the Harp vestibule and tittering at the naughty ladies on the tiled walls - which were I think Grecian ladies!!!***I feel absolutely homesick - and that is so sad.
Comment by: jcf on 17th August 2012 at 11:01
His name was Arthur Siney !
Comment by: JohnAlan on 28th August 2012 at 17:18
Thanks JCF, I wouldn't have guessed Arthur! He didn't look like an Arthur from memory. Was his shop on the corner of Great Acre and Scholes?
Comment by: tuddy on 6th September 2012 at 23:59
john alan, was the other barber Billy Worthington?
Comment by: JohnAlan on 10th September 2012 at 14:46
Tuddy - yes it was Billy Worthington's now you mention it. Thanks for that. Can still picture that tall leather clad stool that he used to sit kids on with there sitting around the shop smoking, chatting and reading the paper. Sure it was on the corner of Scholes and Great Acre.
Comment by: upthetims on 14th June 2014 at 20:03
Billy Worthingtons barbers was originally on the corner of Baron St.,then went across the road,a couple of steps to negotiate into the shop