Photos of Wigan
Photos of Wigan
Album Contents
Album Contents
Wigan Album
MAKINSON ARCADE
25 Comments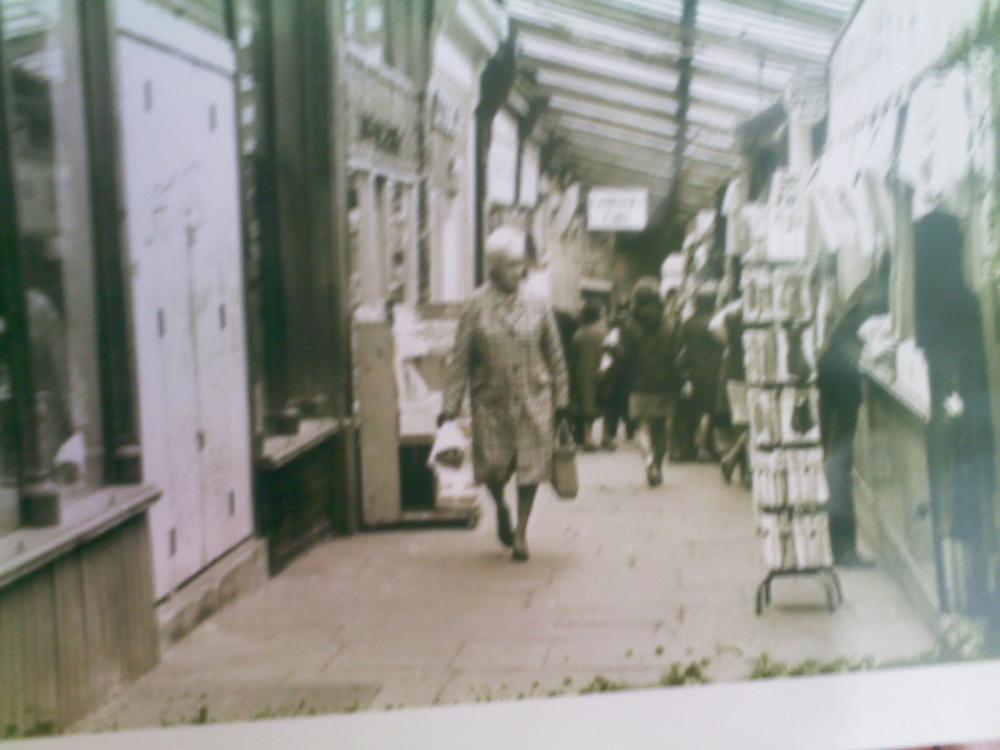 the old arcade in wigan
Photo: sheila jackson
Views: 6,758
Item #: 20633
u can just see gorners cafe
Comment by: AP on 6th May 2012 at 14:22
Surely little Arcade?

(http://www.wiganworld.co.uk/album/photo.php?opt=5&id=10275&gallery=Market+Arcade&offset=0)
Comment by: irene roberts on 6th May 2012 at 14:31
It was known by some as The Little Arcade and by others as The Old Arcade, but no-one ever gave it its official name, which was The Market Arcade.
Comment by: AP on 6th May 2012 at 14:36
Either way, tisn't Makinson Arcade, which you can see if you enter it into the above search box
Comment by: irene roberts on 6th May 2012 at 15:58
Yes, Makinson's Arcade and The Royal Arcade are still there, and were always a bit posher than this one, but it had a homeliness lacking in the others and is much-missed by many Wiganers along with the back alleys and interesting shops that we lost in the name of progress.
Comment by: tricia on 6th May 2012 at 18:16
Hello Irene
Yes , and it had more character than these faceless monstrosities they are bunging up everywhere. A bit here, a bit there with no thought at all to Planning or aesthetics.
Comment by: josie on 6th May 2012 at 23:21
i agree trisha and irene,why on earth have they built grande arcade ? only for all the shops in galleries to move there instead, the galleries was always more cosy and now is empty WHY ?
Comment by: rolo69 on 7th May 2012 at 11:19
I can hear him now "Try your weight now friends"
Comment by: Albert on 7th May 2012 at 12:14
At the end of one of the arcades' there was a shop that retailed in coffee, always a lovely aroma, as you passed by it.
Comment by: irene roberts on 7th May 2012 at 12:15
Because they won't be happy until Wigan just looks like everywhere else. It isn't worth going for a trip to another town "for a change" these days...everywhere looks identical.
Comment by: irene roberts on 7th May 2012 at 12:57
That was Makinson's in The Makinson Arcade, Albert. It is Thornton's Chocolates now, but the name Makinson is still there in mosaic on the floor of the shop doorway as you walk in.
Comment by: tricia on 7th May 2012 at 13:22
Also. Josie and Irene
They do not know what to waste money on next.
Comment by: Albert on 7th May 2012 at 14:56
Thank you Irene. I have not lived in the Wigan area for forty eight years. Lived in Kent for twenty four years,and now in Blackpool for the past twenty four years
Comment by: Tom Walsh on 7th May 2012 at 17:42
Half way down on the right (looking towards the market) there was a toy stall ,that was also a dolls hospital, my Mother used to take my sisters dolls there for repair.That of course was before the the throw-away-society.
Comment by: Mick on 7th May 2012 at 18:22
Forshaw's Dolls' Hospital if I remember rightly. They also sold tricks and jokes like stink bombs and sneezing powder etc. Wasted my pocket money there regularly!
Comment by: AP on 7th May 2012 at 18:42
There was a seller of paperbacks thereabouts. I recall purchasing my first Len Deighton (The IPCRESS File) there in the early 1960's.

Back in the 1960's, we would have one lecture end in the Tech (Library Street), and the next commence at the Tech (Parson's Walk). It always seemed to be raining, so our usual route was via Little Arcade.

The timetable made no allowance whatsoever for the time taken for us to perambulate from one t'tuther. If the prior lecturer had over ran, or traffic delayed our crossing of Market Place, it was at about this point that we would have to make the decision to abandon the subsequent lecture, and would instead pile into the Tory club, and console ourselves with one of their excellent lunches: best deal in Wigan they were!

I still think we should have got Tech to give us a partial refund of our Fees.
Comment by: Tony on 8th May 2012 at 08:44
Was it not the market Arcade?
Comment by: Loz on 8th May 2012 at 10:22
AP,I think the seller of paperbacks was Frank Ryding. He now has a stall in the market hall.
Comment by: bill g on 8th May 2012 at 12:15
Was the paper back seller's not Smiths?
Comment by: irene roberts on 8th May 2012 at 12:58
Smith's definitely started in The Old Arcade; perhaps Frank Ryding was there too? When you get served on Frank's stall, he looks really tall because he is on a raised platform behind the stall...he once came into Boots' when I worked there, and I was amazed that he is quite small in height. I love the way they put a little paper band round your newspaper or magazine on that stall, to keep it from getting in a mess until you get it home. Just a little thoughtful sevice you wouldn't get in the bigger shops. the
Comment by: Loz on 8th May 2012 at 13:14
Bill g, yes, I think Frank worked for Syd Smith, and later got his own stall. He was (and still is) a slim pleasant chap with fair hair.
Comment by: Joanne on 10th May 2012 at 18:30
Apparently it was called The Market Arcade... Thank you Google :-)
I remember a cafe on the left hand side I think it was called Gorners,there was also a shop next door that sold cake decorations from a glass cabinet in front of the shop
Comment by: margaret s on 20th January 2016 at 23:18
i loved the little arcade the smells from Gorners cafe and the hussle and bussle it was how a town should be nothing is the same now in Wigan the powers that be have took all the character away
How I miss the feel of Wigan as it was (the market town) and this beautiful old arcade. I have a child's memories of a narrow alleyway packed with curiosity shops, a weighing machine and the wonder of it all. All gone now...and for what? A concrete maze of closed up shops. Gone is our our uniqueness in favour of uniformity. Destroy all the past and our identity goes with it. How sad. We are a town with a difference and our history should be sacrosanct.
Researching family history. Realise I am way behind these entries. Does anybody know of solicitors Scott and Ellis in The Arcade, Wigan?
Thanks