Photos of Wigan
Photos of Wigan
Album Contents
Album Contents
Wigan Album
Scholes
24 Comments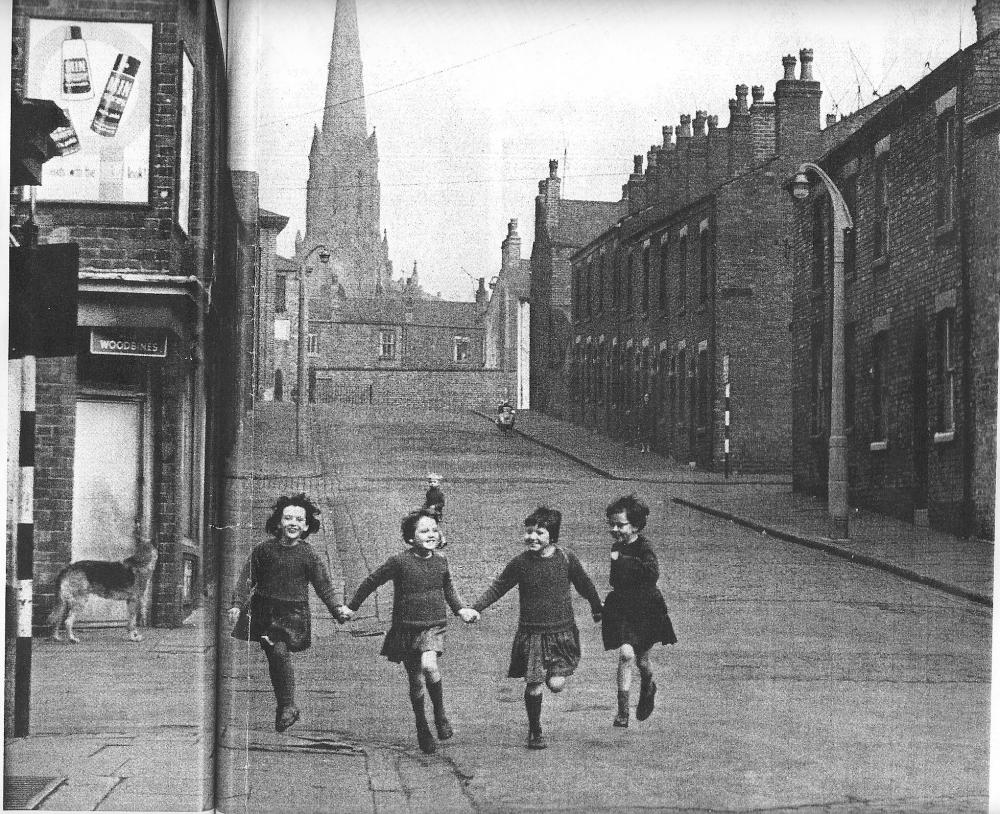 Chancery Street late fifties or early sixties
Photo: John A Hankin
Views: 4,761
Item #: 20379
Four young girls playing watched by a young boy, a dog and lady. The photo shows Chancery St off Scholefield Lane sometime in the late fifties or early sixties. Anyone know the young girls, the dog or the lady walking down the street top right? The scooter shown top right belonged to Ray Yates. Just in shot top left is St Catharine's infants and junior school and the back of the houses in Holland St. In those days there were play streets around which restricted traffic to allow youngsters to play safely. Some chance these days, hey? Not much traffic around then anyway judging by the lack of it in the photo. Of course Chancery St, the school and Holland St are long gone and unfortunately so has the time when young children can safely play out.
Comment by: RON HUNT on 8th April 2012 at 11:43
John great picture of a great era. Look how happy the four girls are.
Comment by: Cyril on 8th April 2012 at 12:02
I thought I had seen this photo before, it was in the Lancashire Life magazine, April 1964, and it is in the Album, though this photo shows a wider shot, the shop on the left with the dog waiting patiently outside isn't on the one in the Album. Happy days playing safely indeed John.
Comment by: Jarvo on 8th April 2012 at 12:57
A time gone forever. Kids playing in the street. Happy faces, young, innocent; modern life waiting round the corner to destroy it all...
Comment by: Tom Walsh on 8th April 2012 at 13:26
The shop on the corner was Biily and Sally Bretherton's, the dog belonged to them,I used to walk it for them on Sunday mornings.After thy retired some else took the shop over,I can't recall the names of the new owners.
Comment by: Henry7 on 8th April 2012 at 16:00
Great to see kids playing outside like this, all look really healthy, unlike a lot of the fat kids of today.
Comment by: Dave Marsh on 8th April 2012 at 22:29
This photo speaks volumes and describes the joy of young lives many of us remember so well and the memories we treasure so much.
Comment by: horace on 9th April 2012 at 08:03
I remember scenes like this very well in most areas around Wigan and Ince. Carefree days, very few cars (and absolutely no Traffic Wardens !). The corner shop ruled and you actually saw ans spoke to people on the street. Front doors left unlocked and you could leave your bike propped against the wall without somenoe nicking it. Sounds like I'm turning into my Dad !
Comment by: JohnAlan on 9th April 2012 at 12:56
Correct this photo was in Lancashire Life again in 2007 and does show the corner shop. I lived in Golborne St and then Scholefield Lane, next to George Conroy's green grocers on the corner of Neville St with Hollands Off Licence on the other corner. Mrs Davis "corner" shop next was door but one towards Gaskell St and Scholes. Sherringtons iron mongers was at the bottom of Scholefield Lane and Worthingtons (I think is was)sweet shop on the opposite corner to Sheringtons. We also had the whole of Scholes to shop so didn't need to journey into the town centre much. Do you remeber the advertisement hordings after Gaskell St? We used to hide behind them in the thick pea souper fog when you were lucky to see your hand in front of your face. Shooting peas out of our shooters at the folk walking by, watching the confused looks around when we landed a good one. Imagine kids these days playing with pea shooters! Great days!
Comment by: fred foster on 9th April 2012 at 14:34
I remember going to look at a 3 wheel bike for our elder son David, around 1958 in Holland Street. I knew a lad from there who worked at the pit with me. I called on him to ask the whereabouts of the house where the bike was for sale. He went along the row of terraces opening doors and shouting "Are you in ?" No-ones door was locked. It wouldn't be like that today!!
Comment by: Maureen Andrews nee McGovern on 10th April 2012 at 10:19
I love this photo..a time when children were happy with their lot,plus they could play outdoors as I myself could without coming to much harm from yobs or sinister looking creatures..a time when everyone was in the same boat financially..and a trip to Southport(if you were lucky) could seem like a trip abroad,we know there was poverty and probably don't want to go there again but spiritually folk were definitely happier.
Comment by: kam on 11th April 2012 at 16:42
A REALLY LOVELY PHOTO, THIS IS A PICTURE OF EVERY LITTLE GIRL THAT WAS BORN IN INCE IN THE 1950s ( including me) AND SPEAKS VOLUMES OF THE HAPPY AND INNOCENT WORLD WE WERE LUCKY ENOUGH TO BE BORN INTO
Comment by: Ken on 12th April 2012 at 20:15
It was a "golden" age in the sense that we were "equal" (equally poor) - there was nothing to envy - doors could be left open. Unfortunately, although we didn't know it a dark ominous cloud called affluence was just around the corner and things were never to be the same. A case for the opposite point of view is of course just as valid.
Comment by: bob j on 13th April 2012 at 17:09
4 feral female gang members doing a runner after mugging the little boy of his mobile phone? i think not.
Comment by: Sheryl B on 15th April 2012 at 22:00
I dunno... I think peashooters would be frowned on for children or anyone else these days! Almost as bad as when many boys were allowed slingshots and even air rifles to play with! I'm not sure the coming of "affluence" affected children then especially, nor does it now. I guess there will always be the "haves" and the "have nots". Not all affluence is ill-gotten. Most kids are still kids at heart and are great adapters as long as they have other kids to interact with, whatever their family situation. Parental responsibility and discipline (or lack thereof) have lifelong effects we all know! Cheers, :)
Comment by: Ken on 19th April 2012 at 12:37
The school was about 130 years old even when this photo was taken - St Catharine's encompassed a very large ward - the vast majority lived in similar houses, shared similar existences, hard work, tough times etc., and naturally similar socio-economic backgrounds, this brought them together. But social changes were "just around the corner" i.e. "You've never had it so good", inflation, etc., of course they were all individuals but commonality of experience was the glue for the community.
Comment by: sandra fields on 21st April 2012 at 19:04
john allan we used to live at number 1 neville st my eldest brother is raymond fields you might know him we used to go to st catherines i remember george connroy and mrs davies faircloughs and turners lived on scholefield lane
Comment by: JohnAlan on 22nd April 2012 at 12:36
Hi Sandra, I do remember your family, you lived I think facing Edna and Danny Kennedy in Neville St they had three children, Gwenda (who lives in Lorne St, Melvyn and Lorraine who lives in Aspull. Mum used to take you to Sunday School didn't she? Great days those befor the ruination of Scholes communities. Money should have been spent on modernising the houses and maintaining the life and soul of the area. St Catharine's parish hasn't been the same since that tragic time.
Comment by: sandra fields on 26th April 2012 at 19:32
yea john we did live across from the kennedys do you remember mrs finch edna gaskell at the top of neville st june tailor linda parkinson
Comment by: JohnAlan on 30th April 2012 at 13:23
Hi Sandra, yes I remember them in the distant reaches of my mind. It's a pity there are no photos of the locale, Scholefield Lane proper, Neville St, Gaskell St, Linney St and Caunce St. I have a street map from the forties I think it is which shows the whole of the area I'll scan in and see if I can upload. Do you remember Robert Fairclough from Scholefield Lane, the Cherries from Linney St, Barry Groome from Gaskell St? The new houses built in Gaskell St in the sixties I think are still there intermingled with the council houses. There was a plot of spare land at the top of Gaskell St with the backs of the terrace houses in Linney St behind it. Used to play there as a kids imaginig we were Sinbad, Flash Gorden and the like after Saturday morning ABC Minors at the Ritz. Do you remember Winstanleys fish and chip shop on Caunce St, wet mixtures and the like, talking your own basisns on Friday night tea time?? Great days they were! I pity the children of today as they miss out on all that freedom
Comment by: sandra fields on 1st May 2012 at 15:48
my brother raymond used to mate around with barry groomes iremember winstanleys fish and chip shop cant bring back those days now at leasst weve got alot of good memories kids of today wont have they get things to easy computers mobile phones wiis who am i talking to john hankin
Comment by: JohnAlan on 10th May 2012 at 10:36
Hi Sandra, I remember Ray, who was a bit older than I am wasn't he? I'm 64 this year. They were great days growing up in the 50s and then as teenagers in the 60s the dawn of the rock and roll, The Beatles and the rest. Kids these days don't have that special time and I think our generation was very lucky - the baby boom - as they refer to us after the war. Times were harder than in later years but we werer all a lot happier and more satisfied with our lot. It would be nice if we could travel back in time
Reading one of the comments on this picture brought a lot of memories flooding back.
My Auntie Eunice (Eunice Fisher) lived in no 16 Gaskell Street from Well before the war until they were pulled down I think in the late '60 or early 70's.
I well remember May Davis's shop on the corner of Gaskell St.(I used to be sent for Half a pound of best boiled ham and some best butter)for our sunday tea when me and me mam went visiting. I can still see May carving a lump of butter off the block and patting it into shape before wrapping it up.
I also used to climb on the advertising hordings at the end of Gaskell St (and I used to get a right rollocking when caught!)There wern't many excuses that would work to explain why you were 30 foot up on top of the hoardings!.
I havent thought about any of this for donkey's years.....
Happy days...sadly long gone.
Comment by: Carolaen on 24th February 2015 at 13:46
Just seen this photo, As it was taken in 1964,I think The Bretherton's shop had changed hands by then. Billy and Sally retired to Pestatyn in the very early 60's. The shop in 1964 I am sure was owned by David and Audrey Shawcross. The Norman Shawcross Roofing company is still a very thriving business in Wigan and he was David's older brother. David was infamous for his motorbike(he came off more than once) and for the converted ambulance that he used as a mobile shop. I am pretty sure that the dog in the picture is theirs as well. Like the Brethertons they also had an Alsation as a "guard dog" - they lived over the shop. However the Shawcross's dog Mandy was about as much use as a chocolate watch. She was a lovely dog but would jump at her own shadow !!
Thanks for the lovely pics,the owners of the corner shop,Bill& Sally gave us the use of their place in Rhyl for our honeymoon. Lovely memories of a lovely place. Joe. New Zealand.