Photos of Wigan
Photos of Wigan
Album Contents
Album Contents
Wigan Album
Wallgate
17 Comments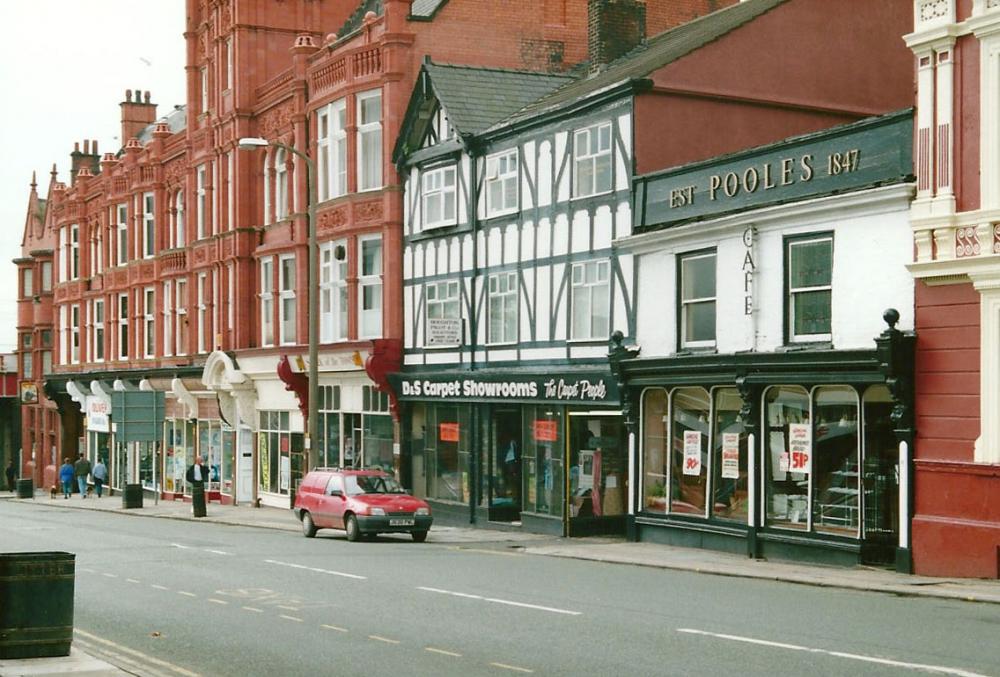 Poole's Cafe
Photo: Dennis Seddon
Views: 6,237
Item #: 20076
Poole's Cafe on a quiet Sunday morning about 20 years ago.
Comment by: irene roberts on 28th February 2012 at 08:37
It was lovely in that cafe.....like going back in time. And yet it wasn't like that as a kind of gimmick to draw in customers.....that's how it really was.
Comment by: Jim Latham on 28th February 2012 at 08:54
How much cleaner and tidier it looks on the photo. Where have we gone wrong?
Comment by: Cyril on 28th February 2012 at 09:22
You're right there Jim, those buildings look very grubby and uncared for now, especially the Tower Buildings.
Comment by: Margaret Wall on 28th February 2012 at 09:38
My sister and I were only talking about that cafe just the other day. Their pies were amazing. You can still buy those gorgeous pies today in a box of four in supermarket freezers. The shortcrust pastry is beautiful.
Comment by: linda massa on 28th February 2012 at 09:40
Saturday treat, pie and mushy peas, barm cake and a custard slice.
Comment by: D. on 28th February 2012 at 10:04
It was a very atmospheric place, now sadly derelict for some years.
Comment by: Annie on 28th February 2012 at 10:27
I was behind the scenes in there, producing the food for the customers. It was busy all day long. It's so sad to see the state of the building today. Nice photo.
Comment by: harry barrow on 29th February 2012 at 11:36
I lived 300yds away, on the right just under the bridge and had to pass Pool's at least twice a day on my way to and from school,what more can I say,standing outside looking in the window like the Bisto kid smelling that lovely grub and feelling like I could eat a buttered Brick.Linda that WAS a treat.OOOOOOOOOOOOO happy days.
Comment by: harry barrow on 29th February 2012 at 13:44
Annie,I don't know how far you go back, but can you help me please.From time to time I wentinto the shop with my mother, and a man somtimes served us,ITHINK his name was Peter,my mother said that he was my Godfather.
Comment by: jo on 29th February 2012 at 16:11
Ialso worked at Pooles about 1992/3 steak pie chips peas and gravy was the favorite and frothy coffee, couldnt make them fast enough,busy but the time past very quick.
I loved their beef pies. A few years before this picture must have been created, I had rented the store two doors down, from the wholesale grocer, Mr. Hurst, it had been Chollertons, my idea was to continue a similar, high volume - low end studio, but it didn't work, I only know about the low volume high end of the business.
I'm sorry Margaret, but you cant buy the real Pooles pies anywhere now. The person (and he shall remain nameless)who bought Pooles Pies, only bought the business and not the recipes. Anyone who remembers Pooles pies will remember that the meat pies had a piece of meat inside, solid, like all the old fashioned pies used to be, and there was cooking juices inside the pie making it drip down your front when you bit into it. I used to go in there for meat pie and chips and a pot of tea. It was wonderful, and you'd never tasted anything like it! Real homemade chips as well. Its now mince. I stopped buying Pooles pies after being so disappointed with them after it changed hands. Even the pastry is different now, because they used to use animal fat in the pastry, now its all this new fangled dangle stuff. It may be healthier, but it doesnt taste the same. I once bought them a good while after it had changed hands and when I got them home they were red inside!! I phoned up and they sent out a van to correct their mistake to be fair, but they're just not Pooles Pies any more. .and I'm sure anyone who worked there or remembers them in the late 70's early 80's will back me up. Shame...another Wigan legend hits the dust.
Comment by: Kathy on 28th March 2012 at 10:38
You can't blame the new Pooles for changing the recipe of the pastry, it's the government and supermarkets wanting everything clean label and not letting you use the ingredients that they consider bad but what makes food taste good. Me personnaly i like pooles short crust pastry
Comment by: Karen Wagstaff (formerly Hannell) on 8th August 2012 at 20:47
Looking at this photograph brought back many happy memories working there as a Saturday girl in the 70s - when Tony owned it and Irene was the manageress - happy days.
hi everyone my name izzy from izzy's barber shop i buy this building end of lats year and me and wigan council are working together this building and turn it back into an old fashioned Cafe and sale fresh pools pies again ;-) hope i will see you all again there
Very nice photo. Do you know the date this was taken?
Comment by: Kelly on 22nd November 2020 at 00:07
My first job was here on a Saturday...must have been '92ish when I started. I absolutely loved it, the staff, the customers and the regulars in the cafe. Must have worked there for about 4 years! If I went home without pies/cakes after a days work, I was in the doghouse ????