Photos of Wigan
Photos of Wigan
Album Contents
Album Contents
Wigan Album
Central Park
16 Comments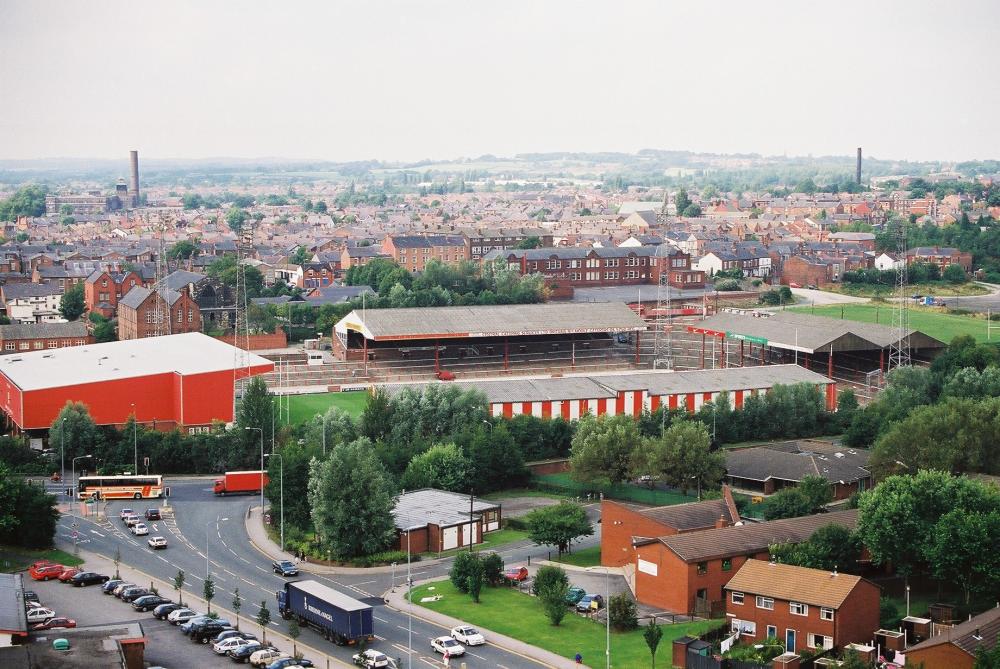 Central Park before Tesco
Photo: Brian Bradshaw
Views: 4,877
Item #: 19742
Central Park taken from top of Boyswell House 1999 August
Comment by: irene roberts on 30th January 2012 at 20:21
Lovely, Brian! The much-missed Central Park. As Mary Hopkin would have sung, "Those were the days, my friend, We thought they'd never end".
Comment by: Neil Cain on 31st January 2012 at 09:23
Still think the town lost something special when the old place went. Right in the heart of things and with all the tradition and history that generations had witnessed. Will never forget the anticipation the day I first got taken to the ground and it was only an A team match. Great shot Brian and I'll never forget your kindness in sending me a copy, the start of a greatly valued friendship. All the best.
Comment by: peter on 31st January 2012 at 09:34
thats a lot better than the eyesore thats there now
Comment by: horace on 31st January 2012 at 09:43
Where did all the shoppers park before the Wigan RLFC Board sold the "crown jewells"? Sadly missed by all true supporters.
Comment by: Jack Robinson on 31st January 2012 at 10:32
Easiest thirty pieces of silver I ever made!
Comment by: Cyril on 31st January 2012 at 12:37
It is certainly a better view now than all them old sheds, a right blot on the townscape it was, and if you went out in the car on match days you had to stay out until it was all over, otherwise you wouldn't be able to park up outside your own house because of match goers parking there.

Well done Jack, you did Swinley residents a good favour, you certainly earned your money that day.
Comment by: Neil A on 31st January 2012 at 14:34
It would be interesting to see the same view today, to see the position of the store in relation to the old spion kop. Also to see how much the pitch was raised in the construction of the car park.
Comment by: JK on 31st January 2012 at 17:34
I've often thought it would be a nice touch if Tesco were to place in the car park, an underground light to mark where the four corners of the pitch had been situated. A gesture to all us sentimentalists.
Comment by: Fred on 31st January 2012 at 17:59
I used to wonder why there were two lanes to turn right up Riverway,and that seemed quite a while before it was mentioned about Tesco,then it made sense what the lanes were for,the left one was for Tesco,it was cut and dried.
Comment by: dave johnson on 31st January 2012 at 18:37
I have nothing against Tesco but I will never set foot in the one there now. I swore I would never cross the bridge and even if they decided to GIVE food away I would not go back on my word. Disgraceful to knock down CP.
Comment by: Jean J on 31st January 2012 at 19:58
Then there's folks ashes too which where scattered there, a shame for the people concerned and the relatives too.
Comment by: Helen on 1st February 2012 at 08:20
I don't think the Great God Tesco worries itself to much about people's feelings.
Central Park was the only place to watch Wigan. Nothing like sitting on the ring side (inside the wall) with Billy Boston on the wing!! Quite right, those were the days!!
Comment by: dave johnson on 2nd February 2012 at 22:47
Helen, don't care about what Tesco thinks. I just know I feel OK about what I think.
Comment by: Helen on 3rd February 2012 at 08:31
I am with you Dave...not against you. I wouldn't set foot inside a Tesco store anywhere in this island of ours, maybe not for the same reason as you but I best not say more or hot coals will be heaped on my head by the stores supporters !
Comment by: Gareth on 10th February 2012 at 21:19
Move on!
You have a superior stadium to rival all the Rugby League teams, state of the art changing rooms, under soil heating and 25,000+ all seater.

To not "set foot in Tesco" is quite honestly pathetic....and as if your foolishness would affect Tesco!...

But I quite agree with the underground lights in the car-park to show were the corners were, or the floodlights?...that would be excellent for historians too.