Photos of Wigan
Photos of Wigan
Album Contents
Album Contents
Wigan Album
Wrightington Hospital
9 Comments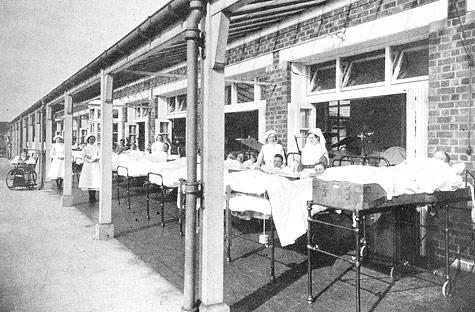 Outside Ward
Photo: Ron Hunt
Views: 2,739
Item #: 19697
This was for TB cases. I remember visiting a friend, who was on this particular ward, in the 1960's Must have been freezing at night time
Comment by: fred foster on 23rd January 2012 at 16:25
Before the advent of streptomycin, the cure for TB was fresh air. My dad was in Delamere hospital for 3 months after he left the pit and the patients there were subjected to the fresh air treatment.
Comment by: Cyril on 23rd January 2012 at 18:07
There was also veranda wards at RAEI Lower Johnson, Whelley and Astley Hospitals, like you say Ron it must have been parky.
Comment by: irene roberts on 23rd January 2012 at 18:31
My Uncle Billy was in here in the early sixties.
Comment by: Helen on 23rd January 2012 at 19:56
My Mother went into Wrightington on her return from India in about 1945/6, she had contracted TB. I have a pic of my Granny Bryson visiting her there, will post it.
Comment by: Joan Beckett (Wilding) on 24th January 2012 at 13:21
I remember being in ward 7 at wrightington in 1966/67 I had fluid on my lungs and had to have them drained 3 times, not a very nice experience.
Comment by: j osie pennington nee beckett on 24th January 2012 at 22:35
i go to this hospital regular, its more rheumatology now, i have rheaumatoid arthritis and was only there last week for injection and x rays ive been going for 13 years and sometimes staying in for week or two and i must say its a wonderful place , people come from all over the country for treatment.when i was on ward 7 once you could go outside , i got a tan that week and even went to the car boot sale with a friend in our pajarmas and got back in time for our sunday roast,it was home from home !!!
Comment by: Carole Williams nee Hindley on 7th April 2014 at 22:48
I trained at Wrightington in the early 60 s ,wonderful memories
Comment by: John G on 13th November 2014 at 03:35
Let me tell you a strange story,late 60s/early 70s I used to mate around with a a great lad from Ashton,to cut a long story short he developed T.B and ended up in Wrightington hospital,after a long period of time he was cured and came out,of course as we grew up he went his way and I went mine.Then I went for a job at a big Merseyside hospital they gave me what they call a eef test,the test indicated that I had T. B however a top doctor from Liverpool university stated that I did contract T .B but my immune system had turned it around to an antibody how weird is that.
I went into Wrightington on 15 Dec 1954 and came out in Dec 1957. Treated for TB, strapped to a frame for 10 months with injections etc, and when it was realised that I hadn't had TB but had Rh arthritis had both hips implanted with metal cups. I was in the cubicles on Ward B all the time and have a few photos of same.
It was cold at night in Winter but that was supposed to be good for one!