Photos of Wigan
Photos of Wigan
Album Contents
Album Contents
Wigan Album
higher ince
13 Comments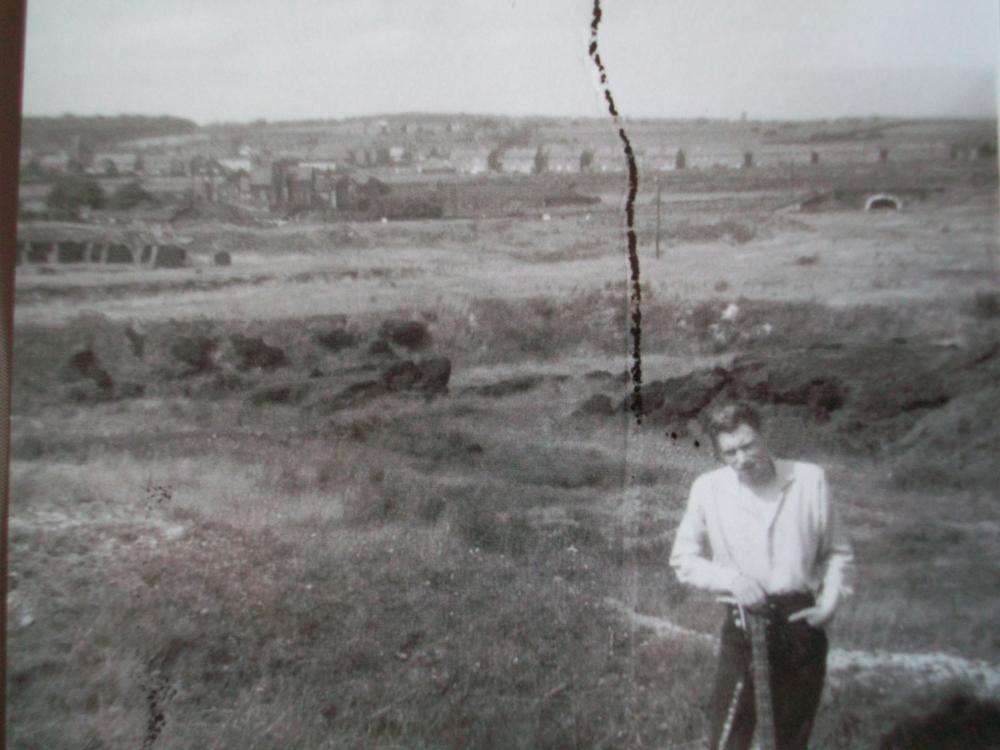 fields at the top of belle green lane.
Photo: josie pennington nee beckett
Views: 3,083
Item #: 19486
my brother raymond (jimmy)beckett somewhere near rabbit rocks, i am trying to get my bearings on the houses and bridge in the back ground would it be looking accross toward west st/chattham st ?can anyone help this would be 1960 .
Comment by: johnny be good on 4th January 2012 at 21:47
that is stoney bridge cale lane across top kirkless hall also in pic
Comment by: peter on 4th January 2012 at 22:36
yep
they look like the houses in cale lane
am trying to make out the strustures on the left of the picture
Comment by: josie on 4th January 2012 at 22:41
oh my god, thanks johny be good, i allways thought it was hr ince or is it ince and new springs in back ground ? our ray looks like johny be good ha.
Comment by: josie pennington nee beckett on 4th January 2012 at 23:10
its very interesting this pic as just a few weeks ago i was up lane looking back on my childhood and myself and my hubby and cousin gerry went for a walk up belle green lane going up canal and ending up sort of near hindley golf cource but i have to say in ince part where i think this pic was taken well it was soooooooooo overgrown you couldnt see owt , why have they planted trees and stuff there theres no views there now it was better all open like in the pic .
Comment by: josie on 4th January 2012 at 23:18
cant see kirkless please help.
Comment by: aitch on 5th January 2012 at 10:52
Ive just had a shufti on google earth, and the building to the left seems to me to be on Farm Lane which leads to Kirkless lane,I cant make out many details but it seems to be at the Ince end of Redland tile works, maybe it is the farm of the farm lane in question, its definitly Cale lane in the background, but I cant see the Kirkless pub, or even the Commercial, which should be visible, needs a person to venture to the top of the rabbit rocks to have a look
Comment by: dk on 5th January 2012 at 12:33
Josie you are stood at beginning of rabs with the rabs behind you coming form Belle Green Lane. Bridge is the black pipe stone bridge over canal on Kirkless Lane and Kirkless Hall buildings to the left. Long row of houses is Cale Lane and houses in distance are at top of brow at new Springs. Haigh Hall trees in far left distance. The brick columns were on top of the land at the side of the canal lock which was third up after iron bridge. The flooded pond at the bottom of the rabs now would be to the left and downhill from the brick structures. Kirkless workshops and pubs would be out of picture right and uphill. In about 1965 they started to build the estate which on here is a field from Kirkless Hall to the houses in Cale Lane. Tile works slightly to right from canal bridge out of picture.
Comment by: jack on 5th January 2012 at 12:35
Us toplockers always called it little rock.played on it as kids.one side easy to climb but we had to the top by the difficult route. happy days
Comment by: Cyril on 5th January 2012 at 13:26
The large building top left looks to be Kirkless Hall, remember being there in the early 1980s locating a septic tank that was in what was the filled in moat, when the then owners were digging down they found an old flintlock pistol, quite rusty and corroded but still recognisable and quite a few shot balls, I always wondered if they dated back to the civil war and was hidden there by someone and then forgotten about.
Comment by: Albert on 5th January 2012 at 18:42
If this is the expanse,at the extreme end of a street,named Tank Street. At the end of the 1939/45 war, this was a massive rubber dump. It covered many acres. It was right at the top of Belle Green Lane.
Comment by: josie on 5th January 2012 at 22:55
thanks everyone,and albert yes this would be near tank st, we lived in york st at top of lane and i remember the rubber dump .
Comment by: Rita on 1st July 2012 at 17:12
Hi first time i have visited Wigan World, I am looking into the history of my family. I would be interested if anyone has any photos of the area at the top of Belle Green Lane. There is two houses (use to be Belle Vue Hotel) Tank Street that comes up in childhood stories, please can anyone help me
Comment by: josie on 15th November 2013 at 21:08
hi rita,whats your family name,the houses you mention are still there (belle view)think there are some pics on here that may just show it, I will try and find something x