Photos of Wigan
Photos of Wigan
Album Contents
Album Contents
Wigan Album
Lorne Street & Sandhole Scholes
10 Comments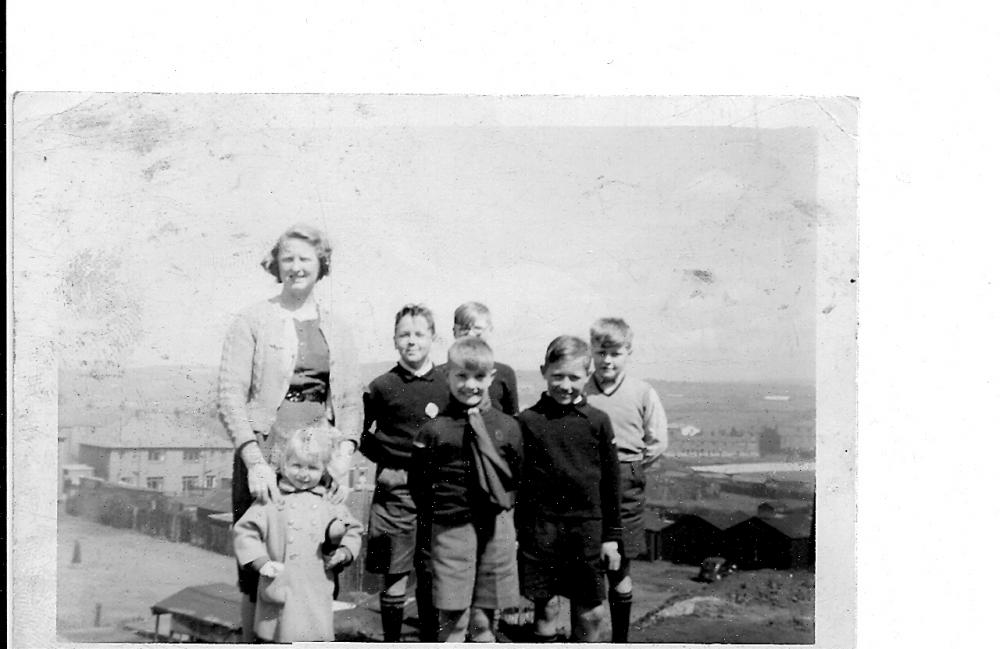 John Hankin and friends Lorne Street/Sandhole, Scholes circa 1954
Photo: John A Hankin
Views: 2,716
Item #: 19483
Shown in photo are Mrs Olga Winstanley, John Winstanley, Alan and Roy McCann and me, along with a couple of other children whose names I forget, taken at rear of Lorne Street and showing the sandhole, various penns and garages and the Police Houses in Caunce Road which I think are still there. To the right background is St Catharine's Rec and the bottom of Platt Lane. I vividly remember my childhood years, living in Golborne St and Scholefield Lane and playing over Platt Lane fields and St Catharine's Rec. Great days those were, even with short trousers!
Comment by: Scholes Malc on 4th January 2012 at 16:53
Cracking photo John – brings back memories
That photo was taken off top of 'lucky broo' – pen at bottom was 'Ratcliffes' – (nowty bugger!)
Many happy hour digging in sandhole there
'Bobbys Houses' are still there –I remember them being built
I vaguely remember you but you were older than me,these were about your age from Stanley/Caunce Street Ian Adams, Mick Moran, Malc Clossick, Wayne Holland, Terry Penman, Kenny Fairhurst, Dave Halliwell...
Comment by: Sheryl B on 4th January 2012 at 20:19
Hi.. just wondering about the ratcliffe you speak of.. I have translated the reference to mean "ratcliffe's hill - (pile of sand?) bad-tempered bugger!" Is that right? lol! Seriously, the name Ratcliffe always grabs my attention, as this was my great-aunt's husband's name c.1927-35 (he died c 1935). He was Wilfrid Ratcliffe and there was a son Wilfrid Jr born about 1928/9 I believe. I know how prolific the name Ratcliffe was and still is in Wigan, Cheshire etc. But trying to find what became of Ratcliffe or the son has only met with brick walls! :)
Comment by: JohnAlan on 5th January 2012 at 11:12
Thanks for the comment. My contemporary mates were David Mason, Joeseph Mitchinson, Stephen Horrocks, ? McCormick all Caunce St, Malcolme Fairhurst, Graham Harrison, Barry Lowton all Stanley St, Harold Mercer Isabella St, Alan Stretch Kendrick St. Others a lot older than me Clifford Doran, Brian Shawcross, Leonard McGarty, Alan Cherry,
Comment by: Margaret on 6th January 2012 at 17:38
Went back there in summer with Christine Hawthorne and it has changed so much now. This would be the big sand hole, I played in the little sand hole. Do you know any of the history of the sand holes?
Comment by: jim holding on 7th January 2012 at 23:12
Great pic John,,,remember that view well though my tereitory was the little sandhole..mates then,,dave morris,and dave prescott both from kirkless street,plus Bibby Backs,,with brian Turner,Ronald northall,,,leslie peet david crane,barry and nigel occleshaw,,,older lads being walt bibby,brother harold and cousin donald,,,marrie bibby,susan occleshaw,,,,<iknow a few are no longer with us but still got fond memories
Well! Well! I am the toddler. My brother John is on my left. As I type my mother is sat across from me having her afternoon snooze. She will have a shock when she wakes up.
(I'm indebted to Brenda (ne Fairhurst) for bringing this photo to my attention. What a hoot!
Comment by: John Alan on 9th January 2012 at 14:10
Hi Tom, nice to hear from you, I would never have guessed it was you standing in front of your mum. Your Dad and mine were good friends and in St Catharine's BB and past members. I see your mum regularly on the bus to /from Wigan. I don't think she recognises me now.
Tom, would you tell your mum that my mum passed away peacefully in her sleep at home yesterday. John
Comment by: BRENDA on 7th February 2012 at 18:43
Tom, i didn'n realize that it was you stood in front of your mum, thought it was a little girl !! you have hair !!!! ha ha ha.
Comment by: Tom Winstanley on 27th February 2012 at 08:58
Hi John, I'm sorry to hear your Mum has died. I remember her well and what dynamo she was. I'll pass the news on to my mother. As for your comment Brenda, I think you are spot on. This photo is definitely me at my most handsome and mature. My two daughters were dumbfounded when I showed it to them.