Photos of Wigan
Photos of Wigan
Album Contents
Album Contents
Wigan Album
higher ince
18 Comments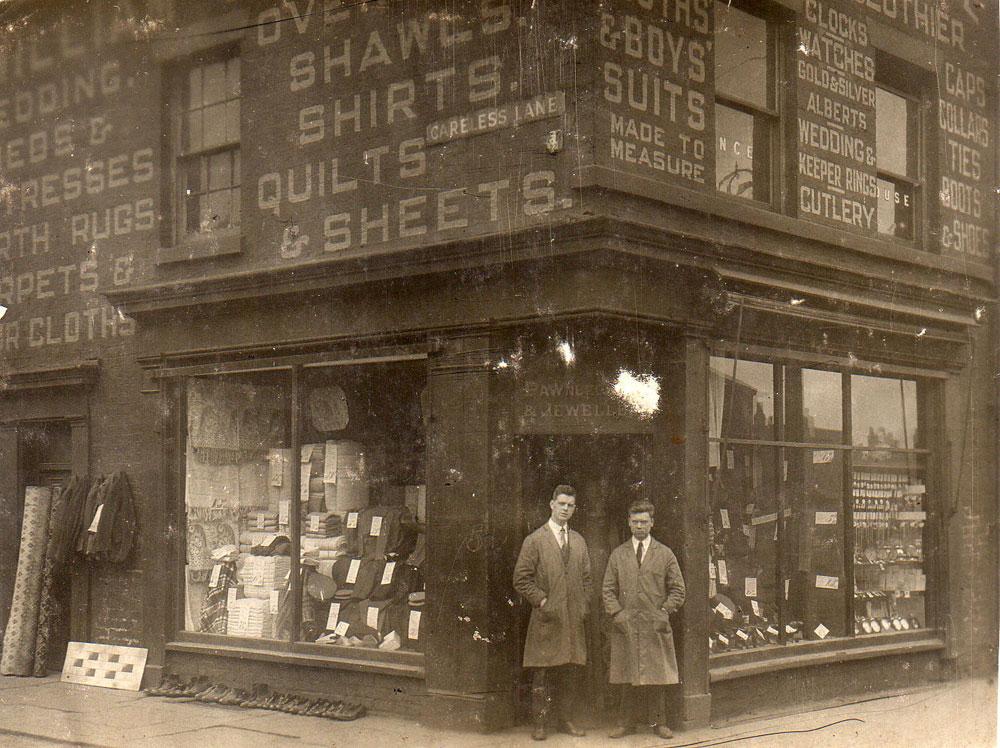 Pawn Shop, corner of Careless Lane
Photo: Daniel Houghton
Views: 3,554
Item #: 19207
My uncle George outside the pawn shop were he worked, our family name is Houghton we all originate from Ince, [Belle green lane,Petticoat lane] My grandmothers name was Margaret Ellison also from Ince. My mothers name before marriage was Owen also from Belle Green Lane.
Comment by: aitch on 18th December 2011 at 20:36
Was that the site of what is now the Post Office
Comment by: RON HUNT on 18th December 2011 at 21:44
Hi Daniel what a great set of photos. Thanks for putting them onto the site.
Comment by: josie on 18th December 2011 at 22:34
aww how lovely is this photo! i remember it as billy lygos,my hubby has been in there many a time on his way home from school he said i used to be the first out of school , rose bridge, and run to lygos for his dads suit so nobody would see him ha.
Comment by: Joseph on 18th December 2011 at 23:13
William Lythgoe, pawnbroker, 171 Manchester Road Ince. If you look in the top right windows you can see "Ince House", if you look at the top far left wall you can just make out the name William.
Comment by: josie on 19th December 2011 at 00:25
joseph, thats very interesting for me as i only ever knew this shop as billy lygoes thats what everyone called it,i never knew it must be william lythgoes, same person same shop .i allways remember the jewelery in that very same window on the right.
Comment by: dk on 19th December 2011 at 07:59
This picture is up there with the best. If you have more please stick 'em on.
Comment by: grannieannie on 19th December 2011 at 09:25
My mother told me of an auntie of mine(not a blood relative but one of the special aunties we all had) who got engaged on Saturday night and on the Monday her mother made her pawn her ring. Sad days.
Comment by: irene roberts on 19th December 2011 at 10:50
I just about remember "Lygoe's" as we called it. Thankyou so much for posting this.
Comment by: Mick on 19th December 2011 at 11:09
It says Clocks Watches Gold Silver then ALBERTS I wonder what they ment by Alberts.
Comment by: irene roberts on 19th December 2011 at 13:34
It was the chain the watch was held on across the gentleman's waitcoat, usually with a fancy "drop" hanging from it. Look at Fred Dibnah's "watch and albert" across his waistcoat next time you see him in telly.
Comment by: jont65 on 19th December 2011 at 13:44
I think an Albert is a watch chain
Comment by: tony on 19th December 2011 at 17:44
got my first pair of long pants from there and boy were they long my mam said i will take them he'll grow into them he then wrapped them up in brown paper and string and the smell in the shop was musty damp and pariffin funny how things stick in your mind excellent photo
Comment by: Dolly on 19th December 2011 at 18:29
The sign just above the door mentions Jewellry or Jeweller
Comment by: Stuart Naylor on 20th December 2011 at 09:20
The two shopkeepers look like they are 'hard' men, but I suppose to run a Porn Shop in Higher Ince in those days, you had to be 'hard'
Comment by: Alan H on 20th December 2011 at 10:58
You couldn't leave a row of clogs outside today, they would be gone in a flash.
Comment by: Gerry on 21st December 2011 at 21:36
Dear Dear Stuart.... Surely you mean a PAWN shop A PORN shop in Ince... Well! the very idea !!!
Comment by: Bill Halsall on 22nd April 2012 at 21:52
We lived at 6 Careless Lane from around 1955 to 1962 when our house was demolished. We used to call it Ligoes and I have two vivid memories. One was that if our ball went over Ligoe's wall they were not very pleased and my dad had to get it for us and the second was when our dog Rex went berserk one night and we found out the next day that Ligoe's had been burgled. That would have been around 1960. There was also a great bit of pavement guttering than ran from Ligoes all the way round to our house that you could race lolly sticks around when it was teeming with rain. Now that is showing my age!
Comment by: Sheila on 3rd April 2013 at 23:18
Great photo. My husband's great uncle was in fact William Lythgoe. We were wondering if one of the men in the photo was Uncle Willy (as he was known in the family). Does anyone know?