Photos of Wigan
Photos of Wigan
Album Contents
Album Contents
Wigan Album
Aspull
12 Comments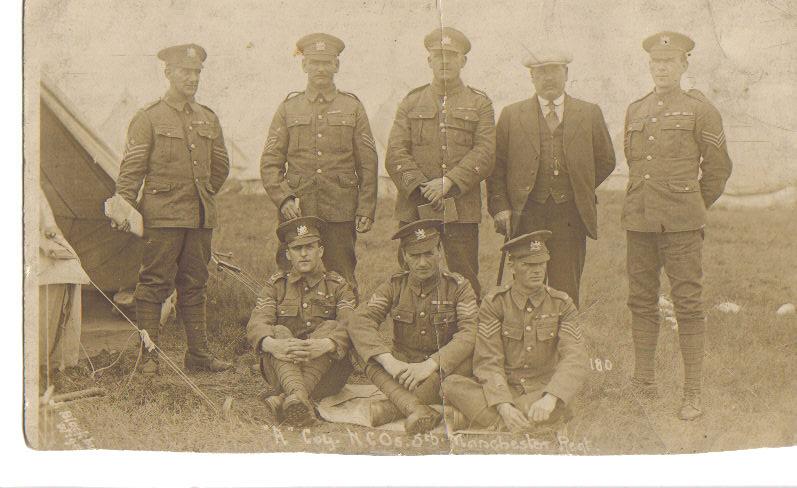 'A' company N.C.O's 5th Manchester Regiment
Photo: D Guest
Views: 2,986
Item #: 17723
One of the soldiers could be an ancestor of mine, his surname would have been Pendlebury and most likely would have lived in Aspull. I dont know where it was taken or what date it would have been. It appears to be a camp of some sort with several tents. Also who is the gentlemen in the suit. I would be grateful if anyone could shed any light on this photo.
Comment by: Jono on 9th May 2011 at 10:27
Try this website:
http://www.themanchesters.org/forum/index.php

It's a forum about the history of the Manchester Regiment. Someone may be able to identify where the picture was taken.

Or this one
http://www.tameside.gov.uk/archives/manchesterregiment

The Manchester regiment Archives.

Good luck.
Comment by: DaveH on 9th May 2011 at 15:43
The 5th (Wigan) Battalion Manchester Regt. camped at Hollingworth Lake, Littleborough, prior to 10th September 1914. They then sailed from Southampton to Egypt and landed at Gallipoli on 6th May 1915. More details on http://www.themanchesters.org/5th%20batt.htm
Comment by: Wigwann on 9th May 2011 at 18:20
If you are ever near Ashton under Lyne, the Museum of the Manchester's in Ashton Town Hall is very good. Find it under Tameside Museums for opening times etc. Also there is an excellent Buffet Bar at Stalybridge Station again not too far from Ashton.
Hi

Does the name George Pendlebury mean anything to you? I've checked the Medal Index Cards for Pendlebury's of the Manchester Regiment and as he was serving in the colours in 1914 means he would have received the 1915 star. The medal index card (MIC) for 1915 is different in design to the MIC for the later New Army Volunteers which narrows the search down considerably for 'possibles'.

The George Pendlebury I have seen enlisted 5 February 1914 as a Private and had the service number 248598. The card states that he landed in Egypt 5 November 1914. There were two Battalions of the Manchester's in Egypt at this time, the 1/5th and 1/9th.

The only negative to this theory is that the photo is of NCO's and George was a Private!

Cheers

Jonathan
As a follow up could I point out that the number 248598 would appear to refer to a later service in the Labour Corps. His Manchester Regiment number was 1987. A check of the 1911 census also shows there was a George Pendlebury living in Aspull

All educated guesswork of course! :)
Comment by: D.Guest on 11th May 2011 at 16:10
Hi Jonathan, thanks for all your info about the 5th Manchesters, I think the christian name of the soldier would have been Robert.
Comment by: mack on 23rd May 2011 at 23:22
this photo was taken after WW1,the men are wearing their 1915 star,war+victory medals,they didnt start sending out the war+victory medals till 1920,its probably taken at one of the annual camps

mack
Comment by: Larry McCarthy on 16th January 2012 at 21:51
My grandfather, Thomas McCarthy (McCarty) was in the 1/5th Battalion Manchester Regiment and was awarded the Distinguished Conduct Medal (DCM) at Gallipoli. I'm not sure if he was in A Company or B Company. The soldier on the far left bears a resemble,but I can't be sure for certain.
Comment by: Larry McCarthy on 16th January 2012 at 23:08
I forgot to add that he was Company Sergeant Major in the 5th Battalion.