Photos of Wigan
Photos of Wigan
Album Contents
Album Contents
Wigan Album
Scholes
2 Comments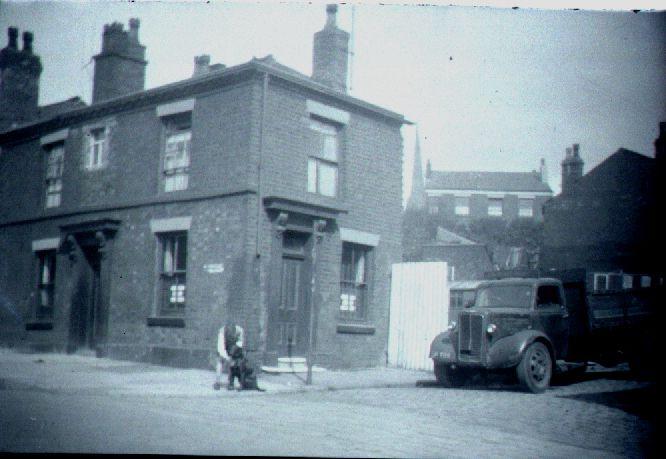 The Crispin Arms, Birkett Bank, c1955.
Photo: Keith Bowen
Views: 2,704
Item #: 1765
The Crispin Arms, Birkett Bank.

While still running the Crispin Arms the Brewery decided to re-build the pub. This photo taken around 1955 shows the old Crispin Arms more than half demolished. St Catherine's Church can be seen in the background. At no time did trade cease at the pub and my parents continued to serve customers throughout the rebuilding work. It is only in hindsight did we consider the dangers that were involved. The workmen told us that the original pub did not have proper foundations and seemed to have been built simply from ground level up. We did notice that every time a heavy lorry passed by the pub would shake. We survived but my parents left to run the Wellfield Hotel before the Crispin Arms was completely rebuilt. I can be seen in the photo with my dog Jock.
keith,,would be on of "bibby,s"wagon at the bottom on birkett st,,,,cant be sure if that was the old lodging house shown next to st catherines churh,,,or it may be to the right ,,because there was a small terrace of house there aswell,,,,more memories
Yes, I believe that was the old lodging house in Leader Street, my father mentions it was called "Birkneys". One of our old customers "Long John" lived there, I never remember him speaking but he always smoked a pipe, had a fine white moustache, never without his flat cap and had an unmistakable air of kindness and contentment about him. An unforgettable character who we never really knew because he said so little. I think the lorry seen in the photo belonged to the firm who were re-building the Crispin, a Bolton firm that to the best of my memory was called Dickensons/Dicconsons.