Photos of Wigan
Photos of Wigan
Album Contents
Album Contents
Wigan Album
Ashton
6 Comments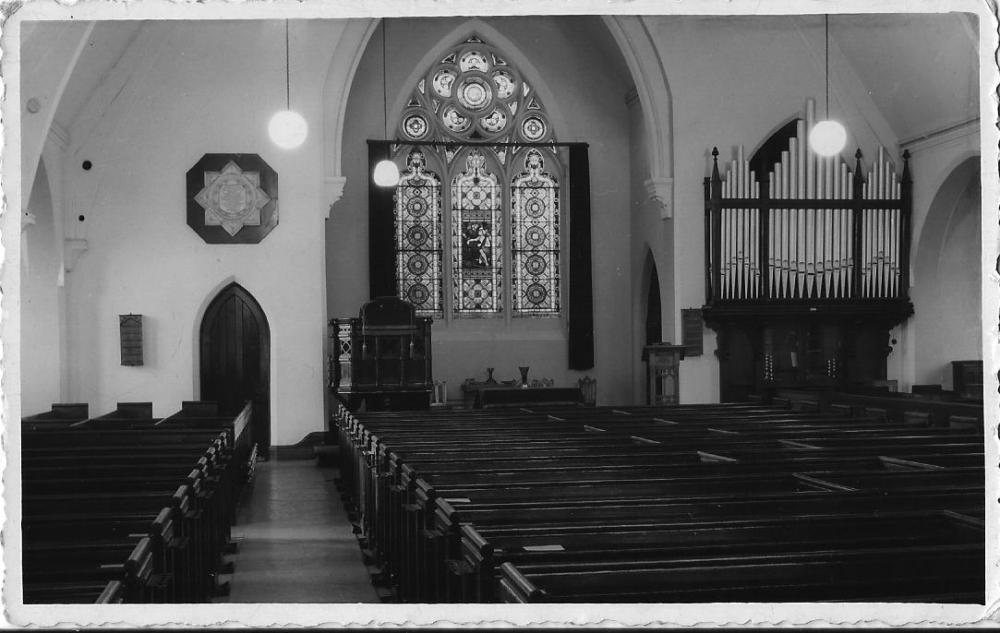 Congregational Church Ashton Interior
Photo: Karin
Views: 2,133
Item #: 17603
Congregational Church Gerard Street Ashton. From a 1960 postcard published following restoration work in 1960
Comment by: Frank Walford on 20th April 2011 at 07:47
I remember reading the lesson on Sunday morning off that lectern you can see on the right of the photo.I was still at Evans Council School at the time
Comment by: kenee on 20th April 2011 at 11:16
It's a good photo.
Restored in 1960, pulled down 11 years later. Do you mean Evans County School Frank? I've never heard it called Council.
My mate Ron got that organ when the church was demolished.
Comment by: Frank Walford on 20th April 2011 at 13:03
thats what we called it Kenee.It's correct name was the Emmanuel British School
Comment by: kenee on 20th April 2011 at 19:33
Yes, I've heard it called Emanuel, Frank. When I was there it was Evans County Primary, generally known as The British School, but Council is a new one to me.
I'm trying to think of something to put about the Congs.....
It was an imposing church in it's time.
Comment by: Frank Walford on 21st April 2011 at 09:57
Hi Kenee I used to attend Sunday school in the large hall underneath the church
Comment by: Sandra on 20th November 2013 at 14:54
I too remember Sunday School in the Congragational Church. Little ones went through a door at the bottom of the path on the left of the building,I think we later went up steps on the left of the church?CHRISTMAS was an exciting time waiting for Father Christmas to arrive with our presents.Hearing sleigh bells.They really gave us special Christmas parties.Perfect:)