Photos of Wigan
Photos of Wigan
Album Contents
Album Contents
Wigan Album
Scholes
14 Comments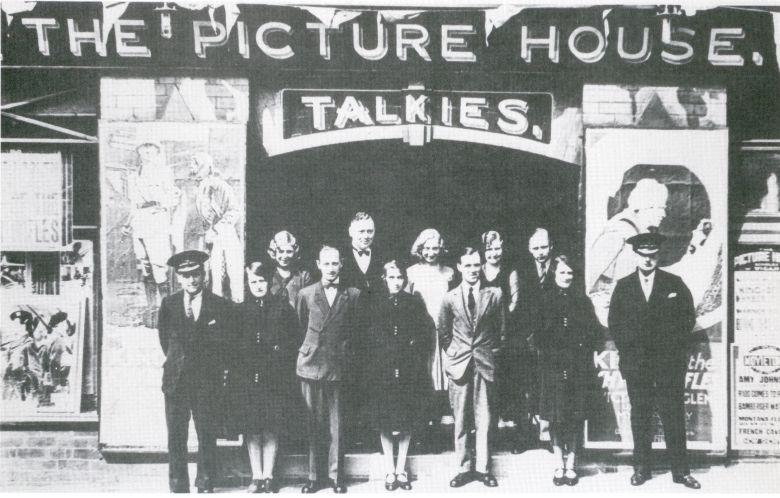 The Picture House.
Photo: Ron Hunt
Views: 5,082
Item #: 1756
The Picture House in Scholes, owned by the Atherton family who pose for this picture.
Comment by: joseph c on 29th March 2009 at 19:01
Affectionly known as the bug house by us kids, spent many saturday afternoons in here.
Comment by: Nogger on 30th March 2009 at 22:57
If the 'Scholes' was the 'Bug House' then what was the 'Labour'?
My Dad (John Lees, brought up in scholes) says...
The Labour Picture House was run by the Labour Club (nicknamed The Penny Rush), near Vauxhall Rd.
Comment by: dave b on 21st December 2011 at 14:39
this was the Bluesville later
Comment by: Tom Walsh on 21st January 2012 at 21:59
After it closed as a cinema it d I'd become a music club "The Mask",it was unlicensed for the sale alcohol
my Dad used to tell me they used to go to the 'labour' and get in with a jam jar!!
Comment by: Hilary (Bentley) on 19th March 2013 at 20:41
I remember going to Bluesville in the 60's when a famous American blues singer appeared there but I can't remember his name. I think it was Blind something something. Does anyone else remember it? I always wondered what they made of a little old picture house in Scholes! It was around the mid sixties.
Comment by: Terry Jolley on 26th October 2013 at 18:06
The commisionaire on the right is my grandfather, Charles Phillips, from Ince. This photo is also hung on the wall at the Boars Head pub.
Comment by: eddie rowland on 25th March 2014 at 16:31
Does anyone remember Ricky Allen's dad in the labour picture house Saturday matinee with is leather strap to get the kids under control before the picture started,and the bags of wafer biscuits for a penny.
I went to Bluesville when it opened (membership number 003) and saw Lighning Hopkins, Georgie Fame and I'm pretty sure also the Yardbirds amongst many others. We used to get root beer from the chemists(?) over the road as Bluesville did not have a licence.
Comment by: Gordon Jennings on 28th August 2016 at 16:23
My grandmother, Florrie Tymon lived in Woods Yard, Scholes and played piano for silent films. I wonder if it was this one.
Comment by: Ed on 28th November 2018 at 12:02
I remember going to watch the plcture moby dick in this picture house in 1956,there was standing room only when we got our tickets,but we didnt mind because we where in.
Comment by: Wayne Lupton on 31st July 2020 at 01:34
I once played at Bluesville in the early 60's. Later that night I joined Kublas Klan on keyboards.