Photos of Wigan
Photos of Wigan
Album Contents
Album Contents
Wigan Album
Scholes
9 Comments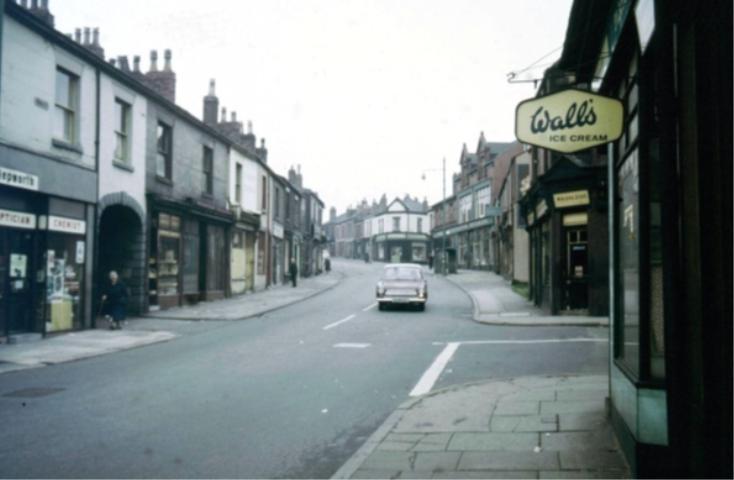 Scholes, 1960s.
Photo: Ron Dawber
Views: 5,069
Item #: 1750
Greenough Street out of pic on left, Scholefield Lane in view on right.
Comment by: TOM P on 3rd January 2008 at 18:56
BEYHOND THE CAR ON THE RIGHT, NEAR THE STREET LIGHT McCURDY'S FURNITURE SHOP THEN PLATT LANE
half way up on left is Veronica Almonds dress shop where I bought my wedding dress 40 years ago for £25
Comment by: Tom P on 15th November 2009 at 19:38
First street on right is Schofield Lane, directly opposite is The "entry" to Crawford Terrace, on one side the Chemist Shop and on the other the "cloggers shop", loved the smell of leather as you walked past. Nice memories.
Comment by: dorothy on 16th May 2010 at 21:45
Back in time I have just got off the bus and crossed over. Then turn right in Scholfield Lane, & across to Sherringtons.
Second left Neville St then right onto Linney St. To where I used to live. Lovely photos. Not seen any of the old hall in Platt Lane just after Caunce St, where I used to attend the girls G.F.S (like brownies) We would carry a flag & march up to St Catherines. Proud as punch with the boys brigade playing as well.
Comment by: JohnAlan on 23rd June 2012 at 15:26
Used to live in Scholefield Lane and the shop on the corner was Worthingtons toffee shop. Would love to see one looking up Scholefield Lane showing Sherringtons hardware shop, Gaskell St and our house no 22 next to George Conroys fruit and veg shop. Wish I had a quid for every time I walked down Scholes into Wigan! Scholes is a shambles now.
Comment by: Alba on 19th August 2012 at 15:49
The building with two double apex roof front was McCurdy's Store
The white central building was the corner of Platt Lane
Turn right into Scholefield Lane, on the opposite side was Sherringtons Hardware shop, then those huge big advertising boards at the top of Gaskell St (where my mum Lillian Fisher,lived at No 16).
Next was May Davis's shop.
Does anyone have any photos of this area, I've never seen one, and I would love to see all this again.
So many memories......
white building on corner of platt lane was connahs wallpaper shop
Comment by: Veronica on 12th July 2019 at 04:19
The Cloggers shop just after the entry on the left was Blinkhorns. I used to take my dad's clogs to be mended there. You could sit on a form and wait while the clogs were being 'clogged'!