Photos of Wigan
Photos of Wigan
Album Contents
Album Contents
Wigan Album
morris st club
8 Comments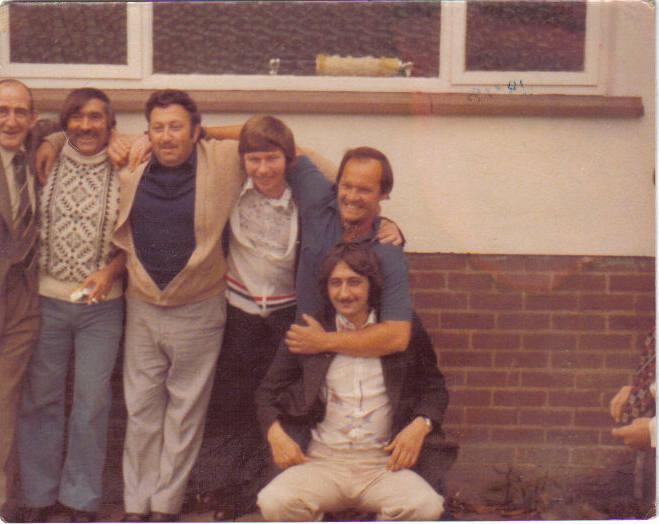 morris st club scholes
Photo: cullie
Views: 3,178
Item #: 17421
this picture was taken in the early 1970s i think it were taken on a sunday walking day
Comment by: 1934granada on 29th March 2011 at 17:41
Looks like Mick Kelly third from left. Can anyone confirm it?
Comment by: steve on 29th March 2011 at 18:54
is that ron atkinson second from right ?
Comment by: cullie on 29th March 2011 at 19:34
the only people i know are from left to right .KEN WORTH.JOE PUCKERING I DONT KNOW THE NEXT TOO .MY DAD GRAHAM CULSHAW I DONT KNOW THE PERSON CROUCHING UP.
Comment by: k.h. on 30th March 2011 at 00:57
I think the middle two are Frank Boland, who live in Russell house, and Horace Parkingson. both worked at Heinz, Standish.
Comment by: alan on 30th March 2011 at 14:48
cullie how do you crouch up thought you crouched down ;)
Comment by: Bill F on 30th March 2011 at 20:15
The lad crouching up ,or down is Terry Boland,Franks brother.
Comment by: roy thompson on 1st April 2011 at 01:15
its great to see a photo of my old mate graham culshaw we went through whelley school together we where teenage pals together with tom porter and a few others we went out with our future wives together i even went to his wedding also nice to see joe puckering i wonder if he got his car wheels fixed i still smile when i remember the photo and headlines in the papers i hope your dads keeping well cullie as we where great mates in our younger days
Comment by: Tom Porter on 13th May 2013 at 20:02
Great Photo, reply to your comments Roy. they were great times, good memories. how are things with you.