Photos of Wigan
Photos of Wigan
Album Contents
Album Contents
Wigan Album
Scholes
11 Comments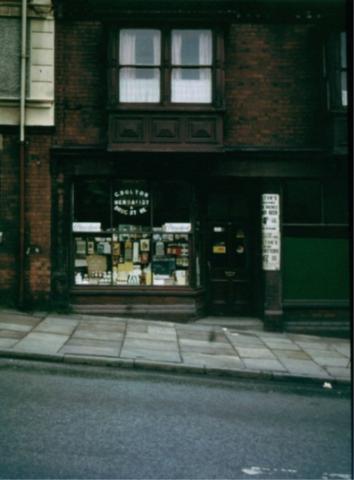 Boltons Herbalist, Scholes, 1960s.
Photo: Ron Dawber
Views: 5,391
Item #: 1738
Boltons Herbalist shop, about 100yds up from Scholes crossings on right.
wow,,,memories of "ginger beer" and "hop bitters",,which was all home brewed,was lead to believe,,,as young boys the hop bitters was as near to beer you could get in late fifties,,,,,more memories
We used to call it 'the little man's pub'. As a youngster you could sit on the bench in the shop and enjoy your Vimto. Practically next door was Wong's laundry. George Wong and I used to attend St. Pats and I used to call for him at the shop.
Comment by: joseph c on 29th March 2009 at 18:31
Lovely lovely memories, Ive had many a pint in here as a youngster on my way home from the baths.
Comment by: keith pennington on 29th March 2009 at 20:46
there used to be one in Platt Bridge,across from king Billy.Can't remember the name,but i bet Cliff Ainsworth can
i don't think there was a kid from Scholes and Whelley who didn't call in Bolton's for a drink after going to baths,can still taste it now
Comment by: Tom Walsh on 11th February 2012 at 02:45
A glass of ginger beer was 3d in my days,Mr., Bolton always seemed to be in a bad mood, maybe we made to much noise.Mrs.,B., and the daughters were much pleasanter.Hop bitters tasted vile,that was 4d a glass,but the glasses were smaller, they also did hot vimto.
Comment by: JohnAlan on 14th June 2012 at 11:01
I think you have said it all about Bolton's. I remember it well calling for a ginger beer after a night in the Snooker Hall below the County Cinema in King St in the early sixties.
Comment by: jc on 12th August 2012 at 22:24
Tom can i ask you if you have a Barbara in your family?her married name was or is Walsh she was my bridemaid but lost touch.
A bit late in finding this but I was born in Caunce Street, Platt Lane and have had many a pint of hop bitter in "Bowtons" chemist (herbalist really". Mr Bolton was a bit grumpy but an interesting chap to talk to. He was a pioneer in the early days of motoring.
Comment by: Kzaryan on 5th April 2016 at 20:31
Mr George Bolton and his wife were a nice couple,I knew them very well, there were two daughters one Lillian and the other Gertrude , Lillian taught Shorthand and typing at Byroms commercial college. I remember when they go to the Empress ballroom I think on a Wednesday evening , they would give me a balloon the next day. He had a fine collection of pipes on the wall in the living room for smoking. Every now and then he would give us a liquorice stick to chew on.
Nearby was Mr John Bolton who use to sell fruit from the back of a horse drawn wagon , the horse was stabled at the back of the pub run by the Ainscoughs.
Further down was the wholesaler run by two brothers Horace and Ernest Naylor.
Next to the laundry was a small shop run by Mrs Gallagher I used to buy sweets there with ration coupons.Eventually it was taken over by the Blackburns who ran it as a petshop .
Scholes had quite a variety of shops in the 40's and 50's There was Prior corner shop sold fruit and vegetables further up another fruit and veg. shop called Cussanis. Mr and Mrs Higham had a sweet shop if I remembered rightly which was almost opposite Scholes Picture House, he was an alderman of Wigan. Further along from the cinema was the Dan Rourke store the girl who worked there married Billy Boston. Further down was The Adams Store and Butterworths. At one time next to the tobacconist was Fairclough's he used to repair shoes and sold clogs. Pass the post office was a fishmonger .
J.Knights the chemist used to have on the windows for sale walking day photos. Memories memories I can go on and on.
Used to live in Scholes in 1950s in the Harp Inn on corner of Vauxhall road. Anyone remember a shop called Maypole think it was on corner of Schofield Lane and a bike shop on Greenough Street Remember Jack Hightons butchers cross road from picture house and the temperance bar further down the brew. Remember a slaughter house in Scholes as well behind pictures