Photos of Wigan
Photos of Wigan
Album Contents
Album Contents
Wigan Album
Scholes
19 Comments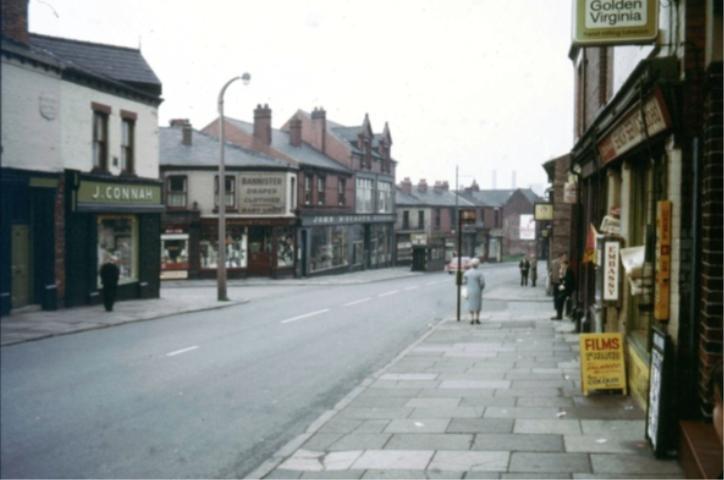 Scholes, 1960s.
Photo: Ron Dawber
Views: 11,101
Item #: 1737
Platt Lane on left, which was 50yds up from Greenough Street.
Comment by: Tom on 18th May 2008 at 21:14
It looks so much better than it does now.
Looking at all the shops there and the ones we cant see futher down Greenough st and Scholes but remember very well the expensive shopping arcades have a lot to answer for.
Comment by: Dave Allen on 19th November 2009 at 21:34
I think this photo was taken from the end of the street we used to live up. That was Mint Court.
Comment by: Bill Eatock on 27th March 2010 at 23:17
It was a nothing short of a criminal act destroying Scholes. Am I right in assuming that the guy who instigated that destruction took his own life because of what he'd done? Not only destroying Wigans heritage but communities.
Comment by: dorothy on 16th May 2010 at 21:12
This looks very much like looking down Scholes. With the bus stop on the left to go into Wigan. That was the furniture shop near the bus stop & if my memory serves me right a butchers close by. Used to buy knitting wool from the shop at the corner of Platt Lane & Scholes. They had so many patterns etc for the handy women around Scholes. Nice shops & friendlier than the new Wigan shops, of today.
Comment by: Jean J on 20th September 2010 at 00:37
Dorothy, do you remember if the shop was run by a Ellen Ashton?
Comment by: Tom Walsh on 20th January 2012 at 20:28
The shop on corner of Platt Lane is Jesie Connah wallpaper shop on opposite corner Bannister' draper's next door John Mc'Curdys store a furniture shop
stood at that bus stop a good few times to go home to new springs after visiting my grandparents in platt lane
Comment by: Albert. on 13th March 2012 at 14:35
Had many a cup of tea from Maggie Lewis, or her sister, when working the Scholes beat. They had the butchers futher down Scholes from the top of Greenough Street
Comment by: JohnAlan on 14th June 2012 at 10:58
What a great photo, pity it's a little out of focus. My Grandparents and family , Ernie and May Hankin lived at Mint Cottage, Mint Court. The newspaper shop when I knew it was Woods then Louie Lloyd took it over probably at the time this was taken. The Ealr of Balcarres pub at the corner of Molyneux St is the only building on this part of Scholes still there (what a criminal act it was destroying Scholes) although it wasn't the Earl of Balcarres then just The Balcarres I think. I remember the area so well. I lived in Golborne St (off Platt Lane) then Scholefield Lane before moving to enemy terrority for Scholesers, Whelley, in 1964. I used to wait for mum coming home at the bus stop when she worked at De Havellands in the late 50s. Joe and Paula Howard had the hardware store, again on the corner of Molyneux St and moved to Liverpool Rd Hindley later on. Walked Scholes many times with St Catharine's on Walking Days as a young lad and also with the 5th Wigan BB.
Comment by: JohnB on 27th January 2014 at 10:15
Congratulations Ron on posting such a nostalgic photo. This is what we are "looking" for when we occasionally pass the area in our cars but of course it's simply not there - only in our heads. It just makes you feel the loss all the more and leaves you with an empty and exasperated emotion that you can't explain to younger brethren just what a great community lived here.
Comment by: Michael Clark on 7th January 2015 at 12:34
I've lived down Platt lane all my life, I was born in 1985. I'd just like to say I can't believe it used to look like this not so long before I was born and what the hell happened? Can't believe what it looks like now compared to back then. Love this picture, it makes me feel sad how everything was knocked down.
Comment by: clare wright on 9th June 2017 at 12:46
jessie connah was my Nan i do not remember the shop but have lots of stories from the family. thank you
That was my bedroom above Connahs wallpaper shop !
Comment by: Ant on 2nd January 2019 at 20:44
What an absolute corker of a photo. Joey howrards diy shop, I think his wife was Polish she had jet black hair with bright red lipstick, a bit scary when I was little
Comment by: Veronica on 12th July 2019 at 03:57
The bus stop in front of McCurdy's is where I caught the coach to ROF Euxton. Every weekday morning for 5 years, half a sleep at 6 15 in the morning, mid sixties. Summer and Winter....I wish we could go back to that time....young and carefree.
Comment by: A Causey on 18th October 2021 at 20:48
My Grandad and his parents, Grandparents, Great Grandparents all lived in Scholes - Caunce Road and surrounding area. I was born after all the major "development", it's a disgrace all those buildings and communities completely destroyed, not just there but around Wigan town centre. Would have loved to have seen what it was like back then
My husband's great grandfather's family were clog makers and shoe repairers in Scholes for over 100 years. Their address was 233 Scholes, which I believe was near the junction with Platt Lane. The shop was definitely still there in 1939 and I believe his great grandad's brother Henry Ince ran it after his father (also Henry) died in 1944. The first reference I have is 1825, then every census from 1841 until 1911 and then the 1939 register.