Photos of Wigan
Photos of Wigan
Album Contents
Album Contents
Wigan Album
Scholes
5 Comments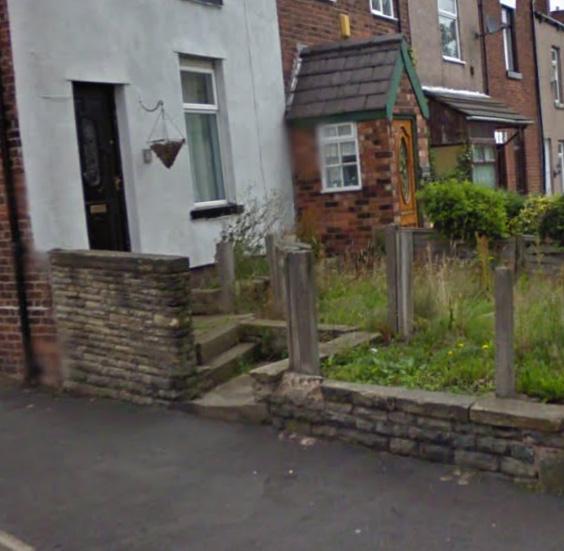 Birkett St / Frederick St
Photo: russ robie
Views: 1,991
Item #: 17297
I've 'borrowed' this picture from a well know street map viewer but only to show the comparison between John Gormally's photo from the 1930's and this more recent one. One interesting fact are the garden walls, they're exactly the same walls in both photos (minus the railings on the lower wall). Thats a good bit of brickying that's stood the test of time! Cheers for the photo John.
Comment by: joan davies on 7th March 2011 at 21:24
Thank you for the photo its interesting to see the houses again, its well over thirty years since I last saw the garden wall, and fond memories as a child trying to climb that wall,scraped me shoes a few times.
Comment by: John Gormally on 8th March 2011 at 16:48
The stone wall is interesting. Even in the older of the two pictures, the stone wall looks quite old. All of the houses in Frederick St had a garden with a stone wall round it, but I can't think of any other stone garden walls in that area. It makes one wonder if there were some stone cottages there before the brick houses were built.
Comment by: Fert on 9th March 2011 at 13:18
I'm not connected to this in any way - but, is'nt that really something. Importantly, it appears that the slab is the same one as the lady with the babe stood on all those years ago.
Sinking to the left, just see it starting to go in the early photo, lovely, the stone slab she stood on and those kids will have known so well, still insitu. A link with the past stood-standing and all the foot-falls.
Comment by: Helen on 11th March 2011 at 17:09
Thanks for 'opening my eyes ' Fert.....never noticed the stone step first time round. What a nice thing to think, the families, people & children, animals too, who have passed over that great slab of stone. Sometimes you see doorsteps quite worn down in the centre where many years of feet have trod.
Comment by: Mal Stott on 1st April 2011 at 13:29
Sat on that wall many a time during the early and mid 70's. My Nan lived at number 4, next door, apart from the wall (and sloping slab) everything seems to have changed quite a lot, where is the older photo anyone?