Photos of Wigan
Photos of Wigan
Album Contents
Album Contents
Wigan Album
Scholes
10 Comments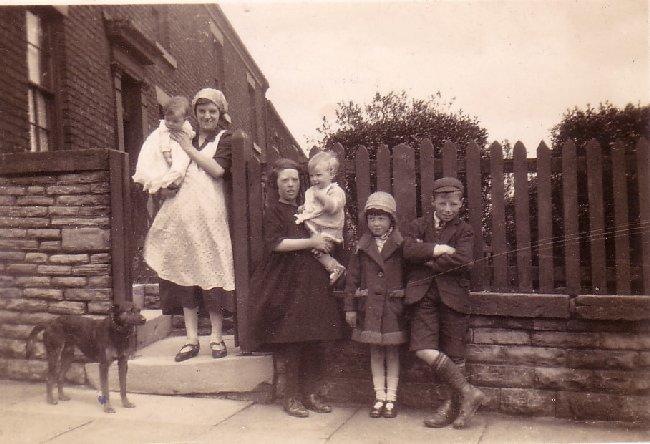 Birkett St / Frederick St
Photo: John Gormally
Views: 3,472
Item #: 17292
This photograph was taken where Frederick St meets Birkett St. I am unsure about the date but it was probably taken in the 1930's. The pavement shown runs down Birkett St and the houses in the background were part of Frederick St. The woman on the step holding a child was known as Alice Parkes and also as Mrs Potter. She lived there for many years.

To the right of the fenced garden was an open area known as "The Little Sandhole". Frederick St was unusual in that there wasn't a road running along the front of the houses, but there was an alleyway at the back.
Comment by: Marie on 6th March 2011 at 15:05
I wonder if Kath Atherton is on this her maiden name was Potter her husband was Bernard
Comment by: JoanC on 6th March 2011 at 17:05
Yes the lady in the photograph was my grandmother Alice Potter, she lived in Frederick st all her life. My father was the eldest of four children, he had three sisters, one of them being Kathleen who also lived in Frederick st when she married.Would be really interested if anyone can identify anyone else in the picture.
There was a daughter named Kathleen Potter. She would probably have been born the late 1930's.
Comment by: John Gormally on 6th March 2011 at 19:04
I am uncertain about the date of this photograph. It is from an old album and other pictures in the album that are dated have dates around 1925/26. The boy in the picture could be someone called Ernest Jones. The Jones family lived on he opposite side of Birkett St - directly opposite to the house shown in the above photograph.
Comment by: Joanc on 6th March 2011 at 20:18
John, thank you for this lovely picture I would be interested to see any other pictures if you have any of my family.
Comment by: Keith on 7th March 2011 at 08:58
Fascinating glimpse into the past of an area I knew well as a youngster.
Comment by: John Gormally on 10th March 2011 at 11:37
I have now got some clues as to who is in the picture from someone older than me, but not old enough to have been around when then picture was taken - so the identificatons are uncertain.

Alice Potter is thought to be holding her son Frederick. The girl in a dark dress is thought to be Annie Molloy and she is holding the eldest son in my family who was called Kevin. The small girl is Anne Jones and the boy is either Ernest Jones or Horrace Jones.
Comment by: joan davies on 10th March 2011 at 22:38
John thank you for naming the people in the picture, its very special to me as Fred was my father, and this is the only photograph I have seen of him as a baby. Would be interesting to know more about the history of the house, as I believe my grand mother lived there most of her life.
Comment by: Arburthnot on 29th June 2012 at 15:49
Would the Annie Molloy n the picture be Kitty James , John Mary and Veronicas sister ?If so this is my Great aunt
Alice parkes was also my grandmother , Fred was my uncle and she had three girls Margaret, Marion and Kathleen . I am Margaret's daughter Gaynor , saddley all of them have all died . I have fond memories of Frederick street and remember gormleys