Photos of Wigan
Photos of Wigan
Album Contents
Album Contents
Wigan Album
Frog Lane, Wigan
25 Comments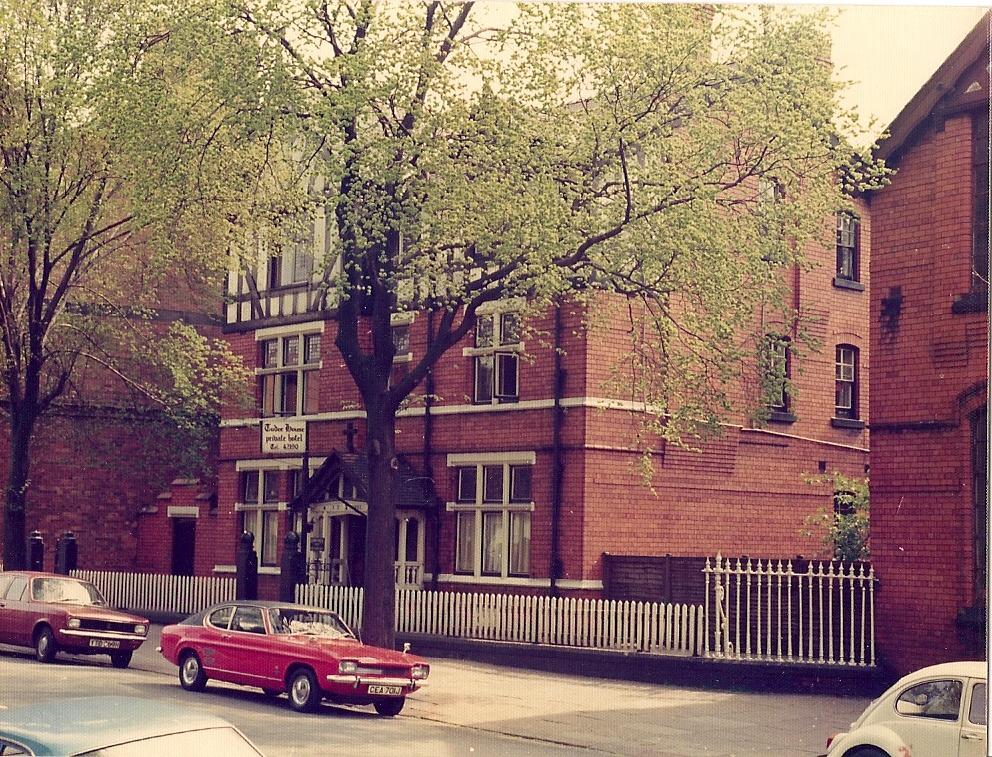 Tudor House 70s
Photo: Michael Parkinson
Views: 4,751
Item #: 16557
Most of my family were employed by Vince Hanley, the owner.
Me Mam Jean cooked Breakfast and cleanded.
Me Dad Dick cleaned the windows.
Me Sister Jill worked behind the bar.
Me Brother Dave did the bar work.
Me I helped out occasionally.
We should have bought it when Vince went to Spain.
Comment by: RON HUNT on 24th December 2010 at 20:12
Looked a lot better then than it does today
Comment by: Dave Lewis on 24th December 2010 at 21:06
Hi michael, do you know if russ the present owner took over from vince.
Comment by: Dave Lewis on 24th December 2010 at 21:18
was tudor house on frog lane then, i am near sure it is on new market st now.
Comment by: Mick p on 24th December 2010 at 22:18
Yes he's still runnin' it
Comment by: rebian on 24th December 2010 at 22:39
I used to be in 7th Wigan Cubs & Scouts based about where this pic was took, all the camping gear etc used to be stored in the building on the right of the Tudor House in this pic.
Comment by: I wuz a sixer in the 7th all saints on 25th December 2010 at 00:12
Comment by: Mick P on 25th December 2010 at 06:30
Your right Dave. not sure where Frog Lane starts or ends we lived on Hallgate off frog Lane.
Comment by: Andrew Lomax on 25th December 2010 at 14:14
Clean street, well painted fencing, obviously a time when people and the local authority bothered about the cosmetics of the town!

Now it's a dump.
Comment by: Gerry on 26th December 2010 at 01:18
on the night of my Stag do around Wigan my mates booked me in here cause they could not get me home.. I awoke in the morning to the sound of someone hoovering, "Have I missed my breakfast I asked" the lady hoovering said yes! its half past three in the afternoon
Comment by: Brian Barrow on 26th December 2010 at 10:50
I remember this building when it was a home for nuns.My father was the caretaker of the school next door and we used to go in and help put up the alter banners etc.
Comment by: irene roberts on 28th December 2010 at 13:59
My son Jamie used to run a quiz here. Must have been late 1990s.
Comment by: dave c on 29th December 2010 at 13:05
Not sure about the "Nuns" bit Brian. I went to the Blue Coat School, c. 1956-62 (the Infants School is the building on the right), and at that time it was the Parish church Vicarage. Behind it was one of those old "Tin Chapels" where they used to hold Concerts, Whist Drives ect.
Comment by: Mic P on 29th December 2010 at 14:42
Vince at this time had that Tin Chapell as an annex for partys, dave c
Comment by: Brian Barrow on 2nd January 2011 at 12:14
Dave the "Nuns"were there about 1951ish. I was a pupil at both the infants and junior National and Bluecoat schools from 1942 onwards.
Crickey!!!It's only when you write it down you realise how time flyes.
When it was our 25th anniversary in 1979, we had our party there. I'll find a couple of pics from the party to show the interior
Comment by: Enid on 30th January 2011 at 21:43
The house was built for the nuns who were from the Wantage sisters. I think they came to Wigan in the 1890 period. They had a chapel at the back which would be the tin chapel. I remember visiting then very often and have fond memories of Sister Edith Francis and Sister Ethelwyn. The building was called All Saints Mission House.
Comment by: Enid on 30th January 2011 at 21:48
With reference to my previous comment. I visited the Wantage Sisters in the 1930's and 1940's
My aunty Margaret served breakfasts at Tudor House and I worked in the early evenings after school. I used to teach Michael P at Sunday School.
Brian Barrow is right. I myself attended the National Bluecoat Infants and Junior schools until 1950, and then onto All Saints until 1954, and remember Brian well.( hope you remember me!) The Tudor is NOT in FROG Lane, never has been. Its in NEW MARKET ST. Frog Lane doesn't, and never did ,start until its' junction with Hallgate, past the bus station entrance. The nuns did live in it when I attended the Bluecoat. I can't recollect the Rector of the Parish Church ever living there, as he lived in the Rectory opposite, in all my memories of those times. I have memories of sunny, summer days in the 1940's,doing gym on the lawns in the grounds of the Rectory opposite the Bluecoat. Around 1951/52, I attended after school religious lessons in the Nuns home,in preparation for my Confirmation, and I don't think the Rector ever lived there, but possibly an assistant vicar may have. Cyril Cowan is the person to answer this, as he was the verger for many, many years.
Comment by: Phil Tierney on 28th September 2013 at 21:17
How nice to hear about your memories Tony and to put us all right about Frog Lane! I'm getting as much inf as I can about old Wigan as I'm attempting to write a book about my Great Grandmother, Martha Bleasdale. When she married Joseph Halliwell they lived at 36 Frog Lane, now demolished
7th wigan cub and scout group used to be next door to the right on the pic but also use to use the community centre behind from where the picture is being taken in the grounds of the vicarage hall I use to be a scout in the seventies my mum was akala for 7th wigan cubs alice Cadman chair to wigan city challenge at the investment centre no deceased 2004
Comment by: Dale traskowski on 2nd January 2015 at 23:22
I went to 7th Wigan scouts in the 70s the building on the right is my old bluecoat school,many happy memories,lived across the road at 14 frog lane
I was in Wigan Parish Church choir from1943-1948,( And All Saints School Choir1943-1946,the church choir used to go to Tudor Hose in an evening, with the people there swinging incense,i thought they were catholics.
Comment by: Irene Banks on 2nd June 2017 at 17:11
My mum Marjorie Edgar nee Bolton remembers going to the Tudor House when it was a nunnery for confirmation lessons. then she said the week before confirmation all the children had to go to the rectory for a bit of a test to make sure they had learned everthing.