Photos of Wigan
Photos of Wigan
Album Contents
Album Contents
Wigan Album
Scholes
12 Comments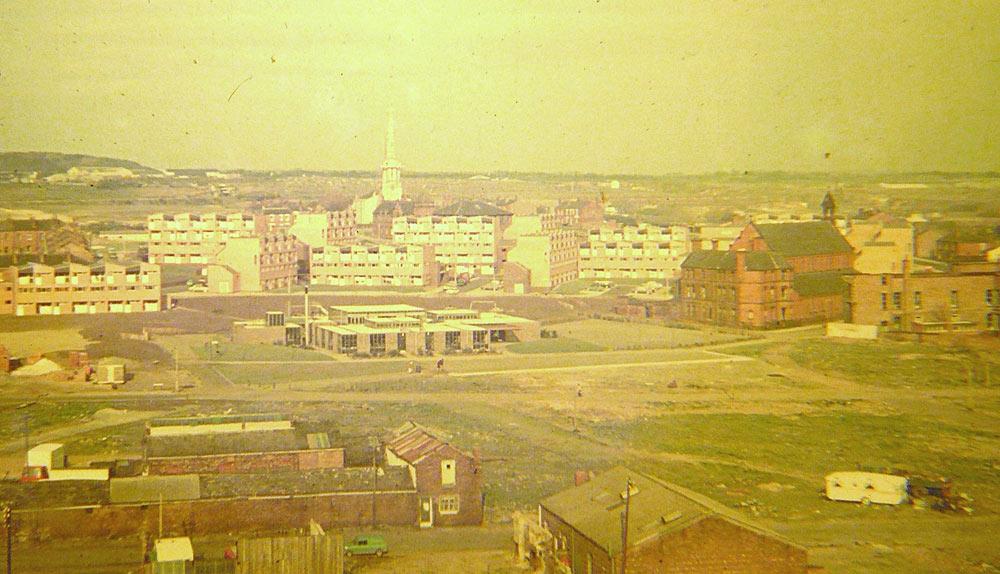 Re-development of Scholes, late 1960's
Photo: Bill Bithell
Views: 3,786
Item #: 15869
This is the view of the late 1960s with the re-development of Scholes. Whole streets of terraced houses have been demolished. The red brick building on the right is St. Patrick's Church with its new junior school in the centre of the photograph.
Comment by: Gerry on 27th September 2010 at 21:30
didn't there used to be a pub just about centre of the pic called the brown cow?
Comment by: Helen on 28th September 2010 at 16:45
I wonder what it all looks like today. Does anyone remember moving from the old houses into the new & was life better? Was there still the same community spirit ?
Comment by: Gem on 28th September 2010 at 19:33
Helen all the masionettes have been demolished and newer houses built. It's like most areas these days, some bad some good.
Comment by: Tony on 28th September 2010 at 20:42
I lived in those houses from when they were first built, 1971. I left them in 1976. My memories are great! Brand new: bathroom, three bedrooms, and a large kichen!!!!! They came together with going to the Deaneary! Loads of memories!!
Comment by: Ste Wigan on 28th September 2010 at 23:09
The abbatoir in the foreground. I remember one cow escaped all the way down Silver Street, ran across Darlington Street East into Leigh Street and then down into the canal! It was rescued from drowning in the canal, taken back to the abbatoir and slaughtered. All heart wern't they?!!!
Comment by: dee on 28th September 2010 at 23:42
My Dad(John Hurst)was born in Silver Street.live a few doors down from the slaughter house.His brother's name's Jimmy,Stan,& Billy
Comment by: Scholes Malc on 29th September 2010 at 10:05
dee -the Griffins lived on that side of Silver street as well -children were James, Mary, Biddy, John & Winnie
Comment by: roy thompson on 1st October 2010 at 02:02
i was born in platt lane and lived there until 1957 then we were shipped out to marsh green just like the indians of america where forced to move and the entire community was distroyed
Comment by: Helen on 1st October 2010 at 08:31
That is sad Roy but its what seems to happen when communities are moved & split up.... & the powers that be just don't seem to get it.
Comment by: n 17 the docs on 2nd October 2010 at 14:44
i was born in vauxhall rd they wanted us to move to marsh green,but my mam wernt going anywere only scholes,and scholes we stayed they couldnt make you go
Comment by: frank clossick on 7th October 2010 at 18:58
i lived in Afghan st?(don't ask)don't those photo's seem like a different world.they demolished ours about 1965 i think.
Comment by: kim hopson on 7th July 2011 at 20:14
I went to st patricks school lived in scholes most of my life in the maisonette near shopping precient until they pulled them dowm move to ince, still miss scholes there was a good community spirit i dont know if it still has it