Photos of Wigan
Photos of Wigan
Album Contents
Album Contents
Wigan Album
Scholes
15 Comments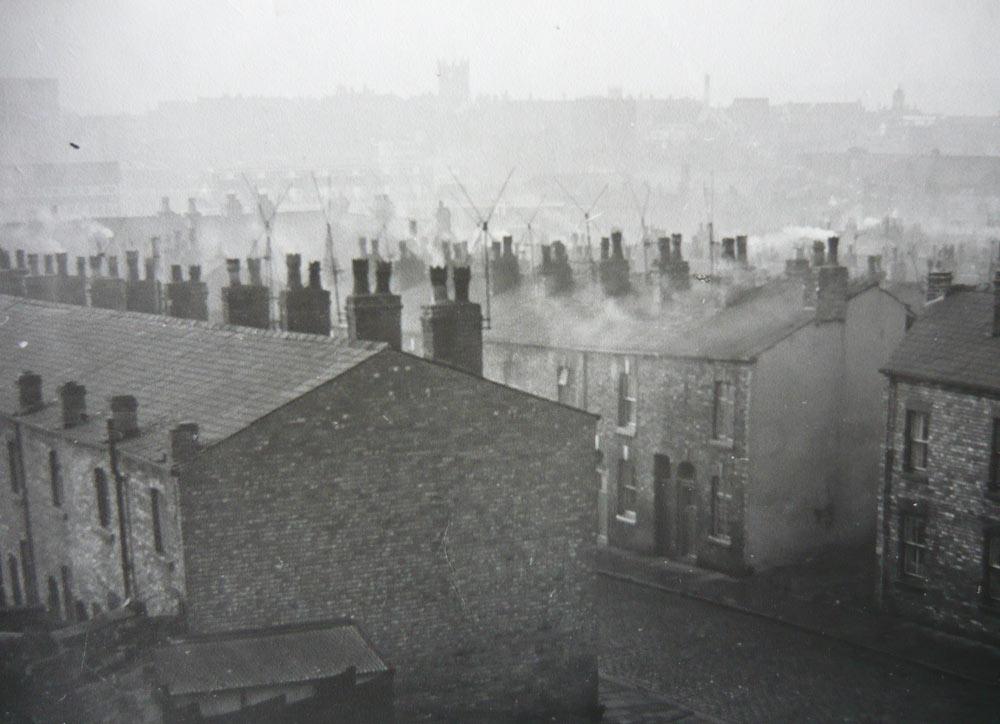 Scholes, late 50s/early 60s
Photo: Bill Bithell
Views: 3,480
Item #: 15867
This is the view taken in the late 1950s/early 60s from Longshoot looking towards the town of Wigan across the terraced houses of Greenough Street. Wigan Parish Church is just visible through the gloom of the smoke laden air from the forest of household chimneys. Letter 'X' television aerials are to be seen on many of the house roof tops. The street in the foreground is thought to be Turner Street
Comment by: Andrew Lomax on 27th September 2010 at 22:16
I was told Longshoot got it's name because Cromwell and co fired on the Parish Church from this distance. Anybody know more?
Comment by: RON HUNT on 27th September 2010 at 23:04
The name LONGSHOOT derives from a strip of land which was called a SHOOT. The one in this location was obvously a long strip hence the name LONGSHOOT There was also a LONGSHOOT around the Swinley Lane area acording to an old map I have recently seen. Can't remember where? I think it may have been in this issue of PAST FORWARD?
Comment by: Tony on 28th September 2010 at 13:27
I have a feeling, this may be late 1960's, just before demolishion. You can see Orchard House and limefield in the background. I would also say the street in the foreground is either Regent or Oxford Street.
Comment by: Rubyshoes. on 28th September 2010 at 14:54
It makes you shudder to think of the poverty behind those doors. I was born in Lime Street.
Comment by: Helen on 28th September 2010 at 16:49
Rubyshoes...but did the poverty disappear by just moving people into new houses..from what I know of 60's housing it has not stood the test of time well. Those old houses in the pic were 100 yrs old.
Comment by: henry7 on 28th September 2010 at 17:58
Good point Helen. These streets housed real communities and real people.
Comment by: Tony on 28th September 2010 at 20:34
Hello Ruby.

Believe me, there was no poverty behind these doors! The people around here, including myself had a great life! Even as children we never had to do without! All the streets in lower Scholes, knew they had to go! Some of us wish they were still here!!
Comment by: simon on 28th September 2010 at 22:59
one of these streets was called vaughn street i think and my nan (or muffer as we used to call her) lived there with my mum (her daughter) and my aunts and uncle.
Comment by: Carl on 29th September 2010 at 14:20
This is the top end Oxford street and the photo is taken from half way up the grassy bank leading to Longshoot .As I child I remember some railings only about 10 ft long obviously from a long demolished street and I think that is where the photographer is stood with his back to it, looking out over to the parish church and just to the left station road and the Wigan Casino. What a great evocative picture Bill.
Comment by: John on 1st October 2010 at 13:37
No wonder it was always foggy in the 50s and 60s.
Comment by: Joan Beckett(Wilding) on 7th October 2010 at 22:26
My Grandma or (Mother Rooney) as we called her lived on Darlington St East and I used to love it when it was foggy cos we got to sleep at her house and I used to wrap me legs in her wyncyette nightie, oohhhhhhhhhhhhhh lovely days xxxxxx and she used to make us toast and jam with home made bread xxxxxxxxxxxxx wish she was here today xxxxx
Comment by: irene roberts nee griffiths on 8th October 2010 at 14:10
It reminds me of the scene on the telly-screen when Coronation Street first started in 1960.
Comment by: JohnAlan on 16th May 2012 at 08:44
Knew this view well as my grandparents Ernie and May Hankin lived in Mint Cottage, Mint Court and their land at the rear looked down over Wigan. There was a stone wall about 8 freet high that run down the side of the property to the stone steps leading down to Regent St. Granddad kept pigs, ponies and chickens and grew all his own veg. Played there as a lad - pretending to be Sinbad, Flash Gorden, The Lone Ranger etc - until the council decided to decimate the area. Great decision that turned out to be, I don't think!!!!!
Born in foundry st 1948 near Wigan little theatre,has anyone got any photos of the street 1950 onwards it is hard to find any,
Can anyone decipher an address from the 1861 Census?
It is in St Georges Parish, Scholes, Wigan, Lancashire. It looks like Aspper Manor/ Minor? (I can't add an image here) It appears to be quite a large establishment so I presume it was similar to the terrace houses. I am in Australia so having difficulty identifying much on a google map.