Photos of Wigan
Photos of Wigan
Album Contents
Album Contents
Wigan Album
Scholes
15 Comments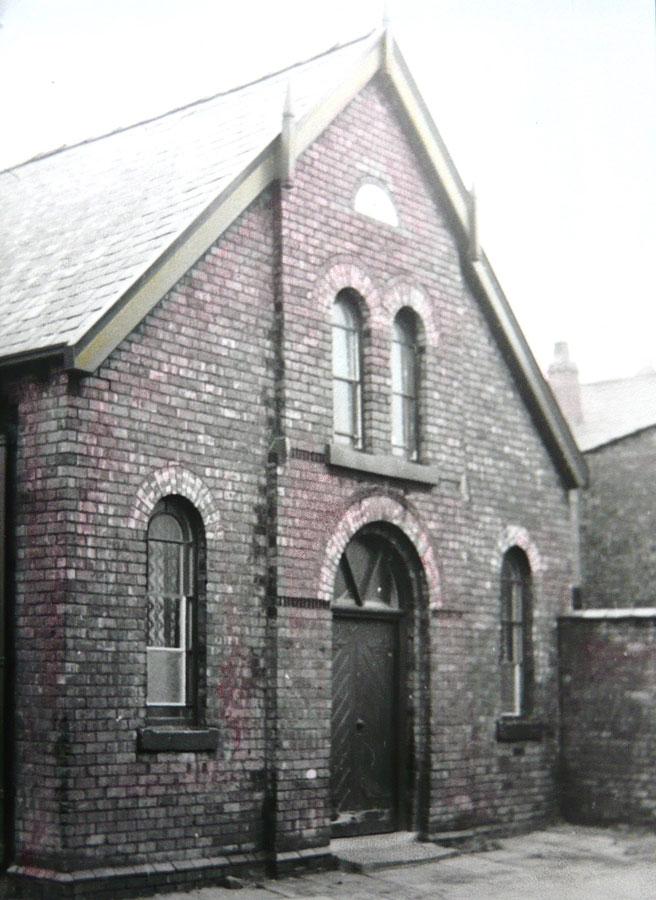 Platt Lane, Scholes
Photo: Bill Bithell
Views: 4,242
Item #: 15864
A photograph of an old warehouse located in Platt Lane, Scholes, which was purchased by St. Catharine's Church in 1898 to accommodate children in a Sunday School in the Scholes area. It was also to be used by mothers and youth organisations and was a venue for tea parties, concerts and magic lantern shows. In 1969 it was to be demolished to make way for the new council property. High in the apex of the front wall a semi circular stone is to be seen. When the building was demolished this stone was rescued and placed in the wall of the new church hall off Scholefield Lane. It bears the inscription "God is Love".
Comment by: Scholes Malc on 29th September 2010 at 16:29
Was this the 'Mission' at the bottom of Stanley Street?
yes malc the was "platt lane mission",,,used to house all the school functions,,social dances,,boys brigade,life boys,scouts,cubs ,girl guides brownies,,,,,1st Sunday of month ,Church Parade would start from mission,,and march up to church head ed byb the boys brigade band,,,and back again after the morning service,,,,again Bill have been waiting for some picture like this for years,,,,thanks again,,all memories of them days coming back,,,
Comment by: Joan Beckett(Wilding) on 7th October 2010 at 22:29
Gosh your a mind of information Jim xxxxxxxxxxxxxxx
Comment by: jim holding on 10th October 2010 at 00:48
Hi Joan,,I suppose we all can be at times,,,wernt you in the Brownies around the same time approx 1951/52,,it seemed allong march up to the church???,happy days
Comment by: roy thompson on 24th October 2010 at 03:36
this was my Sunday school when i was at St Catherines. when i was 14 we where rehoused at marsh green. i came back to visit the youth club one night but was told by the vicar that i could,nt touch the records because i was only a visitor BOY THAT HURT
Comment by: Dot Hesketh Nee Ince. on 12th November 2010 at 14:45
Wow what a lovely surprise to see the mission hall here. Yes I went to the GFS which was held there, Girls Friendle Society
it was called. I used to carry the small flag upto St Catherines. I used to feel so proud to be holding it. Even went on the walking day prosessions. Thanks for the memories. We also used to learm flags of the world and how to tie knots. It came in handy, as I went onto teaching macramme in Oz when we lived there.
Comment by: Norman Bibby on 17th January 2011 at 19:42
I was in the St. Catherines boys brigade around 1950. The captain was Jack lowe and my mother Ethel ran dominoe drives to raise funds for the Brigade. It was in fact a Baptist Chapel and still had the baptismal pool under the floor. Some boys used to hide in it.
great to see this picture of platt lane mission my mother lilian matthews nee melling used to run the gfs i still have my badge happy carefree days
my grandparents lived across the road from the chapel as kids we used to play knock on the window and run!!
Comment by: anne taylor nee winnard on 10th February 2012 at 19:37
used to go here and st catherines church suddenly i was back in there seeing it all again in my head, memories eh
Comment by: JohnAlan on 21st March 2012 at 15:00
Yes I remeber it well - any internal photos out there?. I joined the Life Dots when I was a youngster then progressed to the Life Boys and then the company section of the Boys Brigade. We used to meet on Monday evenings in the hall when after opening prayers we took part in badge classes, PE and band practice. I often wondered if the next door neighbours in Stanley St went out during the band practice sessions as the noise was tremendous and reverberated round as the hall wasn't very big. We had an excellent drum and bugle band then and won the Wigan and District BB band competition on at least one occasion. The floor comprised suspended wooden floorboards with a storage space beneath. Ayone know what is was originally intended for? As you entered through the front doors there was a partioned off vestibule, on top of which we stored the big drum. In those days a lot of my mates (Harold Mercer, Malcolm Lloyd to name two)were in the BB and we had some great times. Brian Perry was the Captain then with Roy Brookes his able second in command. John Brookes (Roy's brother) and his wife Dorothy looked after the Life Dots and Life Boys. Like the most of Scholes the coucil in their "wisdom" decided to decimate the area and it has never been the same since.
Yes I remember going to an organisation called G F S girls friendly society any one remember it
Comment by: caroleshambley ne smith on 2nd February 2014 at 18:07
I used to go sunday school x brownies ere all my family from platt lane my dad ralph smith uncles bill x frd aunty mary x grandparents ralf smith x maggie who was known as fairhurst was lovely to c this
Comment by: kathryn on 30th July 2016 at 07:44
loved that place,still think of boys brigade.. what a Sunday morning.. thanks for photo xx
Me to was in the boys brigade up to 1961 we where then relocated to Beech Hill Malcolm Lloydd and Harold Mercer were in my class at St Catharines