Photos of Wigan
Photos of Wigan
Album Contents
Album Contents
Wigan Album
New Springs
15 Comments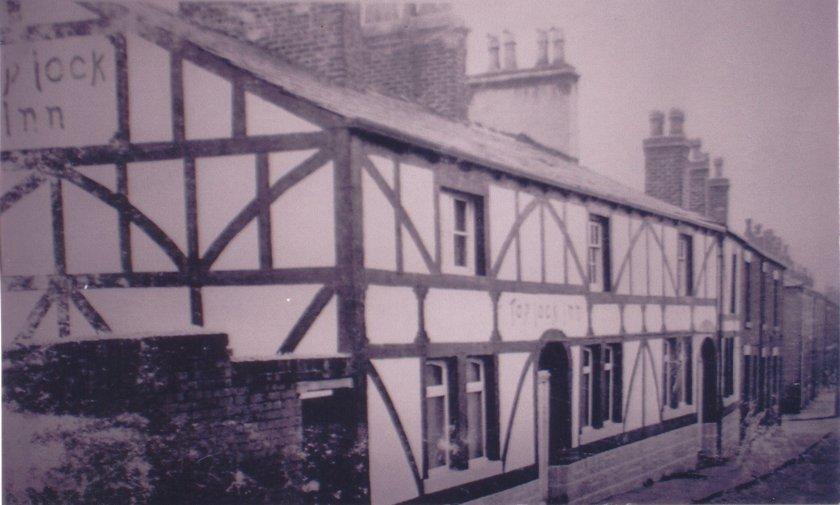 Top Lock Inn, Withington Lane.
Photo: Stuart Eddleston
Views: 3,872
Item #: 1567
Top Lock Inn, Withington Lane.
God I have heard so many good things about this pub from Top Lock residents.
It had, as they quote "everything"....

Rumours lie that it was the Kirkless Hall that was intended for demolishment but they mistakenly took The Top Lock Inn down instead.

This pub had previously been named 'The Gun and Dog'.
Comment by: kathy on 11th July 2008 at 12:39
i used to live next door to this pub in 1970 with my husband at the time who was cliff parry i think the landlady was called pearl and she used to have geese in the backyard anyone remember this my x husband used to work at horwich loco
Comment by: arburthnot on 2nd October 2008 at 09:58
thats right the landlady was pearl barlow and her husband wilf, my granparents lived nearby john and may molloy.
Comment by: Margaret (nee) Fitzpatrick on 5th March 2009 at 21:07
I lived in the 3rd house of the next row,I think that's my dad Tom.I remember Bill Eddleston was landlord and his wife,they had a daughter Dorry who was in the forces during the war,she brought an Italian friend back with her and also the biggest doll anyone round there ever saw,it was for her grandaughter Jeanette who i used to play with ,the rooms upstairs were full of toys so we could run about.My brother Tommy played with her brother Ronnie.Jean's mother and dad where Mary and Jim Eddleston.I am talking about the 1940's 1950's.Stuart are you a relative?
I used to live in Top Lock until 1970, married and moved to Leigh. My parents were Tommy & Lily Dowd, dad used to go bowling on the Top Lock Green, and also on the green at New Springs Conservative Club, just off Ash Lane. I now live in Christchurch New Zealand. A cousin of mine told me about this site, and I am slowly getting around to finding some old friends.
Comment by: eddie fishwick on 27th March 2010 at 14:21
harry woods lived opposite the pub big red gate
Comment by: oldtoplock on 19th May 2010 at 22:50
Harry Wood kept is horse in the stables facing the pub he lived next door but one to Battles fish and chip shop in Withington Lane
remember having to walk down withington lane to Battles shop opposite side to Top Lock Inn or Lathams just off withington Lane
Comment by: nadine foy nee sharp on 14th July 2012 at 20:45
Pearl barlow landlady is my mum may sharps niece and my cousin,her parents billy and lilly traynor lived in crawford ave aspull,pearl also had a sister doreen grimes who also lived in aspull,pearls mum was my mums sister
Comment by: Stuart Eddleston on 25th August 2014 at 19:29
(Margaret (nee) Fitzpatrick, 5th March 2009 )

i have only just read this post 5 and a half years later the answer is yes
James and Mary Eddleston are my grandparents . granddad sadly died in may 1970 when i was 2 months old so i have never seen him Grandma died in 1999
she stayed in top lock a further 29 years living in the flats at the top of Cale lane until she died. My dad is Ronald (Ronnie) Eddleston all the Eddleston's live in
Aspull now mum Lynne dad Ronnie children Stuart. David. Julie (Gibson) . Auntie Jean ( now Cusick) lives in higher ince
These photos bring back many happy childhood memories in the 50s and 60s My mothers family the Settles all lived in or around Withington Lane.Her auntie Mary had the Post office, another the Convenience store.I remember being sent to The Top Lock Inn with a Jug for beer or to Backles Chippy and watching Bowls matches on the green behind the pub.My family lived in Sussex but my trips North to stay with family were the highlight of my childhood.
Comment by: Jane Dewhurst on 12th April 2015 at 16:38
I have been researching my family history for many years and in 1851 George Southern and his wife Jane (Monk) were at the Top Lock. George was a publican and a grocer
Comment by: cindy on 18th December 2015 at 18:02
Ive sat on the step outside the Top Lock Inn many times with a bag of crisp & a bottle of pop, Whilst My Mam & Dad went in for a drink. Oh Happy Days.
Comment by: Ken R on 27th February 2020 at 22:30
Jane Dewhurst, A friend of mine was Ken Dewhurst at Aspull Methodist, any relative?