Photos of Wigan
Photos of Wigan
Album Contents
Album Contents
Wigan Album
MAKINSON ARCADE
7 Comments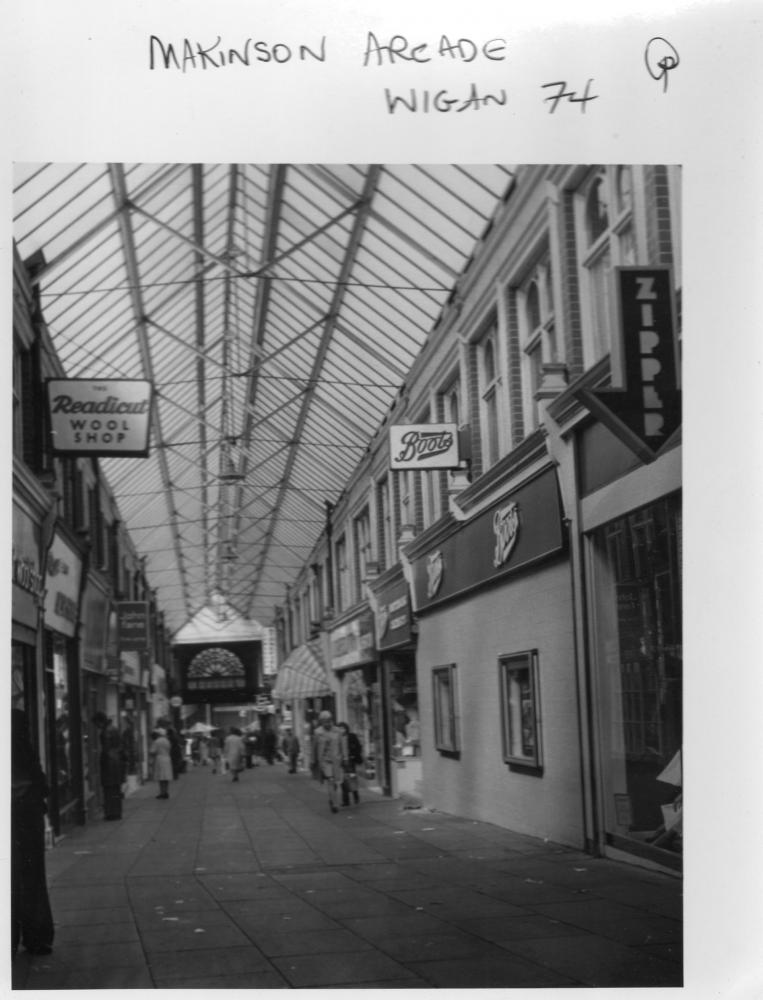 MAKINSON ARCADE
Photo: MARGUERITE ISHERWOOD
Views: 3,219
Item #: 15163
MAKINSON ARCADE WIGAN
Comment by: Moz on 26th June 2010 at 15:10
Where do I start, Brilliant crisp clean shots you've put on, I'm guessing these are 1974 with what's written on top, I weren't even thought of then, but I remember this and the other scene's as a young lad in the early 80's. Cheers!
Comment by: mark conroy on 26th June 2010 at 15:27
Boots was an eyesore in Makinsons Arcade and for once I'm pleased to say it looks better now.
Comment by: FredG on 26th June 2010 at 16:08
Congratulations on a great set of photos, Marguerite.
Comment by: irene roberts nee griffiths on 26th June 2010 at 19:56
I remember taking my film from my honeymoon, (3 days in York...we couldn't afford anyting else!)...into that Boots and saying my new name, Mrs. Roberts, which sounded so strange! I later worked at Boots in Market Street from 1992 to 2007.
Comment by: Catherine on 27th June 2010 at 00:28
Oh the amount of wool that I've bought from that Readicut shop at the top of Makinson's arcade. That photo brought back a lot of memories.
Comment by: Jimmy m on 27th June 2010 at 14:12
I can remember buying a pair of bright yellow bags from slaters. My Dad said if I wanted to go out dressed like Coco the clown it was ok, as long walked on the other side of the road away from him.
Comment by: Cyril on 28th June 2010 at 17:01
The grease from the chicken rotisserie shop made those paving flags outside of it like a skating rink especially when they got wet when rain water got trudged in. Was it called the Chick House?