Photos of Wigan
Photos of Wigan
Album Contents
Album Contents
Wigan Album
Market Hall
6 Comments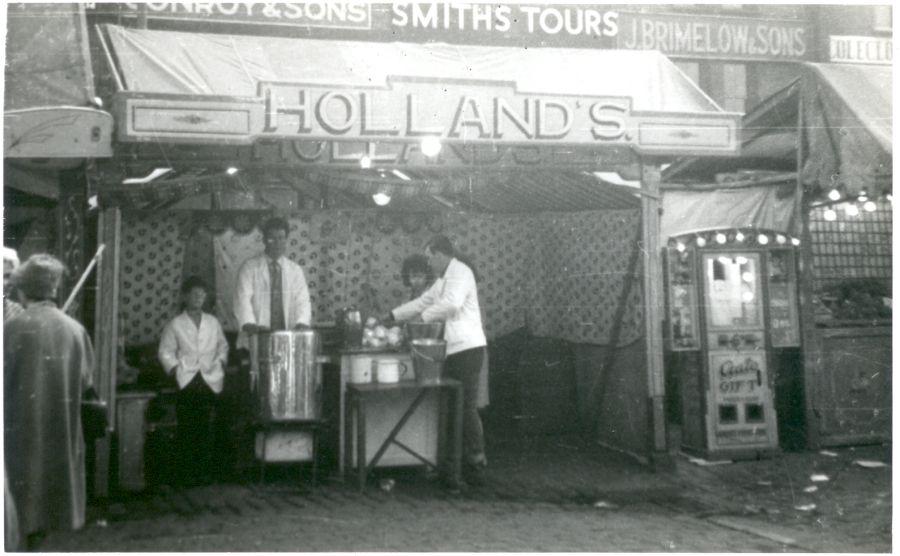 George Holland's Pea Saloon. 1963.
Photo: Ron Hunt
Views: 2,458
Item #: 1399
George Holland's Black Pea Saloon at Wigan, 24th May 1963.
Comment by: sheilwhittle on 21st May 2007 at 15:19
what i would give for some of them black peas today they dont taste the same now
ah, with lots of vinegar and a litle salt.....3 pence a cup.....
Judging by the font type in the name, these Hollands went on to produce the famous and delicious pies and puddn's that we all know and love....even in Cumbria where I now live. Yummmmm
Comment by: Martin Pearce on 17th July 2010 at 13:48
My Dad would always make a bee line for the black peas, last time I had them they were at Orrell Rugby Club in the Eighties. Simple but good.........mmmmmm.
Thank you Ron good old memory.
I'm afraid my great grandfather and his family did not found Holland Pies. But in answer to the taste of our black peas. I can tell you that my great uncle Raymond, still runs the pea stall. I've been told they taste exactly how they did then.
I was 4 yrs in ´63 but remember this so well. Oh I can almost taste them. Stop slobbering woman !