Photos of Wigan
Photos of Wigan
Album Contents
Album Contents
Wigan Album
wagon works
3 Comments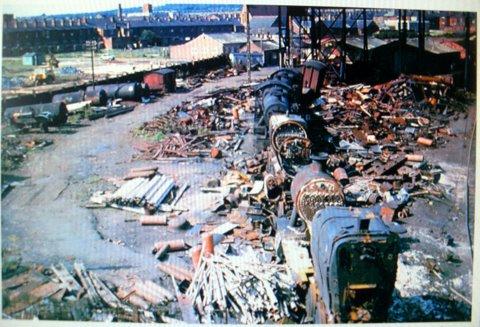 patricroft road scrap
Photo: thompsons
Views: 1,784
Item #: 13733
A shot of the scrapyard down Patricroft road where I worked for quite a number of years (1960s) before finishing up down Christopher street for the same firm.
Comment by: irene roberts nee griffiths on 23rd February 2010 at 09:25
Is that you, Aitch? You haven't put a name on. Do you remember there used to be a box-works down Patricroft Road in the 60s? Our Colin's wife worked there for a time. I can remember going to meet her at dinner time and calling at Annie Blinkhorn's chippy.
Comment by: aitch on 23rd February 2010 at 21:05
Hi Irene, I dont know why my name didnt show up, It was put on, I dont remember any box works but I certainly do with that yard, thats were I learned my burning skills and finished up on piecework burning engines up, and quaffing a few pints in St Bills club which you can see in the foreground, the small cabin on the left was where we left our burning gear and the brick building was the office where we clocked on
Comment by: John on 3rd March 2010 at 21:02
Reckon this photo was taken in 1965/66. You can see the builders cabin on the site of the Double Seven Youth Club that was eventually built opposite St Williams Club. I remember the site being cleared.