Photos of Wigan
Photos of Wigan
Album Contents
Album Contents
Wigan Album
Market Place, Wigan
9 Comments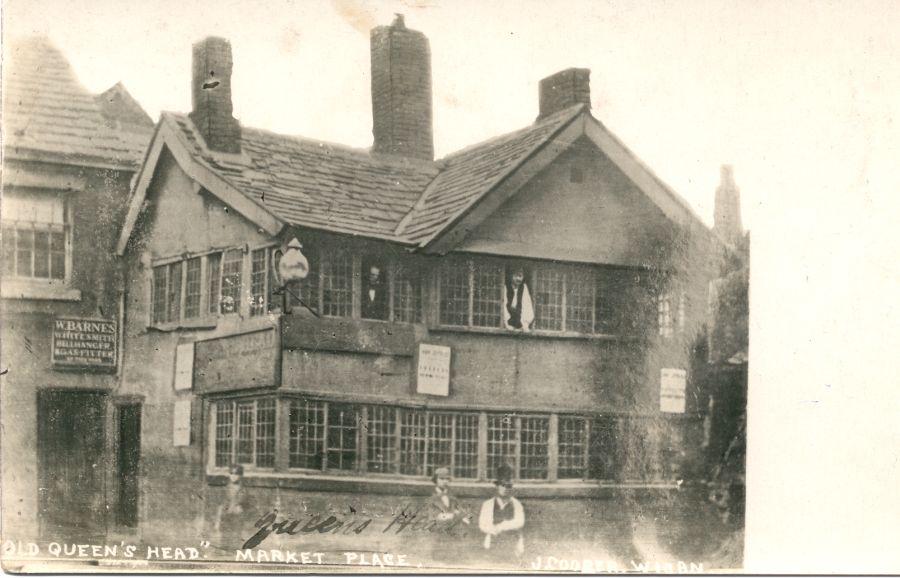 "Old Queen's Head", Market Place.
Photo: Ron Hunt
Views: 1,253
Item #: 1348
"Old Queen's Head", Market Place, Wigan. Scanned from an old postcard.
Comment by: RON HUNT on 13th February 2010 at 20:44
I would loved to have gone in there for a pint.
Comment by: Roy on 20th February 2010 at 15:17
Any idea where this was situated Ron?
Comment by: Gem on 30th May 2010 at 23:14
from the directory:
WHITESMITHS.
Barnes Richd. sen. (scale beams)
Bishopgate
Comment by: Gem on 30th May 2010 at 23:19
1869 directory places W Barnes at 22 Standishgate
Comment by: Gem on 31st May 2010 at 01:11
This has got my interest, Prescot Corless was the landlord in 1825, the directory for 1869 has no record of this Pub, so it seems to me that that the picture was taken before 1869. Also judging from the dress and hat of the man in front which seems to be of the Abe Lincoln style, this must be an early photograph,
Comment by: Kenee on 29th October 2010 at 13:43
If it was pre 1869 this must be one of the oldest photographs in the world. I wonder how long the exposure was ?
Look at the ghostlike quality of the young woman.
Comment by: josie pennington nee beckett on 9th December 2010 at 23:20
how fantastic, i love this pic and it says market place on it but where abouts ?
Comment by: GeorgeB on 20th November 2011 at 15:07
Not the oldest photo in the world, photography got under way in the 1830's but portraiture studios were fairly "widespread" in the 1850's. Nevertheless a fascinating photo and it would be of great interest to know the year. J Cooper certainly seems to have been an early photographer, lucky for us he seems to have used Wigan as a base. I would guess he was operating in the 1850's and 1860's.