Photos of Wigan
Photos of Wigan
Album Contents
Album Contents
Wigan Album
Aspull
7 Comments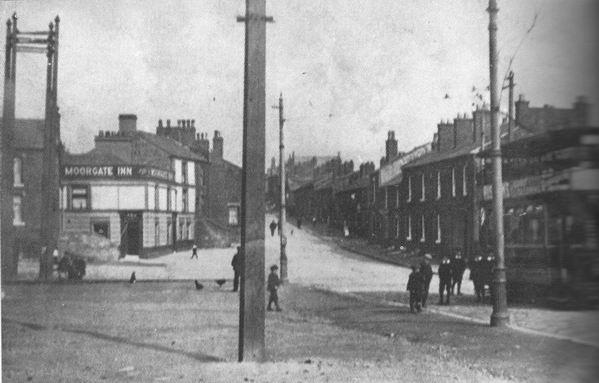 Tram at Aspull
Photo: RON HUNT
Views: 4,138
Item #: 12457
Here is a photo ( sent to me by Kevin) of a tram near the Moorgate pub Aspull.. To all the people who said "Trams Never Ran Up Scholes" Can they explain how the trams got to Aspull?????
I await a reply..
Why can't they be gracious in defeat, and hold their hands up to say they were wrong???
But I ain't holding my breath<g>
Comment by: val on 7th November 2009 at 14:03
my nan used to tell me about remembering waiting for a tram on wigan road, aspull with her mother when she was very young and paying a penny to go into wigan town centre.
This shot appears on page 90 of EK Stretch's 'The Tramways of Wigan', (Manchester Transport Museum Society, 1978). Another illustration shows a tram in WW1 with ASPULL on the blind. He gives the fare to Aspull from Market Place in 1908 as 3d (Workmen, 1.5d). A large map at the back shows the line went down Library Street,along Rodney Street, across Millgate, over Scholes Bridge, and up Scholes, Whelley, and Wigan Road to Terminate at the Moorgate Inn.
Comment by: Mick on 7th November 2009 at 19:55
I don't think we should hold our breath waiting for an apology or admission, Ron.
Comment by: tricia on 8th November 2009 at 16:56
Hello Ron.. and Mick

I have noticed one or two rude and aggressive posts on here lately. I hope it will not stop you posting more interesting pictures.
A saying comes to mind ... and forgive me if I mis quote this.... Better to say nothing and look a fool, than to open your mouth and prove it !!!! Are these people REALLY Wiganers ??????????
Thank you for the pictures.

Keep smiling and keep up the good work
Were did all these people who lived in these houses move to?...lol
Comment by: RON HUNT on 12th November 2009 at 18:23
Probably moved to the council estate when they built it?
Comment by: Stewart on 12th October 2014 at 23:13
Is nt that a trolley bus not a tram .....but I might be wrong...that's how it's got up from Wigan