Photos of Wigan
Photos of Wigan
Album Contents
Album Contents
Wigan Album
Bamfurlong
23 Comments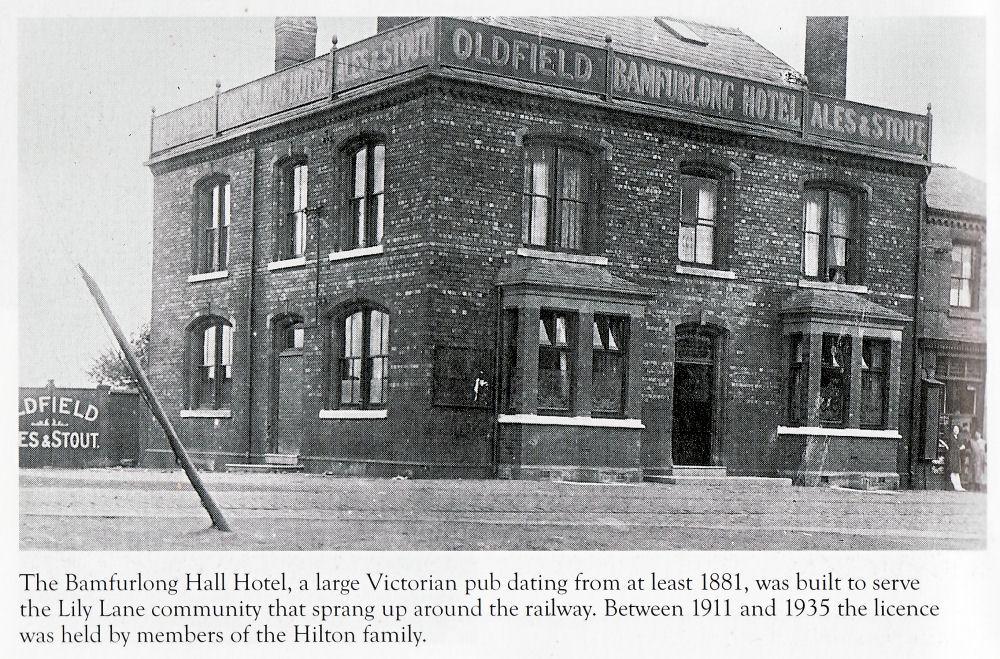 The Bamfurlong Hotel.
Photo: Dennis Miller
Views: 4,923
Item #: 11195
I am not sure if this is still in existence? It could be another curry house for all I know.
Comment by: Keith Guest on 16th July 2009 at 09:58
It's now a private dwelling I believe.
Comment by: Stephen on 16th July 2009 at 11:49
Had my very first pint in there
Comment by: massumbula on 16th July 2009 at 16:24
Had my first pint there as well, around 1973
Comment by: atlas on 17th July 2009 at 15:23
had lots of pints in there! and it still there. sad I'm afraid its converted to flats
Comment by: barbara davies(nee Bate on 23rd July 2009 at 23:36
I remember them putting the American Bar in, considered very daring then. Shame it is now residential but at least the building is still in existance and bulldozed like others
I have a jug, the type you would find hanging decoratively in a pub, that says 'Mrs Fairhurst Bamfurlong'. Could she have been the landlady of this pub before 1911?
Comment by: Beryl Bowker nee Houghton on 6th October 2009 at 01:42
I had my 21st party here and my cousin Brenda and Haro;d Rogerson were landlord and landlady for a while
i had my wedding reception here.eunice dootson was landlady.
Comment by: Paul Heaton on 17th February 2010 at 15:56
Hi Does anyone have a photo of the chippy that stood across from the pub - my grandad owned it in the early 60's
Sorry Ihavent a picture of the chippy but I, too, had the chippy for a short while in the early sixties.I know most of the people posting on here as I married a Bamfurlong girl who lived in Tetley St and we bought the old gamekeepers cottage which stood at the beginning of Crippings Lane (632, Bolton Rd.)Oposite Jolly Jacks club.Re the train picture-- We used to travel from abroad (Platt- Bridge) to put halfpennies on the line and let the train flatten them (I never found out why we did this we could have bought a "Pegs Choco Bar with it!!)I worked in the "Yard mine" tunnel from mains pit which which somehow managed to break surface in the middle of the bowling green of Lloyds pub "Bryn Hall Hotal" So many happy memoriies . My wifes name was Jenny Derbyshire
To beryl Bowker If you dad was ernie houghton I would like to hear from you. We were such good friends and I was chairman of the labour party for Abram and later wigan I have attached my E mail address.
Comment by: Ivor Collins on 20th March 2011 at 20:56
had many a good night in bamfy top with Jemmy Ratbags on the guitar and a rousing sing song in the back room, eunice dootson wass the landlady followed by Ken? and his wife, all the bryn gates and bamfurlong boys would be in there every night, ah the good old days!
I am researching the Ashcroft family who lived in Abram but also there is a connection to the Hilton family who ran the Bamfurlong Hotel for some time.
My mam used to live in Bamfurlong and they owned the chippy across from the road from the Bamfurlong in the 1950's. My grandparents names were Jack and Maggie Barnes. My mam was Doreen Barnes back then and had 2 older sisters Marjorie and Audrey as well as younger brothers John and Eric. Eric very sadly died aged about 3 yrs old after acidentally knocking over a pot of boiling water over himself in Tram street which was in the papers at the time. I'd love to know if anyone remembers them.
to eddie farrell .yes my dad was ernie houghton id love to speak to you about him im sorry i didnt reply before now but only just seen this best regards beryl
Comment by: Mark wilcock on 17th February 2015 at 05:03
Loved the place used to to live just over the bridge on the left heading towards platt bridge
Comment by: Mark wilcock on 18th February 2015 at 12:12
Loved the place used to to live just over the bridge on the left heading towards platt bridge
been tracing my partners family tree and eric was her grandad jesse barnes cousin.
Comment by: mick on 6th December 2017 at 10:10
i use to nick bottle from the back of the pub and take them in and get 3d back on each bottle till i got caught got a thick ear from landlord about 1962
Comment by: Lynn on 9th March 2020 at 09:42
Been looking for a picture of this -Tracing my Family Tree my great grandma worked here as a domestic servant in 1891 - Clara Calland
Comment by: Malc on 2nd June 2020 at 20:01
Played football for bam in Eighties John Edwards was manager not a bad team to good times
Any one got a pic of Jolly Jacks about 1990 when it looked like a castle as had my engagement party there.