Photos of Wigan
Photos of Wigan
Album Contents
Album Contents
Wigan Album
Scholes
12 Comments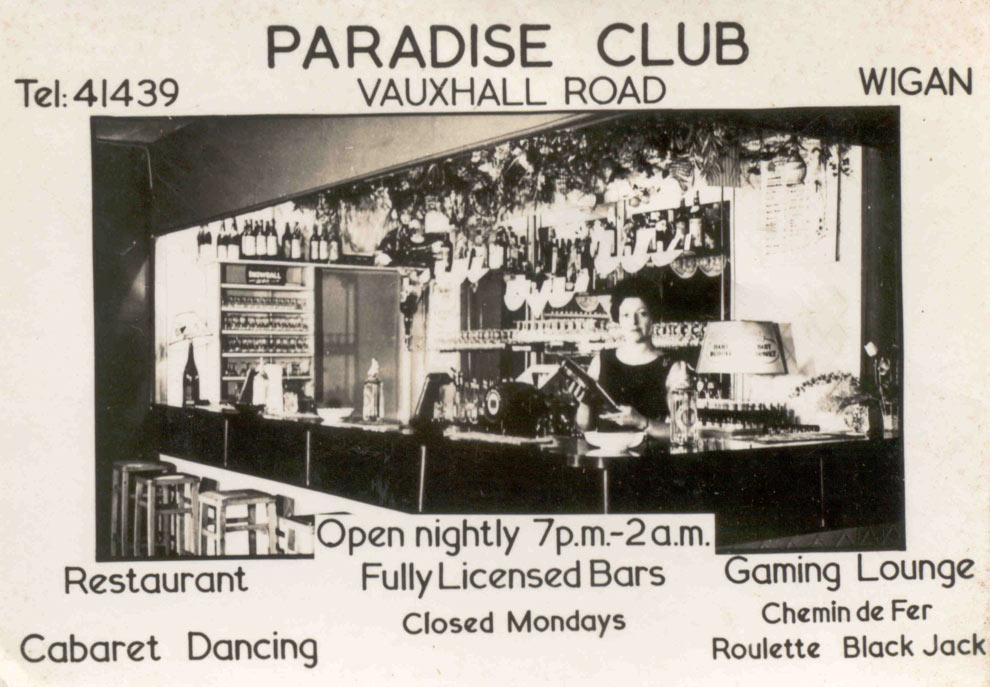 Paradise Club, Vauxhall Road
Photo: Graham
Views: 4,249
Item #: 11157
The Paradise club bar is 1962/3 when I worked there - membership cards were copied from a British passport format.
Comment by: n 17 the docs on 8th July 2009 at 21:32
hi graham great photo i was born in vauxhall rd remember the paradise club went in once to clildrens christmas party, used to hang round at weekends and tried to peep in and we would run if we heard someone come great times
Comment by: jm on 8th July 2009 at 23:02
Was a member for a few years, membership book was called a passport to paradise had some good nights there.Maurice Lindsey on the gaming tables,Billy and Joe Mac overseeing.What more could one ask!
Comment by: Mick on 9th July 2009 at 05:47
Great photo, I think I watched Brian Poole & The Tremeloes in the Paradise Club.
Comment by: Scholes Malc on 9th July 2009 at 08:00
what did that 'Chemin de fer' taste like and do they serve it in the Balc?
Comment by: Mick on 9th July 2009 at 14:18
It's French for lobbies, Malc.
Comment by: xxStuartxx on 9th July 2009 at 20:14
Comment by: Scholes Malc on 10th July 2009 at 14:12
' A Baccarat Breezer' - sounds loveley - i'll try it toneet in Sams Bar!
Dave Roby and Jenny Harrison both worked at the Paradise Club we met here and then got married 3 months later in 1965 HAPPY DAYS.
Comment by: liz on 19th September 2009 at 23:18
My mum worked here in the mid 1960s.And i went to a party there as well.
Comment by: Tom Walsh on 19th January 2012 at 14:44
It was the old seddons stocking factory and when first opened as a nightclub it was called the green rooster. Local old ladies called it the green cockatoo.
My this does bring back memories. My dad, Brian managed the club. I remember úncle´Joe Mac really well. Even called my mynah bird after him. We used to live in the Crown and Sceptre. Loved the fact that when I was little I would wake up to find people like Freddy Starr ( just starting) and wonderful drag acts sat in our living room. Life was never dull in the 60´s as a child as parents always seemed to have prties at the weekends.I remember there were three floors. One was the casino, the other was the gay disco , and then there was the regular bar. Loved it when the man came to change the juke box as he would give all the old records to my dad for me to play on my dansette record player.Bliss.
Comment by: Craig hepworth on 31st January 2016 at 20:21
Hi graham I've got a pic of joe and a few other rum uns on the stairs of the paradise , also afew pics of him and others on hols in the 50's