Photos of Wigan
Photos of Wigan
Album Contents
Album Contents
Wigan Album
North Ashton
9 Comments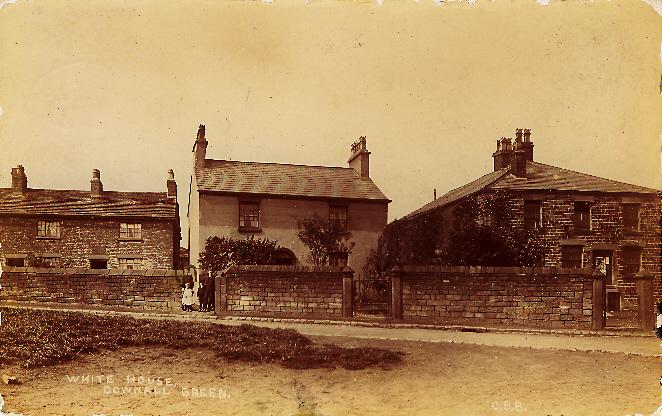 White House, Downall Green
Photo: Allan Hughes
Views: 2,932
Item #: 10739
White House, Downall Green
Comment by: Dave Lewis on 19th May 2009 at 23:03
Hi Allan, where exactly was white house situated.
Comment by: Dougie on 19th May 2009 at 23:35
Alan thats a blast from the past remember all three of them,Tumtingle will also remember them as his grandmother lived in the cottages
Comment by: John Davies on 20th May 2009 at 16:07
Were these houses opposite the green?
Forgot to mention the photo was sent through the post in September 1904
Comment by: Janice on 20th May 2009 at 19:18
What a brilliant photo thanks for sharing Alan. These are the photos we like to see on w.w. Dave the houses were at the back of were the bus stop is facing the village green.
Comment by: Eric Winstanley on 20th May 2009 at 19:28
Allan, that's great.
I've been wanting to see the cottages next to the White House, my Grandmother was born at No. 7, which is the one next to the White House.
The cottages had been pulled down when I was born, but I remember the White House.
Comment by: David Thompson on 21st May 2009 at 15:10
Brilliant pic I remember Barbara Hill used to live in the White House. Has anyone got a photo of Beech House on the other side of the green, this eventually became the British Legion
Comment by: Dougie on 23rd May 2009 at 22:16
David there as been a photo on Wigan World of the Beech House i've been trying to find it,can anyone help to find it are upload it again on the North Ashton Album
Allan, is there any chance of getting copy of this picture. i was born here but moved when i was 2 (barbara hill's youngest sister) if you have any other pics of the white house i would love to see them.