Photos of Wigan
Photos of Wigan
Album Contents
Album Contents
Wigan Album
Scholes
10 Comments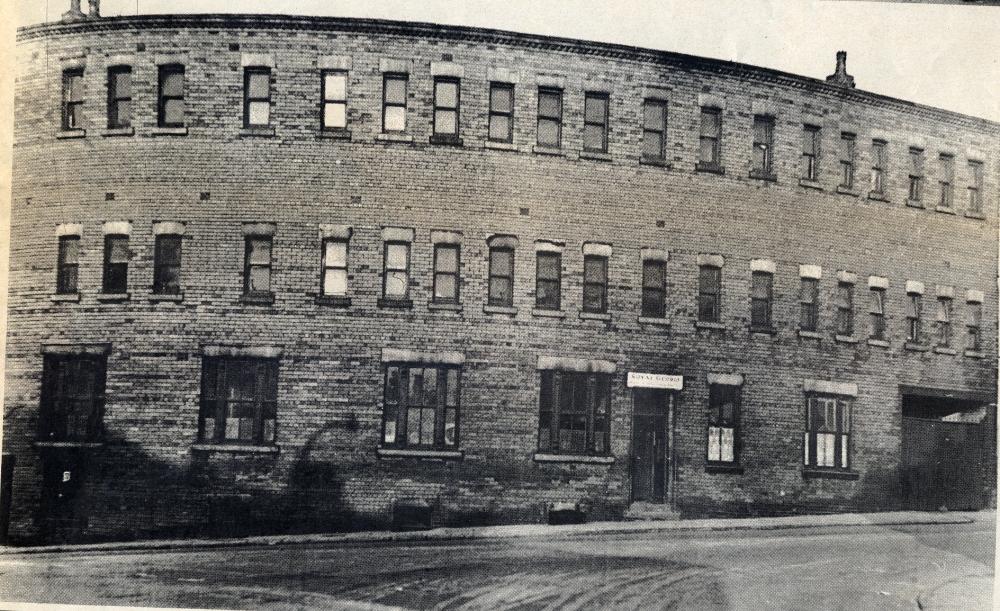 Royal George Lodging House
Photo: RON HUNT
Views: 4,070
Item #: 10228
A view of the Royal George Lodging House, which stood on the corner of Warrington Lane and Hardybutts. Most of the rooms inside were singles and the lodging house was privately owned by a local family until it was demolished in the 1960's to make way for the Scholes Redevelopment Scheme.
Comment by: joseph c on 29th March 2009 at 18:27
I DIDNT REALISE HOW BIG THE BUILDING WAS AS I WAS ONLY A YOUNGSTER WHEN IT WAS DEMOLISHED, IT LOOKS LIKE A PRISON.
Comment by: keith pennington on 29th March 2009 at 20:42
i remember it well.we used to visit Wigan at least once a week on the number 12 bus from abram, which passed the royal george.its a pity we don't have anything like it today to help the homeless
Comment by: RON HUNT on 29th March 2009 at 22:10
Having been born in Spring Street, which was opposite the entrance, and passing the place regularly. I think I would rather be homeless. The smell emanating from the place was enough to put you off.
I used to go to St.Patrick's girls school and we had to pass this building on our way to the old swimming baths in Millgate (which I hated also)we had to trudge up and down whats was commonly know as the aim a lane (probably spelled wrong) I hated going pass this building always looked haunted to me
Comment by: bob b on 30th March 2009 at 11:42
climbed up one day when i were a lad to have a look through windows, it was disgusting,
Comment by: dave johnson on 1st April 2009 at 20:53
I have been told that the last resident was a gent by the name of Joe Gough(Goff?) after which he lived the remainder of his life in Worsley Mesnes. He died about 20yrs ago.
My Dad (who with his sisters and brother helped run the place with his Dad Bill Lees) says that the last lease owner and manager was his Dad - it closed in early 1966 after his 31 years tenure. I was one of the last visiters as a baby (born Jan '66). The last lodger was nicknamed "aye" because that was his answer to most communication. He adds that the place was inspected weekly every Sat by a Health Inspector (Mr Simm) and had to be of a high standard despite the sad status of the lodgers. I will be helping my Dad compile memories from his time there, and will make them public asap. In the meantime, if you have any queries, I'd be happy to pass them on and he is happy to try to answer. Cheers.
Comment by: Fran Cunningham on 17th May 2020 at 19:22
Could someone tell me if this is the place where the term "I could sleep on a rope" came from? It was a strong, thick rope that a landlord/lady would use if no bed for the irish men who came over to work. Thank you!
Comment by: RON HUNT on 17th May 2020 at 21:13
I don't think to sleep on a rope was originated in Wigan It was a common occurrence around the lodging houses for people who couldn't afford a bed to sleep hanging over a rope
Never judge a book by its cover.. I used to visit my Granddad in The Royal George and it was very well looked after by my Grandad John William Lees.. Always remember the tiny little cubicles that the men stayed in and the smell of coal tar soap.. My grandad did all the cooking & cleaning sadly my Grandma passed away in 1935..
I'm just getting my dads stories together because they want to do a feature in Past Times Magazine..
????????????