Photos of Wigan
Photos of Wigan
Album Contents
Album Contents
Wigan Album
Scholes
4 Comments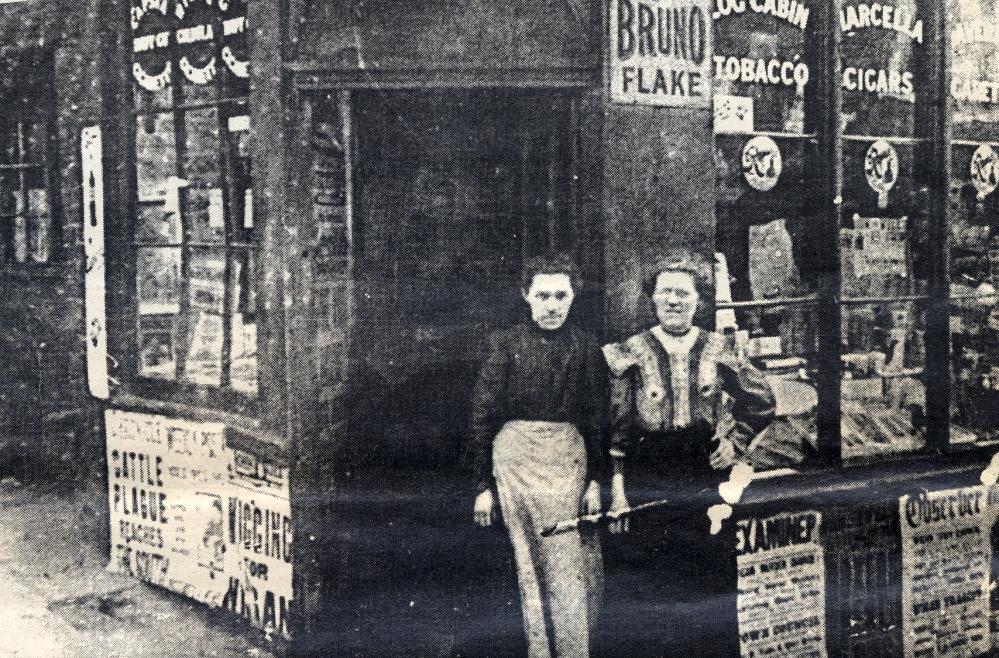 Corner shop in Scholes
Photo: RON HUNT
Views: 4,155
Item #: 10202
Photograph showing Madge (left) and Annie Heywood, who owned this newsagents shop which stood on what was 'Scholes Par'k.Which was on the corner of Warrington Lane and Scholes. Now the site is occupied by a block of council flats( don't know the name of them) or should I now call them apartments <g>.
Both the local papers, the Examiner and Observer have billboards outside.
Comment by: Tom Walsh on 30th January 2012 at 00:44
On the placard on the door. It reads A Wiggin for Wigan I wonder what that could refer to, has anybody got any ideas ???
Comment by: Josh on 26th January 2014 at 22:41
Hi Tom, just seen this post - I wonder if the newspaper reference was a "sporting" reference to football or rugby - just a thought.
Comment by: Josh on 26th January 2014 at 22:51
I've just found out that Log Cabin Tobacco (notice on window) - which I'd never heard of - is still sold, made in Denmark but apparently also made by Lambert and Butler over here (perhaps on licence) - it's pipe tobacco but some seem to think it is also used for RYO (roll your own). I wouldn't know not being a smoker myself.
Comment by: winnie on 9th June 2019 at 14:47
Name: Annie Heywood
Age in 1911: 36
Estimated birth year: abt 1875
Relation to Head: Head
Gender: Female
Birth Place: Wigan, Lancashire, England
Civil Parish: Wigan Street address: 29 Scholes Wigan
Marital status: Single
Occupation: Tobacco & News Agent Household Members:
Name Age
Annie Heywood 36
Margery Heywood 34